What Putin and Xi each get out of their "friendship"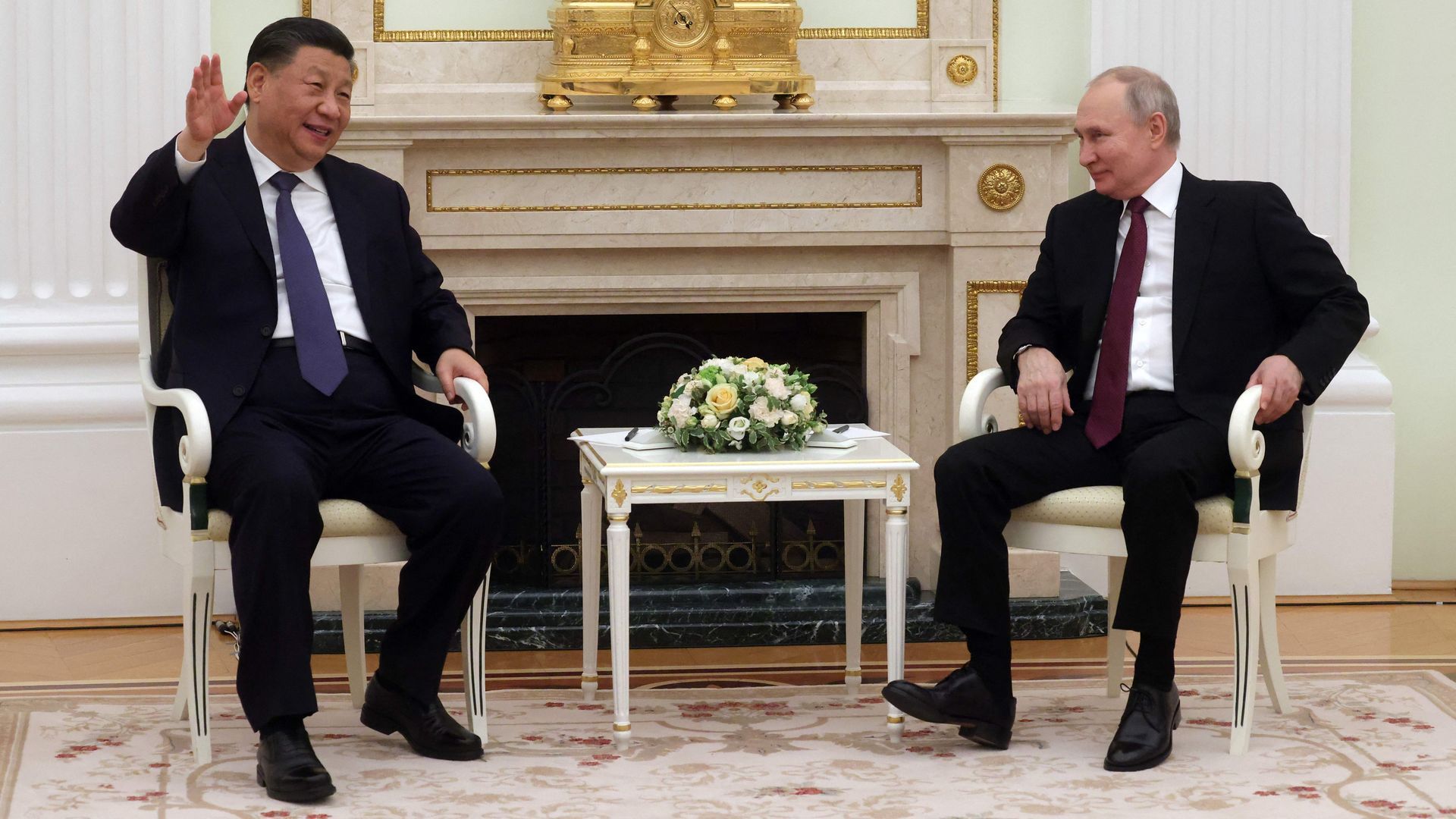 Chinese President Xi Jinping is signaling solidarity with his "dear friend" Vladimir Putin this week in Moscow — a visit that also underscores Russia's reliance on China to keep its economy and war machine running.
Why it matters: China has helped shield Russia from Western efforts to isolate it following the invasion of Ukraine, significantly increased imports of Russian oil, and become an even more crucial source for Russia of key inputs like microchips.
The visit follows warnings from Washington that Xi might start backing the Russian war effort with weapons — claims Beijing denies.
Thus far, China has not openly breached Western sanctions or provided arms to Russia. In fact, Beijing is attempting to position itself as a mediator.
Putin said Monday that he looks forward to discussing Xi's recent peace proposal in detail.
Putin also thanked Xi in an article published in Chinese state media for understanding the "true causes" of the conflict. Chinese officials and state media have echoed Putin's arguments that NATO is to blame.
More recently, Beijing condemned the "double standards" at the International Criminal Court after it issued a warrant for Putin's arrest on Friday.
Between the lines: Xi's pseudo-neutrality can be summed up by his itinerary this week: a three-day state visit with Putin; a planned phone call with Ukrainian President Volodymyr Zelensky.
A European official recently told reporters in Washington that one potential "nightmare" scenario is that the military balance of the war shifts toward Russia, Western influence diminishes, and Chinese mediation starts to seem far more plausible.
The big picture: While Xi may consider Putin his "best friend," he has more practical reasons for aligning with Moscow.
Russia remains a key source of oil, arms and military technology for China. It's also an ideological ally for China in its rivalry with the U.S., with a seat on the UN Security Council, says Alexander Gabuev, an expert on the Russia-China relationship at the Carnegie Endowment.
In an article of his own published Monday in the Russian press, Xi called for cooperation to confront "damaging acts of hegemony, domination and bullying."
Chinese leaders often make Moscow the first trip of a new term, but Xi's decision to opt for a full state visit "is a statement that 'we will stand by Russia,'" Gabuev says.
Between the lines: Expect three days of handshakes, smiles, pomp and circumstance in Moscow, at least in public. Dinner tonight was a seven-course affair featuring quail blinis, Siberian salmon, venison in cherry sauce and wine from Russia's Black Sea coast, according to menus posted on Twitter.
But the balance of power between the neighbors has flipped since the Soviet era, particularly since the invasion. Trade with China now accounts for more than 30% of Russia's total imports and exports, but just 3% of China's. That gives Xi a lot of leverage with his giant neighbor.
"Continuing the war for Putin is more important than any attempt to keep balance or strategic autonomy," Gabuev says. "Since the war is the organizing principle of Russian foreign policy now, whoever gives you the ability to continue is your best friend."
Go deeper