16 teams survive the weekend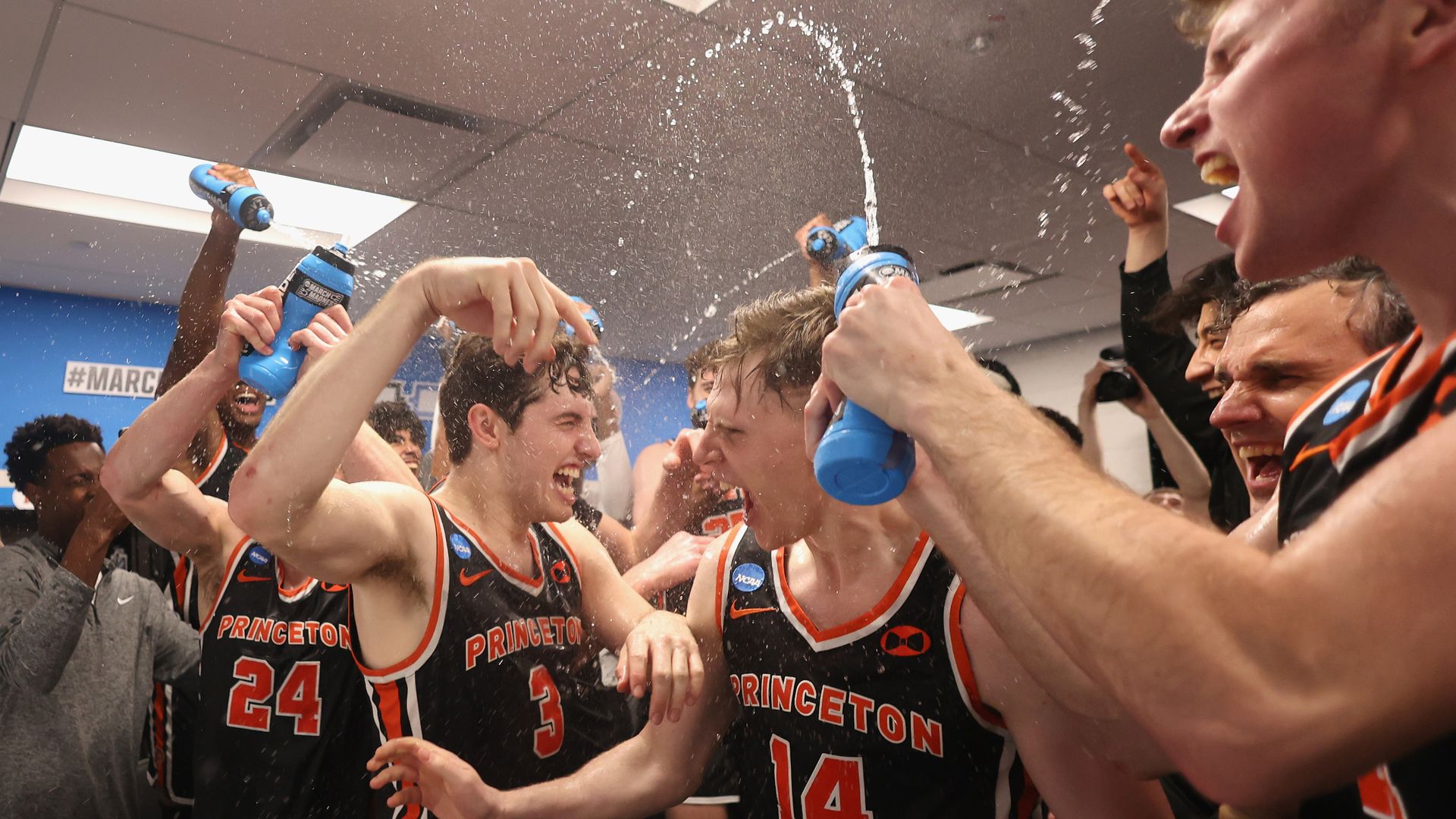 The men's college basketball regular season was defined by parity, and so far, the NCAA Tournament has a similar "anybody can beat anybody" vibe.
State of play: Just four of the top nine overall seeds — Alabama, Houston, UCLA and Texas — survived opening weekend, which saw two No. 1 seeds (Purdue and Kansas) lose and one No. 15 seed (Princeton) win ... twice.
This is just the fourth time since the field expanded in 1985 that multiple No. 1 seeds failed to reach the Sweet 16. It also happened in 2000, 2004 and 2018.
Until 2021, only one No. 15 seed had ever made the Sweet 16 (Florida Gulf Coast in 2013). It has now happened three straight times, with Princeton following Saint Peter's and Oral Roberts.
By the numbers: 11 conferences are represented in the Sweet 16, tying a record set in 1991 and 2010. The SEC and Big East lead the way with three schools each, followed by the Big 12 with two. The ACC, Big Ten, Pac-12, AAC, WCC, Mountain West, Conference USA and Ivy League all have one.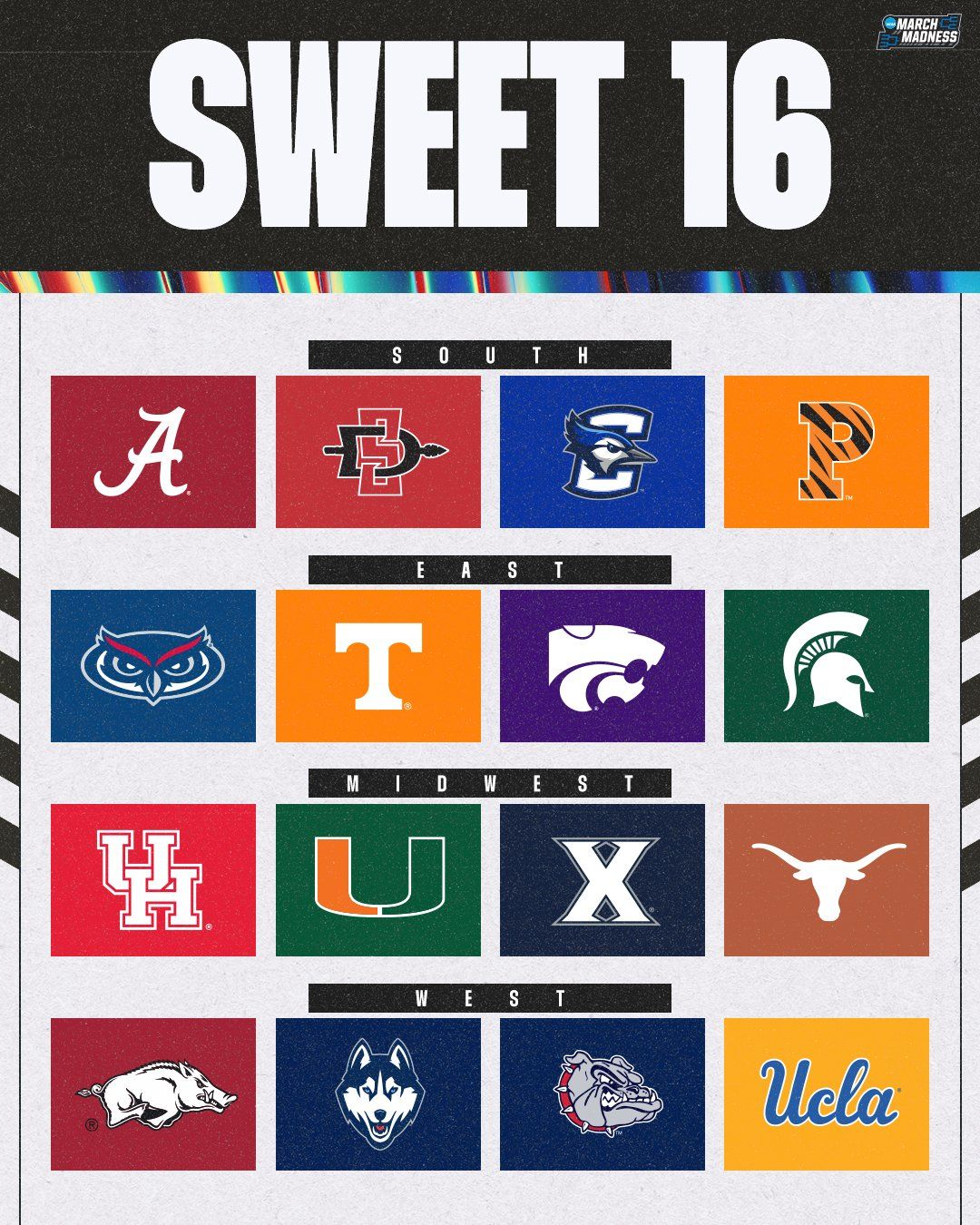 Schedule:
Thursday (New York): No. 3 Kansas State vs. No. 7 Michigan State (6:30pm ET); No. 4 Tennessee vs. No. 9 Florida Atlantic (9pm)
Thursday (Las Vegas): No. 4 UConn vs. No. 8 Arkansas (7:15pm); No. 2 UCLA vs. No. 3 Gonzaga (9:45pm)
Friday (Louisville): No. 1 Alabama vs. No. 5 San Diego State (6:30pm); No. 6 Creighton vs. No. 15 Princeton (9pm)
Friday (Kansas City): No. 1 Houston vs. No. 5 Miami (7:15pm); No. 2 Texas vs. No. 3 Xavier (9:45pm)
Notes:
Champs are cursed: Kansas is the sixth straight reigning national champion to be eliminated on opening weekend the following year.
Third Ivy ever: Princeton is just the third Ivy League school to reach the Sweet 16, joining Cornell (2010) and Penn (1978-79). People forget: The Quakers made the Larry Bird-Magic Johnson Final Four in '79.
Eight straight: This is Gonzaga's eighth straight Sweet 16 appearance, the third-longest streak ever. Houston (four), Arkansas (three), UCLA (three) and Miami (two) are the only other schools with active streaks.
1 fun thing ... I re-seeded the Sweet 16 based on how teams have performed so far. Each team's overall seed entering the tournament is in parentheses.
Alabama (No. 1 overall seed)
Houston (No. 2)
UCLA (No. 5)
Texas (No. 6)
Tennessee (No. 14)
UConn (No. 13)
Gonzaga (No. 10)
Kansas State (No. 11)
Arkansas (No. 30)
Creighton (No. 22)
Xavier (No. 12)
Miami (No. 20)
San Diego State (No. 17)
Michigan State (No. 26)
Princeton (No. 61)
Florida Atlantic (No. 33)
Go deeper