Silicon Valley Bank's former parent files for Chapter 11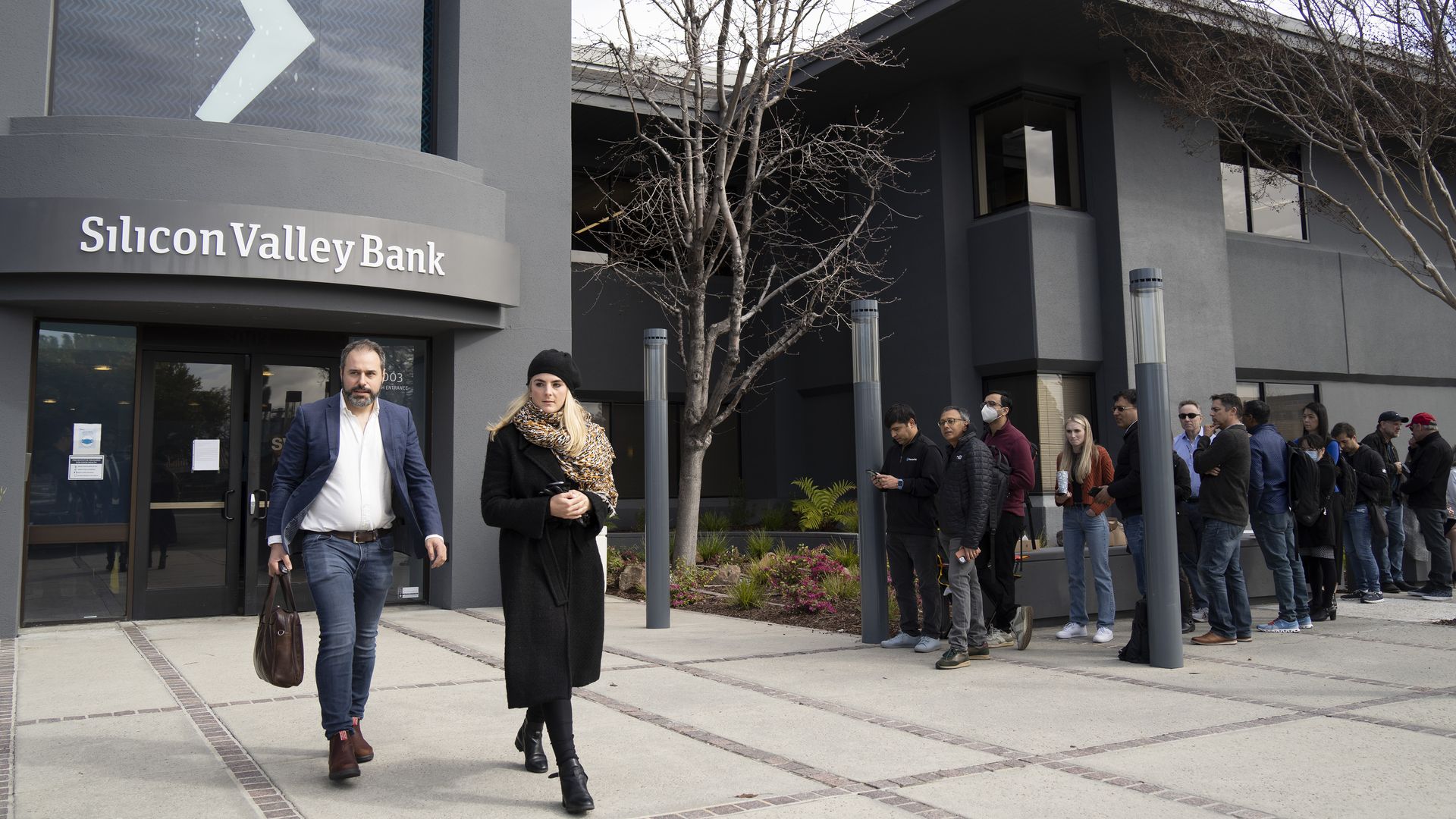 Silicon Valley Bank's former parent company filed for Chapter 11 bankruptcy protection on Friday, a week after the U.S. government took over its commercial bank that collapsed from a run on deposits.
Why it matters: The filing is an effort to preserve value for the remaining businesses within the former parent company, SVB Financial Group.
State of play: Silicon Valley Bank (SVB) was the nation's 16th largest bank by assets until it collapsed in a depositor run last week, amid fears about its interest rate risk and balance sheet strength.
The FDIC took the bank over last Friday and is now managing the business and overseeing its attempt to be sold.
The FDIC wants a bank to purchase the whole commercial bank, and is deterring the involvement of hedge funds and other investors interested in parts of the business, sources familiar with the matter say.
Catch up quick: SVB Financial Group said on Monday it hired advisers to pursue strategic alternatives — including the sale of its investment arm, SVB Capital, and its broker dealer, SVB Securities.
In its press release on Friday announcing the bankruptcy, SVB Financial Group said the Chapter 11 filing does not include SVB Capital or SVB Securities.
Those entities "continue to operate in the ordinary course as SVB Financial Group proceeds with its previously announced exploration of strategic alternatives for these valuable businesses," the company said.
SVB Financial Group also clarified that it is no longer affiliated with SVB or the private wealth business, which is part of the commercial bank.
Zoom in: After SVB descended into receivership, Centerbridge Partners, Davidson Kempner Capital Management and Pacific Investment Management purchased bonds in the holding company and formed a creditor group, sources tell Axios.
The group wanted the parent company to file for bankruptcy and then auction SVB Financial's nonbank businesses, Axios has confirmed.
SVB Financial then filed Chapter 11 — but where the auction goes and who receives the proceeds remains unclear. The creditor group paid around 30 cents on the dollar for the bonds, per the Wall Street Journal.
"It's too premature to draw any conclusions on how a bankruptcy judge might view parts of the holding company," said Nomura's Greg Hertrich.
Hertrich, Nomura's head of US depository strategies, said the creditor group could benefit from proceeds that come from the sale of the company's assets — or it could not.
"The thing about bonds is that it's a commitment from a corporation, and that commitment is to repay the cost of the bond," he said. "That obviously doesn't happen 100% of the time."
Of note: In its bankruptcy filing, SVB Financial Group said it believes it has approximately $2.2 billion of liquidity, $3.3 billion in debt, and $3.7 billion of preferred shares.
Go deeper