Democrats now sympathize more with Palestinians than Israelis, poll finds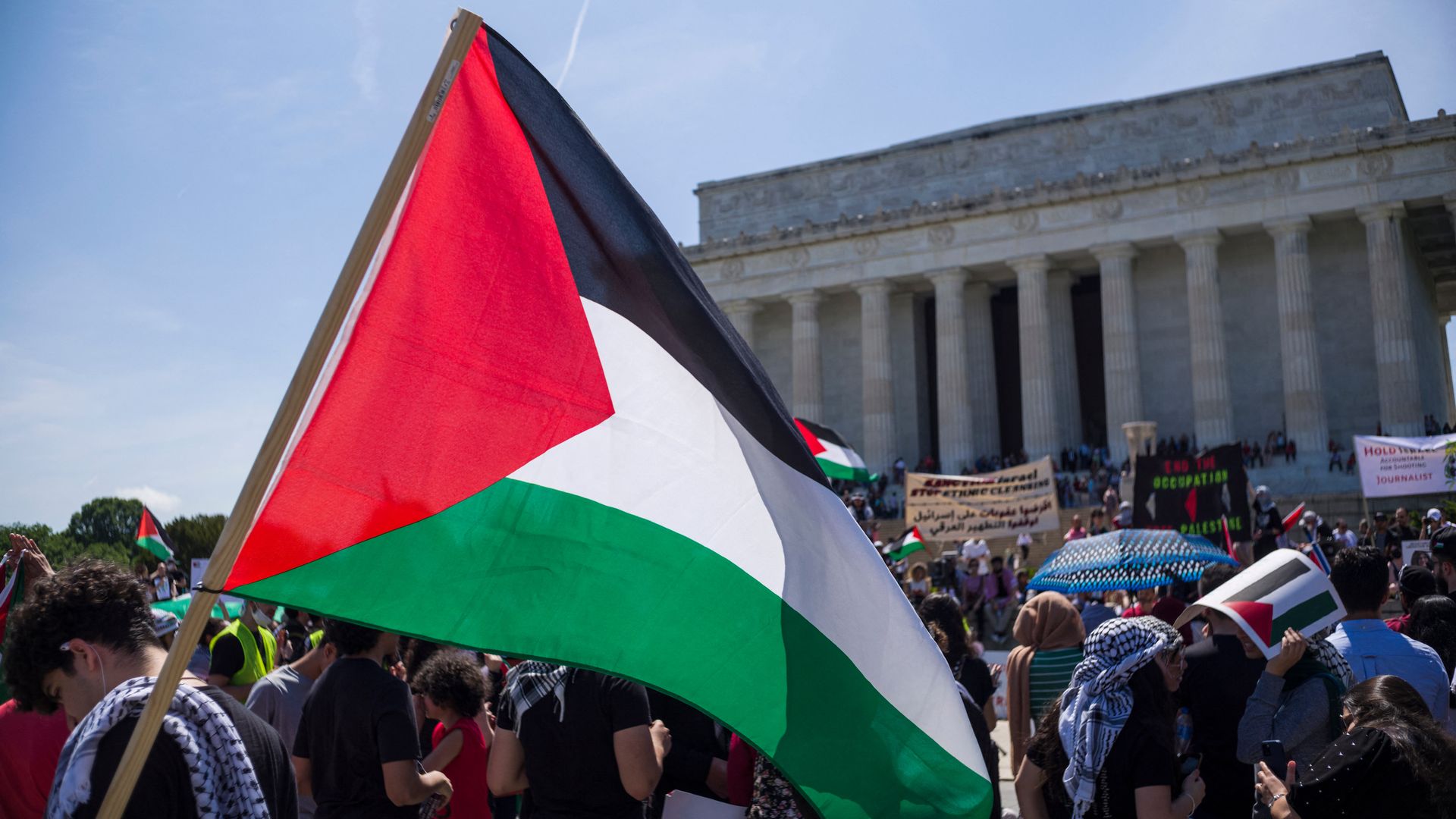 Views of the Israeli-Palestinian conflict have shifted sharply among Democrats, who said they sympathized more with Palestinians than Israelis for the first time in an annual Gallup survey.
The big picture: Overall, most U.S. adults sympathize more with Israelis (54%) than Palestinians (31%), and two-thirds of Americans continue to view Israel favorably. However, views on the Middle East conflict are becoming increasingly polarized in the U.S. by party and by generation.
Flashback: In 2016, 53% of Democrats said they sympathized more with the Israelis, and 23% with the Palestinians.
By 2022, that gap had virtually disappeared.
When Gallup conducted this year's poll from Feb. 1-23, just 38% of Democrats chose the Israelis while 49% said they sympathized more with Palestinians.
That shift has been driven largely by Americans born after 1980, a narrow plurality of whom are more sympathetic to Palestinians than Israelis. Americans from older generations are more than twice as likely to sympathize with the Israelis.
The progressive wing of the Democratic caucus in Congress has also grown increasingly vocal about the Palestinian cause.
Between the lines: Some Israeli officials and analysts have argued that Prime Minister Benjamin Netanyahu made Israel a partisan issue in Washington by aligning so closely with the Republicans.
Yes, but: A majority of Democrats (56%) continue to view Israel favorably. That's down from 63% last year and far lower than the 82% among Republicans, but is broadly in line with previous findings for Democrats over the two decades Gallup has been conducting the survey.
State of play: There has been no movement toward a resolution to the Israeli-Palestinian conflict for several years, and serious peace talks are highly unlikely any time soon, particularly with a new hard-right government in office in Israel. Tensions are running high in the occupied West Bank after an escalation in violence in recent weeks.
Israel's domestic politics are also highly contentious, with President Isaac Herzog warning Wednesday that the country was on brink of civil war as Netanyahu pushes ahead with a judicial overhaul plan that critics say will undermine Israel's democracy.
Methodology: Gallup polled 1,008 American adults across all 50 states, 75% of whom were contacted via cell phone and 25% via landline. The margin of sampling error is +/- 4% at a 95% confidence level.
Go deeper