DOJ arrests Chinese billionaire over alleged $1B fraud scheme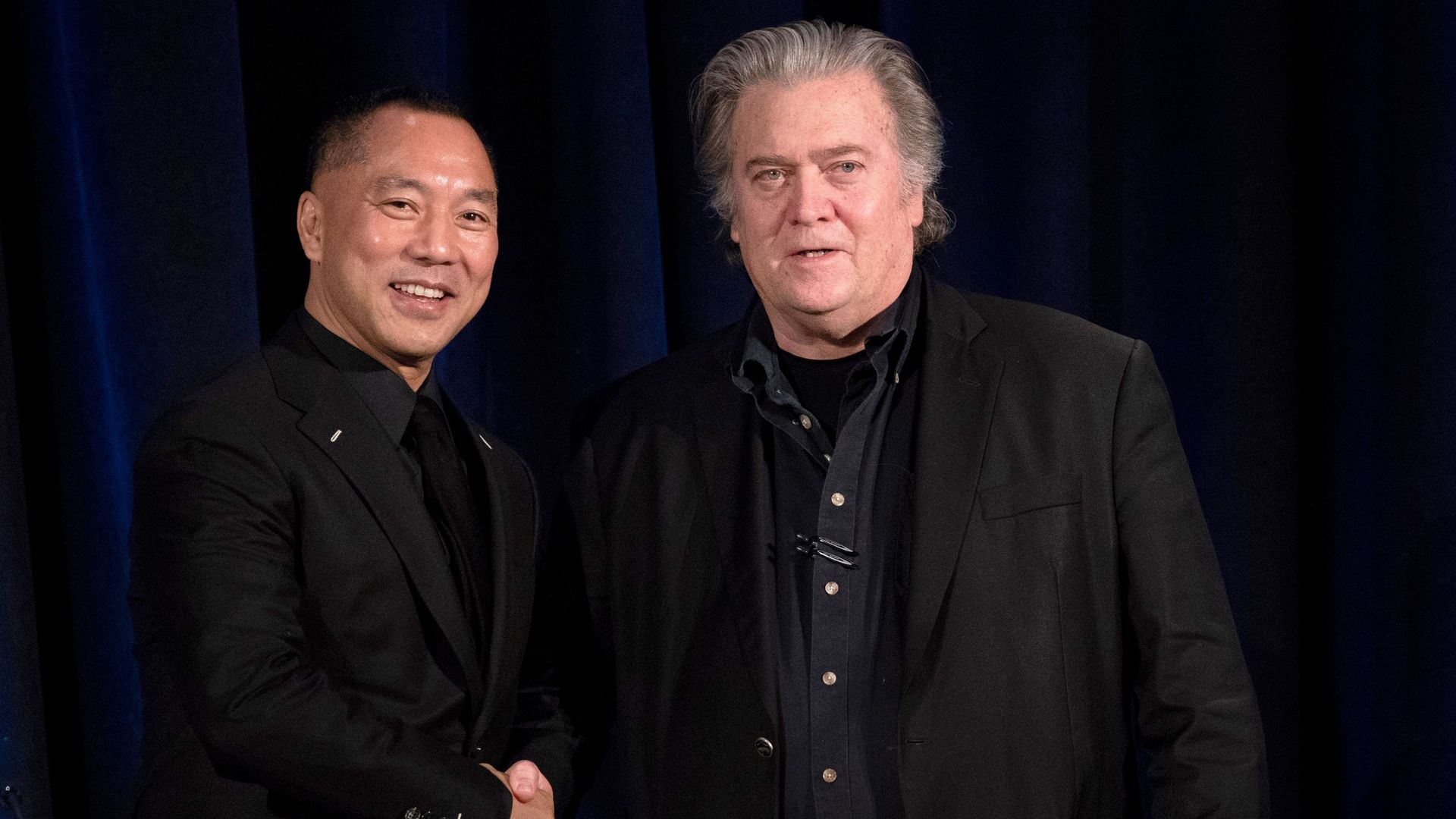 The Department of Justice arrested fugitive Chinese billionaire Guo Wengui, an associate of Steve Bannon, on Wednesday over multiple charges stemming from an alleged $1 billion fraud scheme.
Driving the news: Federal prosecutors in Manhattan allege Guo, who is also known as Miles Kwok, promised thousands of his online followers outsized returns if they invested in GTV and his other business entities.
Prosecutors said Guo and members of his family used the money to buy a 50,000-square-foot mansion, a $3.5 million Ferrari and two $36,000 mattresses and for financing a $37 million yacht.
Guo was also charged for allegedly laundering hundreds of millions of stolen funds to conceal the conspiracy's illegal activities and continue the fraud's operations.
GTV, a media business linked to Guo, was previously fined millions of dollars by the Securities and Exchange Commission for illegally selling stock and digital assets.
By the numbers: The federal government seized approximately $634 million in proceeds from Guo's alleged fraud from 21 different bank accounts between September 2022 and March 2023, prosecutors said.
They also said law enforcement seized additional assets on Wednesday.
The complex scheme allegedly involved at least four different business entities, including a purported cryptocurrency website.
The big picture: Kin Ming Je, who prosecutors say is Guo's financier and was at large, was also charged with several crimes, including obstruction of justice.
Guo, a vocal critic of the Chinese Communist Party, is on China's most-wanted list for alleged bribery, fraud and money laundering, though he has denied those allegations, according to the New York Times.
In addition to Bannon, Guo has also been associated with other pro-Trump allies and groups, including Gettr, the social media network founded by former Trump aide Jason Miller.
Guo has been linked to the targeted protesting of several Chinese dissidents across the U.S. and at least five other countries.
Flashback: Guo — without evidence — had publicly accused the dissidents, who fled China due to repression from Chinese authorities, of being spies for the Chinese government.
Go deeper