Embattled ambassador nominee confirmed with GOP support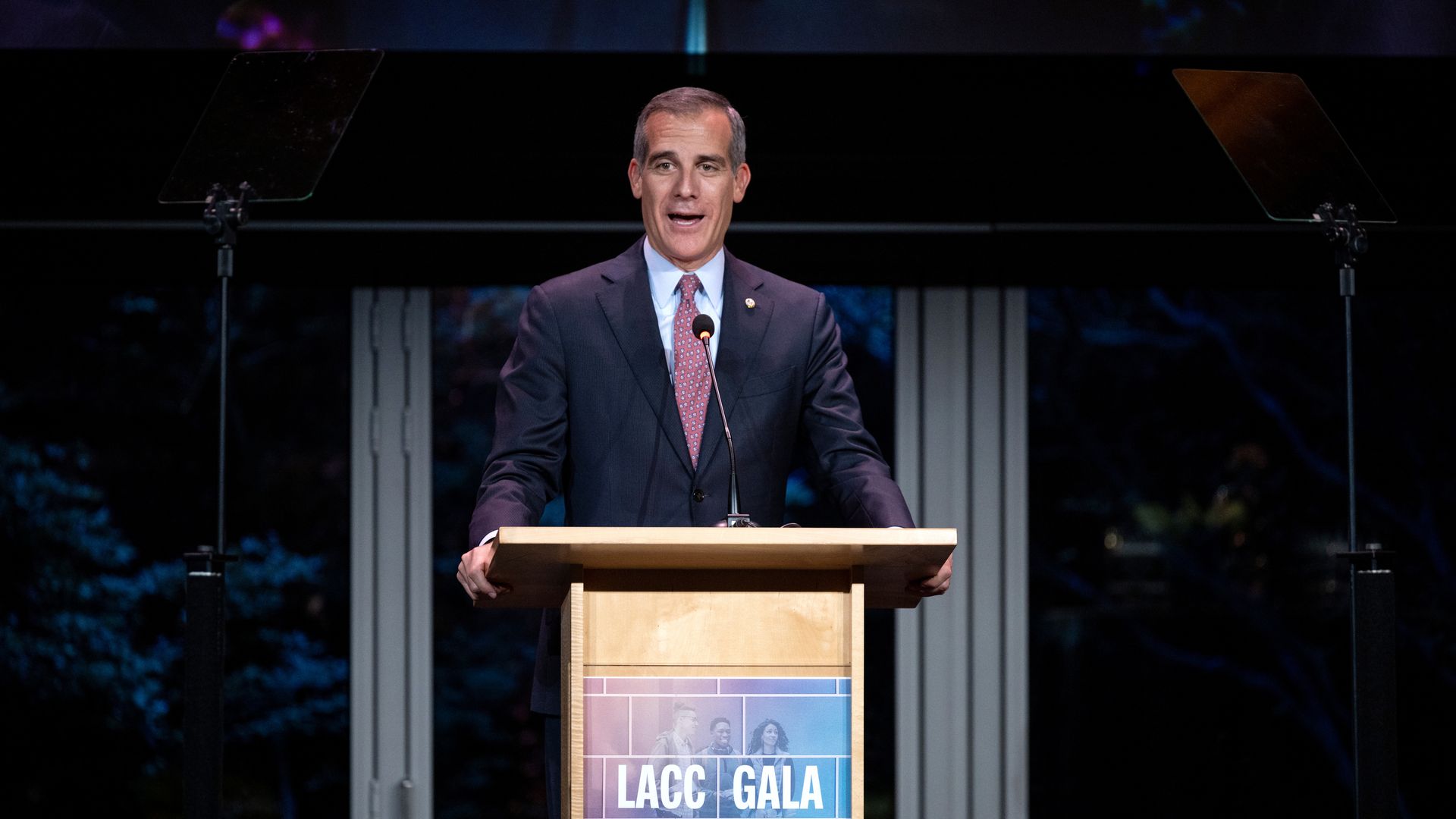 Former Los Angeles mayor Eric Garcetti won a Senate vote on Wednesday to become President Biden's ambassador to India, winning the support of 7 Republican senators to help him win a majority.
The big picture: Biden nominated Garcetti to be ambassador to India in July 2021. The ex-mayor's nomination was stalled over questions about how he handled allegations of harassment by his staff.
Why it matters: Nearly two years after he was nominated, Garcetti will now be ambassador to the world's biggest democracy as his administration works to counter China's influence in the Indo-Pacific region.
Driving the news: The Senate confirmed Garcetti by a vote of 52-42. Three Democrats, Sens. Sherrod Brown (Ohio), Mazie Hirono (Hawaii) and Mark Kelly (Ariz.), voted against the ex-mayor.
Republican Sens. Bill Cassidy (La.), Susan Collins (Maine), Steve Daines (Mont.), Lindsey Graham (S.C.), Bill Hagerty (Tenn.), Roger Marshall (Kan.) and Todd Young (Ind.) voted in favor of Garcetti's nomination.
After picking up a Senate seat in the midterm elections, Biden decided to renominate the former co-chairman of his campaign.
Garcetti faced allegations that he was aware of sexual harassment and racist comments by a top former adviser, Rick Jacobs, but did not act on them.
He has denied any knowledge of inappropriate behavior.
Zoom out: India, which currently holds the G20 presidency and will host world leaders New Delhi in November, is in the middle of two geopolitical struggles that will help determine the international order in the coming decades.
At the outset of his presidency, Biden hosted a virtual summit of leaders of the so-called Quad — which includes the United States, Japan, Australia, and India — in a virtual summit as he looked to elevate the importance of alliances and partnership in Asia as a way to check China's emerging dominance.
But the Biden administration has been frustrated by India's reluctance to condemn or cut-off Russia, in response to its invasion of Ukraine.
With medical absences on both sides of the aisle – Sen. John Fetterman (D-Pa.), Sen. Dianne Feinstein (D-Calif.) and Senate Minority Leader Mitch McConnell (R-Ky.) remain out – the outcome of the Senate vote was far from certain.
Editor's note: This is a developing story. Please check back for updates.
Go deeper