Congress stares down dim prospects for banking reform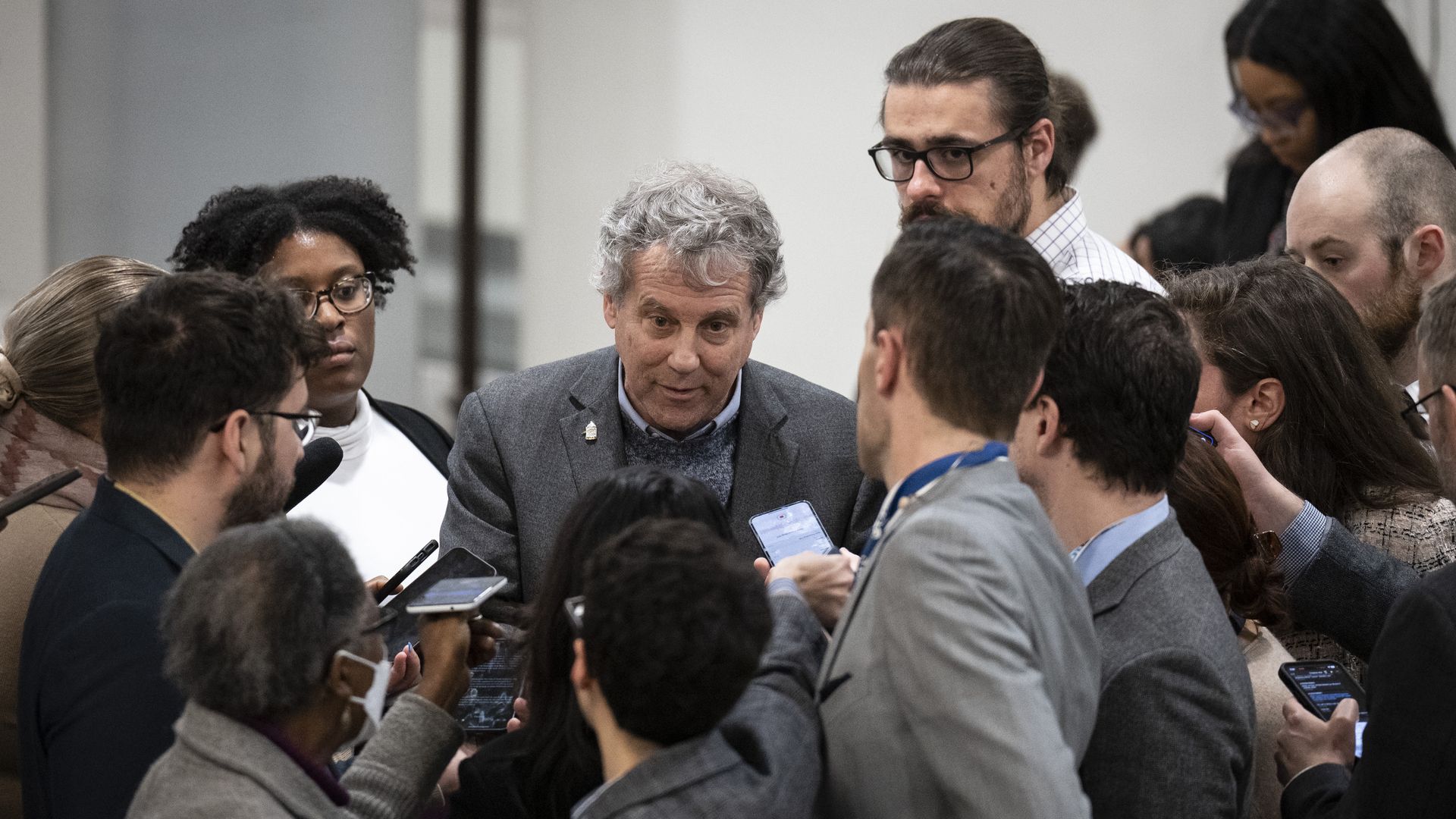 Both parties are drawing battle lines over the collapses of Silicon Valley Bank and Signature Bank, while acknowledging regulatory reform faces a steep — if not impossible — climb in Congress.
Why it matters: Democrats are preparing to introduce legislation that would reverse a GOP-led rollback of Dodd-Frank banking regulations in 2018 that many of them, including President Biden, see as a culprit for the bank failures.
What they're saying: Top Democrats expressed early pessimism about the idea that any reform measure could garner the 10 Republican votes needed to pass the Senate — let alone the GOP-controlled House.
Senate Majority Whip Dick Durbin (D-Ill.), asked whether there is any legislative response to the bank failures that could become law, told Axios: "Not that I know of."
Sen. Sherrod Brown (D-Ohio), chair of the Senate Banking Committee, told reporters he's "going to push hard on making sure these laws are tougher," but added: "I don't know how we do a legislative fix when Republicans ... all blame Biden. They all blame inflation."
The other side: Top Republicans told Axios it's far too early to even discuss new regulations, while casting doubt on the idea that any measure could garner the necessary GOP support. "I don't think so," said Sen. Joni Ernst (R-Iowa), chair of the Senate GOP Policy Committee.
Senate Minority Whip John Thune (R-S.D.) said, "I don't think the rush to regulate is instinctively the right solution until you know what the facts are and what it is you're trying to fix."
"There is no need for regulatory reform," said Sen. Mike Crapo (R-Idaho), who helped author the 2018 Dodd-Frank rollback as chair of the Senate Banking Committee.
Zoom in: Even some of the most moderate GOP lawmakers shied away from expressing openness to reform. Sen. Susan Collins (R-Maine) said it is "incredibly premature to be talking about rewriting the law."
Rep. Marc Molinaro (R-N.Y.), a self-described member of the GOP's "even-keeled" wing, told Axios, "I think the Democratic response is always, 'Let's just go find some new regulations.'"
"These banks did have some risk that may not be systemic," he said. "It's important for the system to truly know what the illness is, and then we can determine what the right medicine is."
Sen. Thom Tillis (R-N.C.), a prolific collaborator on bipartisan legislation, said of SVB's collapse: "I think we're going to find ... that [the regulators] had the authority and responsibility to regulate and they didn't do it very well."
State of play: With substantive action essentially off the table, the two parties are already huddling on messaging strategies focused on who to blame for the bank collapses.
In a private call on Monday night, House Republicans coalesced around a group of targets, according to a member on the call: state regulators, SVB leadership and inflation spurred by Democrats' spending policies.
Yes, but: There are faint possibilities for bipartisan collaboration on depositor safeguards and regulatory overhauls worth keeping an eye on.
Rep. Blaine Luetkemeyer (R-Mo.), a top Republican on the Financial Services Committee, told Politico that the Federal Deposit Insurance Corporation should temporarily guarantee all bank deposits.
That could portend GOP openness to a proposal some Democratic lawmakers have rallied around to permanently raise the FDIC's deposit insurance limit above $250,000.
Sen. Josh Hawley (R-Mo.) also endorsed separating commercial and investment banks, a proposal long embraced by progressives — though there is little evidence for widespread support within the GOP for such profound government intervention.
Go deeper