EPA moves to limit "forever chemicals" in drinking water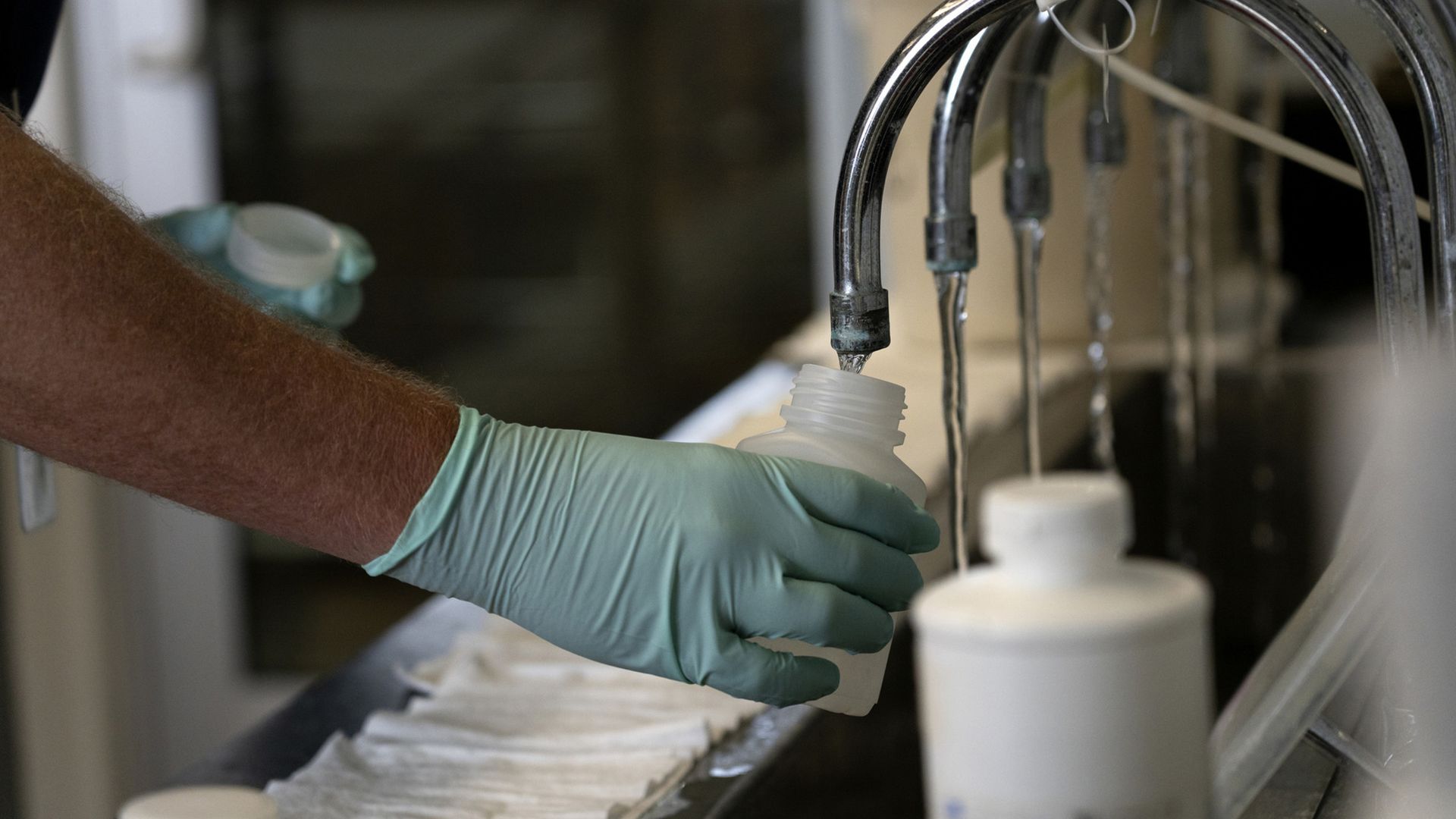 The Environmental Protection Agency proposed drinking water regulations on Tuesday for certain types of "forever chemicals," a pervasive group of industrial chemicals that have affected drinking water quality across the U.S.
Why it matters: If the proposals become official, it'd be the first time the federal government would require utilities to remove the dangerous chemicals from drinking water before they reach households and businesses.
How it works: The proposed standards apply to six compounds of a family of over 12,000 types of chemicals collectively called per- and polyfluoroalkyl substances (PFAS).
The proposal would limit perfluorooctanesulfonic acid (PFOS) and perfluorooctanoic acid (PFOA), the two most widely used PFAS, at 4 parts per trillion (ppt) in drinking water. One ppt is the equivalent of one drop of contaminant in 21 million gallons of water, according to the U.S. Navy.
The EPA also proposed regulations on four other PFAS chemicals — PFNA, PFHxS, PFBS, and GenX.
There are currently no active national drinking water standards for PFAS or specific federal mandates for testing in drinking water.
Between the lines: The proposed limits through the Safe Drinking Water Act come months after the EPA unveiled another proposal to designate two of the forever chemicals as hazardous substances under the 1980 Superfund law and issued a drinking water health advisory.
Zoom in: PFAS, also called forever chemicals for their durability, resist degradation by repelling oil and water and withstanding high temperatures.
Yes, but: Reducing levels of PFAS in drinking water or switching to other distributors will likely require municipalities to invest millions of dollars into new infrastructure and incur ongoing maintenance costs, studies show.
For example, Brunswick County, North Carolina, allocated $46 million and a recurring annual operating cost of $2.9 million to upgrade and run a treatment plant designed to filter PFAS from drinking water sourced from the Cape Fear River, which was polluted by decades of PFAS discharges by Chemours and DuPont.
Most uses of PFOS and PFOA were voluntarily phased out by U.S. producers, but they are the most well-studied and are the most widespread in the environment, according to the EPA and the National Institutes of Health.
The six compounds targeted by the proposed regulations are just a few in class made up of thousands of chemicals. Manufacturers may have turned to newer but understudied PFAS that could pose similar health risks.
What they're saying: "This action has the potential to prevent tens of thousands of PFAS-related illnesses and marks a major step toward safeguarding all our communities from these dangerous contaminants," EPA administrator Michael Regan said in a statement.
The big picture: Since the health effects and prevalence of PFAS pollution have become more widely understood, several companies have announced intentions to phase out certain PFAS products, including major fast food companies.
Go deeper: Chemists discover new method to destroy "forever chemicals"
Editor's note: This is a developing story. Please check back for updates.
Go deeper