Panthers trade up with eye on "Big Four"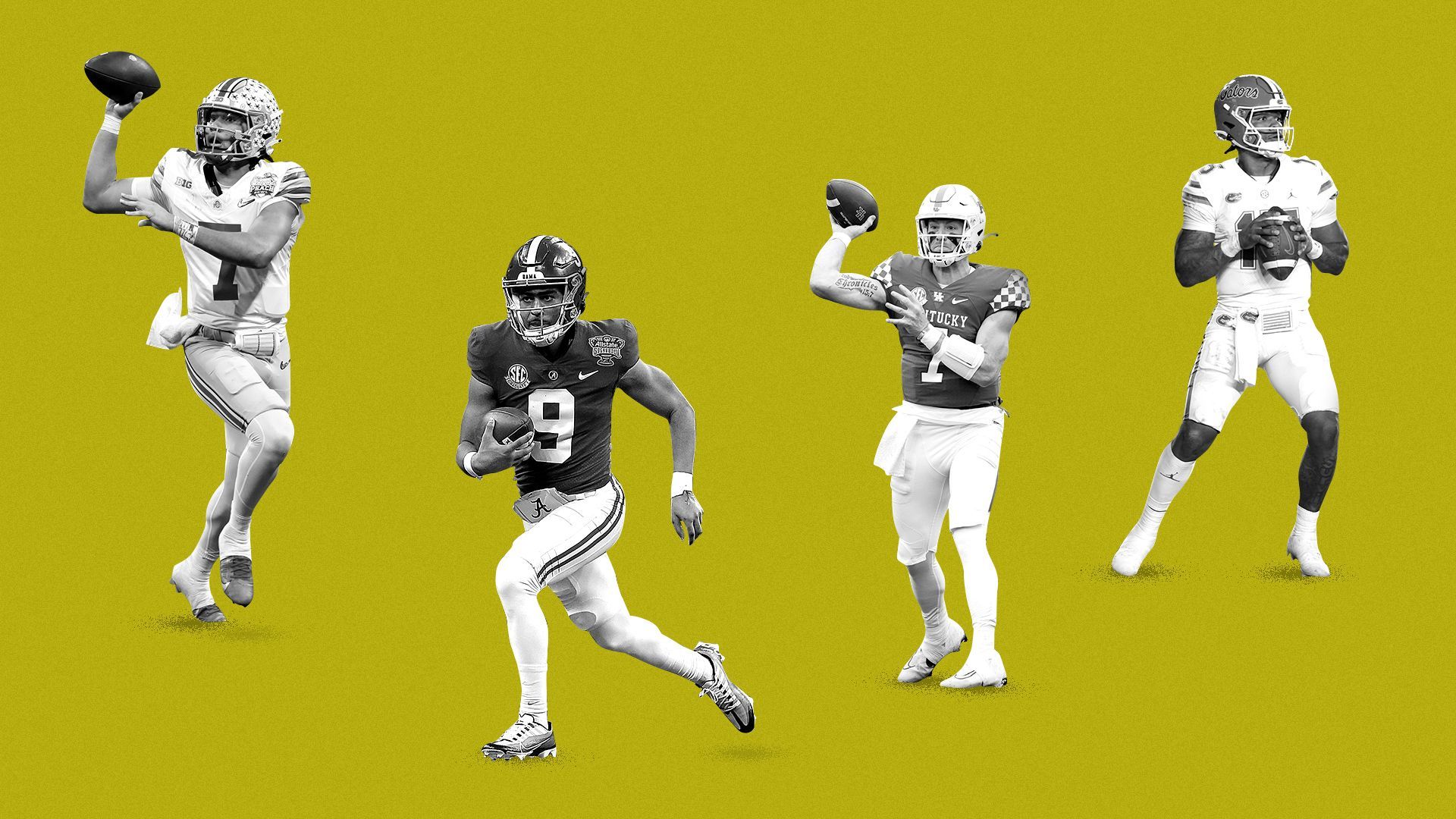 The Bears and Panthers shook up the National Football League draft on Friday, with Chicago sending the No. 1 pick to Carolina in exchange for the No. 9 pick, a 2024 first-round pick, wide receiver D.J. Moore and two second-round picks.
Why it matters: This is just the seventh time since 1990 — and third time this century — that a team has traded up for the No. 1 overall pick.
2016: Los Angeles Rams acquire No. 1 pick from Tennessee Titans, draft quarterback Jared Goff
2001: Atlanta Falcons acquire No. 1 pick from San Diego Chargers, draft quarterback Michael Vick
1997: Then-St. Louis Rams acquire No. 1 pick from New York Jets, draft offensive tackle Orlando Pace
1995: Cincinnati Bengals acquire No. 1 pick from Panthers, draft running back Ki-Jana Carter
1991: Dallas Cowboys acquire No. 1 pick from New England Patriots, draft defensive tackle Russell Maryland*
1990: Indianapolis Colts acquire No. 1 pick from Falcons, draft quarterback Jeff George
State of play: The Panthers will reportedly use the next seven weeks to decide which of the "Big Four" QBs they want: C.J. Stroud, Bryce Young, Anthony Richardson or Will Levis?
Stroud (Ohio State) is the favorite at sportsbooks and among NFL insiders, who think he's "bigger than Young, more accurate than Richardson and more of a playmaker than Levis," per The Athletic ($).
Young (Alabama) is No. 1 in the latest consensus big board and widely considered the most NFL-ready QB in this class. But the 5-foot-10 Heisman winner would be one of the shortest passers ever drafted.
Richardson (Florida) blew up the combine and is the type of talent who can convince teams to make a big move. But there are concerns about his inexperience (13 starts) and inaccuracy (53.8% completion percentage).
Levis (Kentucky) is the least likely of the four QBs to go No. 1 overall, but his rocket arm and prototypical size (6-foot-4, 230 pounds) will keep him in the conversation.
*The Cowboys traded up to try to sign Notre Dame star Raghib "Rocket" Ismail after the Patriots failed. But when he spurned the NFL to sign a huge deal with the CFL's Toronto Argonauts, Dallas ended up with Maryland instead.
Go deeper