First look: Experts from Israel, Arab nations to meet to discuss water, food security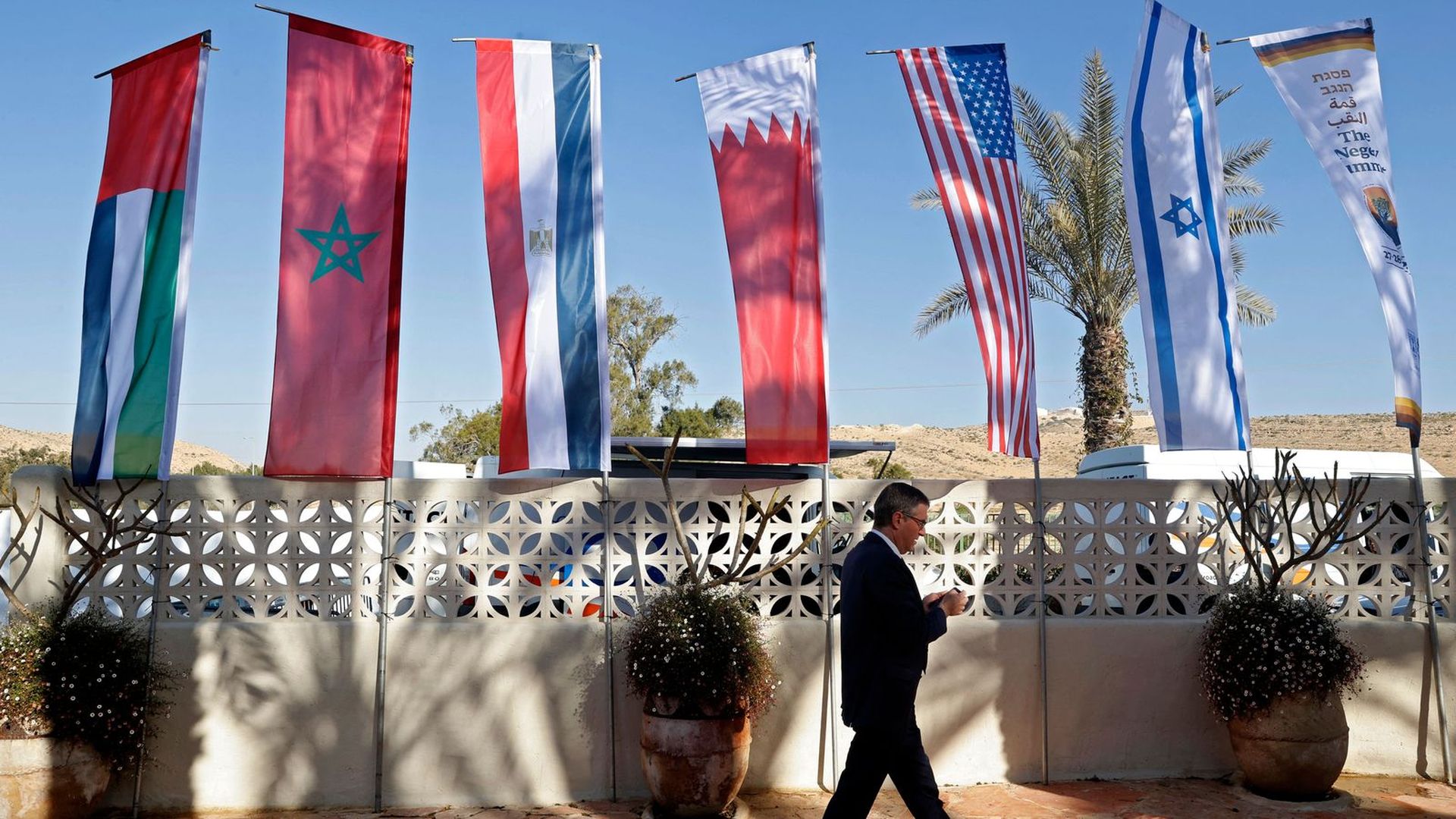 Government and non-government representatives from Israel and several Arab countries are expected to convene on Tuesday in Abu Dhabi for three days to discuss cooperation in agriculture, water and food security, the organizers of the N7 initiative told Axios.
Why it matters: Relations between Israel and the Arab world are at one of their lowest points since the signing of the Abraham Accords in September 2020.
The United Arab Emirates, Bahrain, Morocco and other Arab countries have cooled their ties with Israel and taken a much more cautious approach since Prime Minister Benjamin Netanyahu's right-wing government came to power nearly three months ago.
At the same time, tensions in the occupied West Bank continue to escalate, prompting the cancelation or delay of several meetings between government officials from Israel and Arab countries.
The most important was the Negev Forum foreign ministers meeting, which was scheduled to take place in Morocco in March with the participation of Secretary of State Tony Blinken but was postponed.
Driving the news: Tuesday's Abu Dhabi meeting is organized as part of the Atlantic Council and the Jeffrey M. Talpins Foundation N7 initiative, which aims to develop ideas and practical proposals for regional projects that could be implemented by governments in the region.
Experts, government officials, university professors and private sector executives from Israel, the UAE, Bahrain, Morocco, Egypt, Jordan and Sudan are expected to attend. The organizers say Palestinian representatives and experts from countries that don't have relations with Israel like Indonesia are also expected to participate.
U.S. Sens. Cory Booker (D-N.J.) and Joni Ernst (R-Iowa) from the Senate Abraham Accords caucus are expected to address the meeting over video. Rep. Michael McCaul (R-Texas), chairman of the House Foreign Relations Committee and Rep. Brad Schneider (D-Ill.), are also expected to give video addresses.
U.S. Ambassador to Israel Tom Nides, Israeli national security adviser Tzachi Hanegbi and former British Prime Minister Tony Blair will also speak to the participants on video.
What they're saying: Retired Ambassador Daniel B. Shapiro, director of the N7 Initiative, said the ideas of the previous meeting in Morocco in December, which focused on education, were discussed by government officials from regional countries during the last Negev Forum meeting last January.
"Our goal is to produce innovative regional solutions to the shared challenges of climate change, water scarcity, and food insecurity," said Oren Eisner, president of the Jeffrey M. Talpins Foundation.
Will Wechsler, senior director for the N7 Initiative, said the initiative is unique in its ability to bring together a community of regional experts who have never had the opportunity to sit together at one table.
Go deeper