Daylight saving starts Sunday as Congress considers permanent change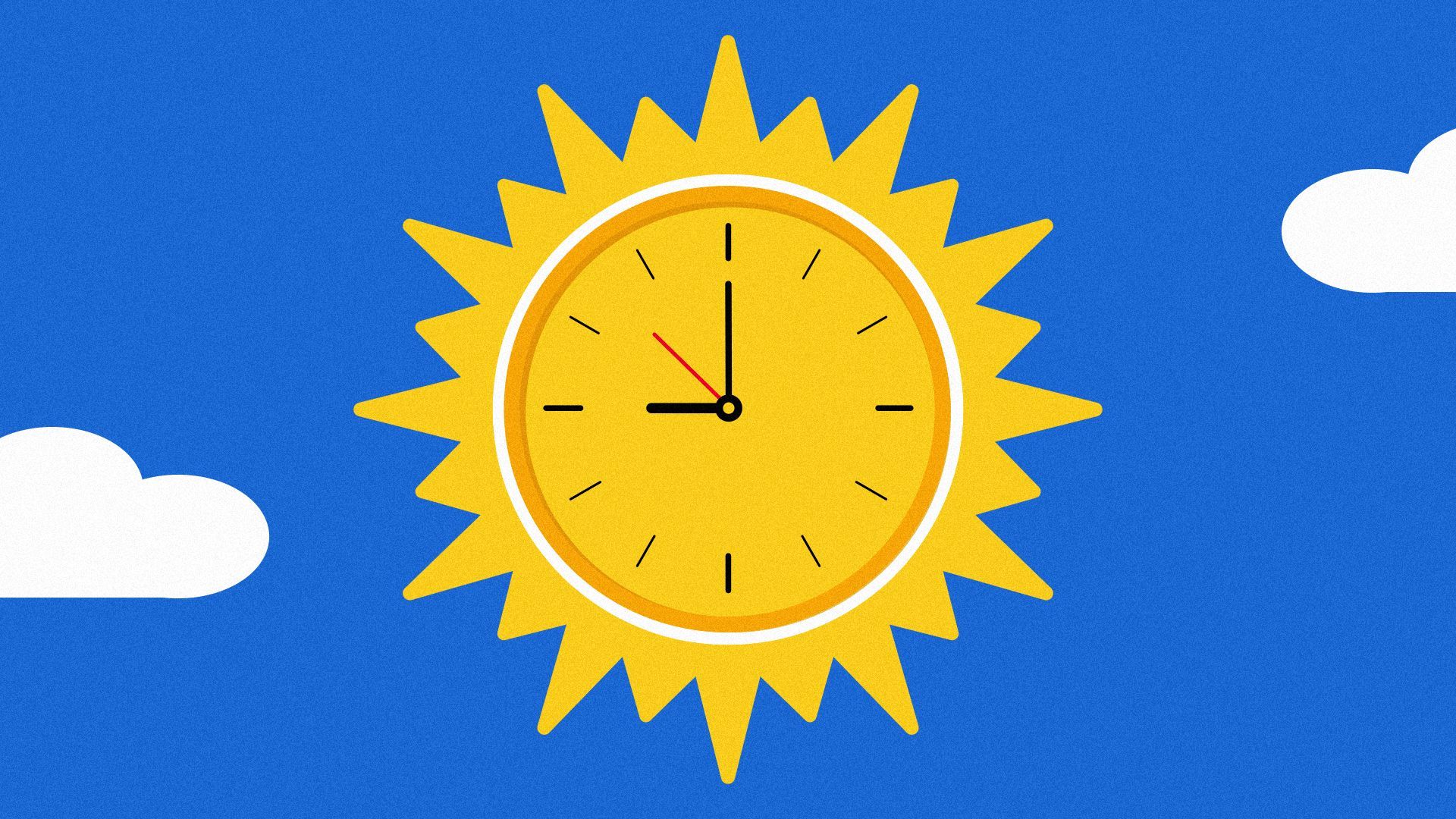 The bi-annual changing of the clocks takes place this Sunday, but some federal lawmakers hope it's the last time we "spring forward" as they push to make daylight saving time permanent.
Driving the news: Sen. Marco Rubio (R-Fla.) has reintroduced the Sunshine Protection Act, which was surprisingly approved by a unanimous vote in the Senate last year but wasn't voted on by the House.
The bill would eliminate the changing of clocks and "if enacted, the U.S. would not 'fall back' in November and would enjoy a full year of DST, instead of only eight months," according to a fact sheet on the bill.
Rep. Vern Buchanan (R-Fla.) introduced companion legislation in the House.
It's unclear if Congress will take up the legislation again but both bills have been referred to committees. The offices of Majority Leader Chuck Schumer and House Speaker Kevin McCarthy did not immediately return a request for comment.
Flashback: Daylight saving time used to run from April to October but the Energy Policy Act of 2005 extended DST by approximately four weeks from the second Sunday in March to the first Sunday in November.
Lose an hour Sunday with time change
The big picture: The official time switch is 2 am local time Sunday — clocks are set forward one hour meaning we "lose" an hour — as daylight saving time returns after four months of standard time.
Sunrise and sunset will be about one hour later Sunday than on Saturday.
Hawaii and Arizona do not observe daylight saving time with the exception of the Navajo Nation in northeastern Arizona.
If federal legislation is not approved, clocks will "fall back" to standard time on Sunday, Nov. 5.
Why it matters: Health groups have called for an end to the seasonal shifting of clocks, a ritual first adopted in the U.S. more than a century ago.
States push for daylight saving changes
Meanwhile, 19 states have passed bills or resolutions since 2018 to make daylight saving time year-round if Congress acts, according to the National Conference of State Legislatures.
Florida was the first to pass legislation in 2018 and Colorado moved forward with making daylight saving permanent last year.
Other states that have taken action are: Alabama, Delaware, Georgia, Idaho, Louisiana, Maine, Minnesota, Mississippi, Montana, Ohio, Oregon, South Carolina, Tennessee, Utah, Washington and Wyoming.
California voters approved the Proposition 7 ballot initiative in 2018 but legislative action hasn't been acted on.
The latest: For the 2023 state legislative sessions, DST is on policy agendas in 22 states where 50 bills and resolutions are pending, per the National Conference of State Legislatures legislation tracker. Bills in Virginia and Wyoming were voted down.
23 of the proposed bills would authorize permanent daylight time and 15 would move to standard time.
Other states with pending legislation include: Alaska, Illinois, Iowa, Kentucky, Maine, Maryland, Minnesota, Missouri, Montana, Nebraska, New Jersey, New York, Oregon, South Carolina and Tennessee.
Yes, but: Federal law says states can unilaterally move to standard time, but must have the approval of Congress to adopt year-round daylight saving time.
Editor's note: This story was updated with additional information.
More from Axios:
Go deeper