Two testy Senate exchanges show the Fed's dilemma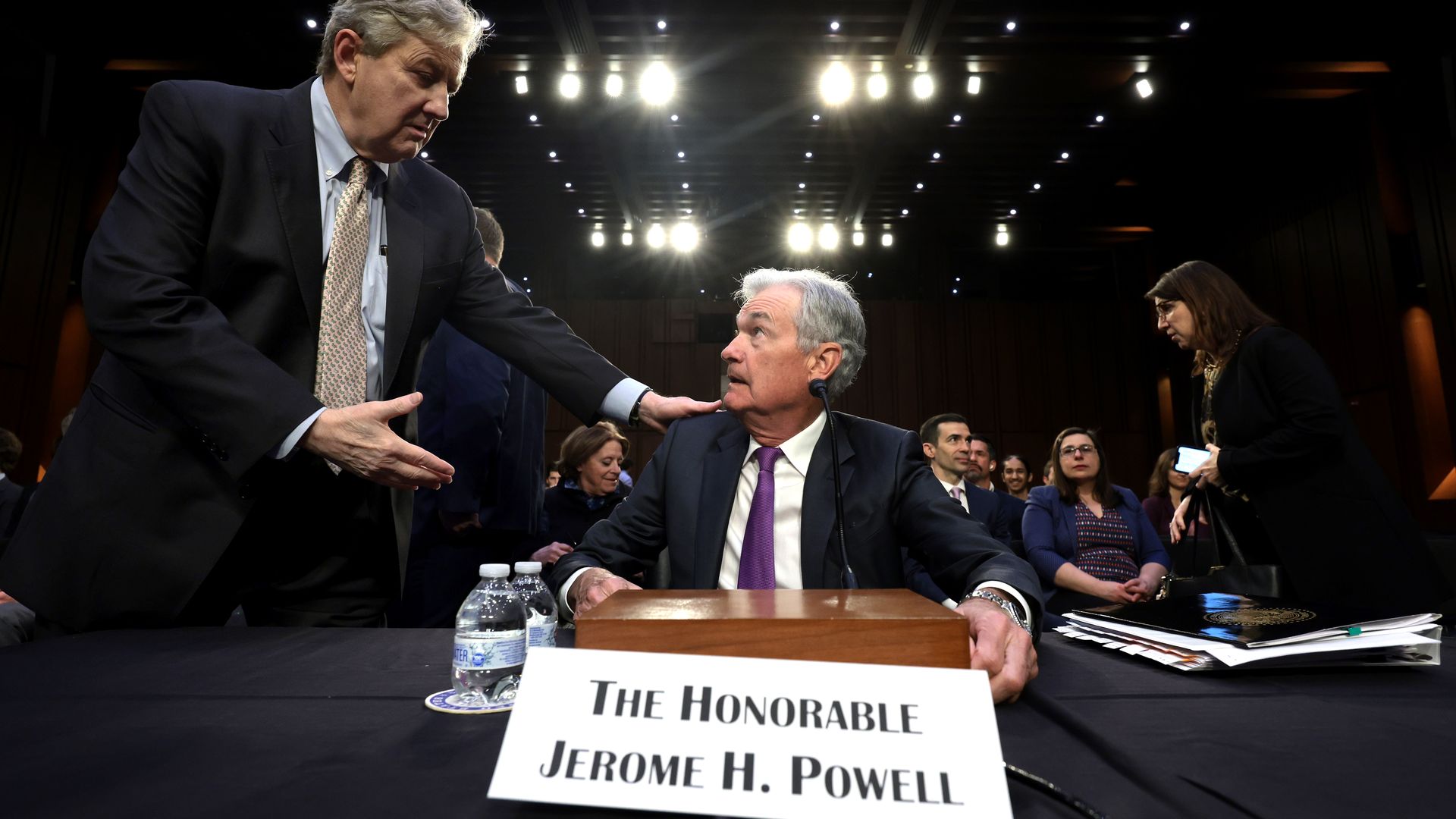 Two senators — one Republican, one Democrat; one from Louisiana, the other from Massachusetts — gave Powell a hard time Tuesday on the same theme: that the central bank seems dead-set on putting millions of Americans out of work with monetary tightening.
The big picture: The two unusually testy exchanges were a preview of what is likely to be a key dynamic, both for the central bank and for U.S. political debates heading into the 2024 elections.
Why it matters: The persistence of elevated inflation and a red-hot job market have made hopes of a painless disinflation look more remote in recent weeks. But to the degree American workers bear the brunt of that adjustment, it will intensify bipartisan pressures on the central bank.
Every month that passes without inflation receding raises the odds that the Fed will keep tightening, and pushes the eventual pain closer to the presidential election cycle.
What they're saying: "When you're slowing the economy, you're trying to put people out of work. That's your job, is it not?" asked Sen. John Kennedy (R-La.) in Tuesday's Senate Banking Committee hearing.
"Not really," Powell replied. "We're trying to restore price stability."
Kennedy noted that historical patterns would imply that joblessness would need to jump well above the 4.6% Fed officials now expect in order to bring inflation down to 2%.
Powell acknowledged "that's what the record would say" but argued this time could be different.
Things were more heated with Sen. Elizabeth Warren (D-Mass.). She emphasized that even a 4.6% jobless rate would imply another 2 million Americans were out of work. "Putting 2 million people out of work is just part of the cost, and they just have to bear it?" she asked, incredulously.
Powell, displaying a hint of exasperation, retorted, "Will working people be better off if we just walk away from our jobs and inflation remains 5, 6%?"
Warren added that history has no real examples of unemployment rising only slightly outside of a recession; when unemployment rises, it tends to overshoot anything the Fed now forecasts.
Between the lines: The Fed has held out hope that unique circumstances — including post-pandemic supply chain problems and one-time fiscal stimulus — mean that inflation might dissipate with minimal pain.
In theory, the labor market could come into balance, for example, through fewer job openings and slower hiring rather than outright job losses.
The problem is that, so far in 2023, it just isn't happening. And the longer it takes, the more likely the Fed is to see an old-fashioned recession, with all the economic pain that entails, as necessary
The bottom line: The heat is already being turned up at a time when the unemployment rate is at a five-decade low. Just wait until the job market actually hits the rocks.
Go deeper