Fed chair Jerome Powell opens the door to faster interest rate hikes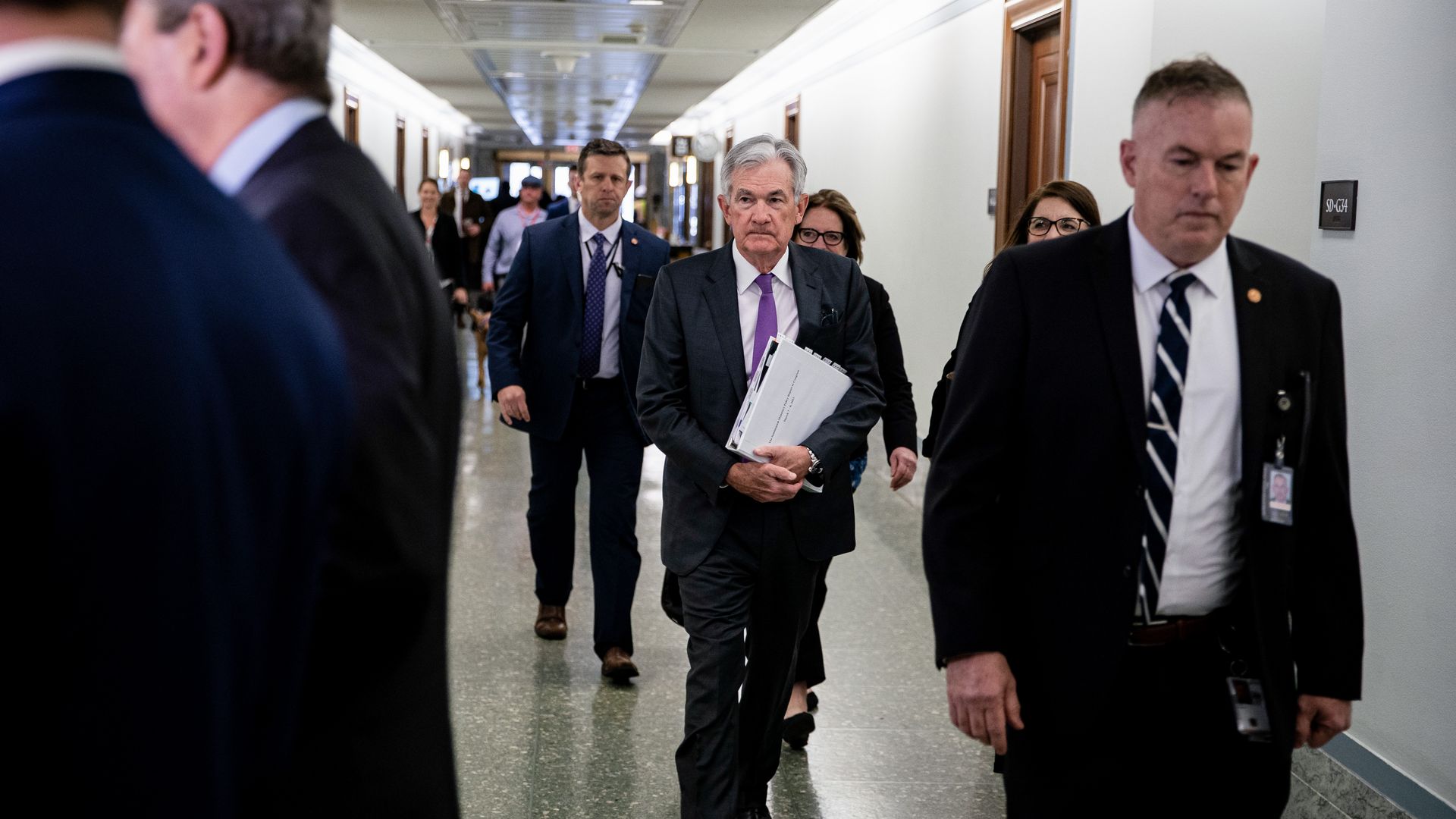 The Federal Reserve will likely raise interest rates to a higher peak than previously thought and may consider ratcheting back up the pace of hikes in an effort to cool down a resilient economy, chair Jerome Powell told Congress on Tuesday.
Why it matters: Powell's remarks underscore the importance of the incoming round of data on the labor market, inflation and consumer spending. If it suggests the economic activity is heating up, the Fed looks prepared to return to a more rapid pace of rate increases and push rates higher than expected.
What they're saying: "If the totality of the data were to indicate that faster tightening is warranted, we would be prepared to increase the pace of rate hikes," Powell said in his first testimony to lawmakers in over nine months.
That raises the possibility of raising rates by another half percentage point at a policy meeting in two weeks, reaccelerating rate hikes after stepping down to a quarter-percentage point hike.
But there will be major economic data releases between now and then that will shape the backdrop, including the February jobs report and Consumer Price Index.
He also said that the "latest economic data have come in stronger than expected, which suggests that the ultimate level of interest rates is likely to be higher than previously anticipated," suggesting that rates will end up higher than the 5.125% that Fed officials envisioned in December.
Flashback: Data on the job market, consumer spending and inflation for January all pointed to a similar conclusion. Economic activity, once thought to be slowing, was hot at the beginning of the year. Revisions to previous months' data also showed that inflation hadn't slowed quite as much as first thought.
The huge question facing policymakers is whether that reacceleration of activity was a blip or a sign the economy is developing in a manner counter to the Fed's goals.
Powell said in his prepared testimony that "some of this reversal likely reflects the unseasonably warm weather in January in much of the country."
"Still, the breadth of the reversal along with revisions to the previous quarter suggests that inflationary pressures are running higher than expected at the time of our previous" policy meeting, Powell said.
Financial markets have started to price in a higher level of peak interest rates — an about-face from recent months where investors thought the Fed would back off sooner than they said.
The big picture: Powell began two days of testimony to Capitol Hill on Tuesday and faced questions on the Fed's historic efforts to wrangle high inflation down to its 2% target.
In one heated exchange, Sen. Elizabeth Warren (D-Mass.) slammed Powell for the anticipated pain the Fed's moves will have on the labor market. Warren cited the Fed's projections from December that the unemployment rate could rise to 4.6% by the end of the year.
Powell said that a cooler labor market is a necessary side effect of bringing inflation down."Will working people be better off if we just walk away from our jobs and inflation remains 5, 6%?" Powell said.
In another exchange, Sen. John Kennedy (R-La.) asked Powell whether recent government spending packages and growth of government debt stoked inflation.
"I don't think fiscal policy right now is a big factor driving inflation at this moment," Powell said.
The bottom line: Since Powell's last appearance in June, the Fed has continued to raise interest rates at a rapid pace. But they have recently tamped down the pace, returning to more traditional quarter-point increases, to take stock of how their moves are affecting the economy.
For the first time, however, Powell has suggested that the door is open to returning to faster moves.
Editor's note: This article has been updated with new details throughout.
Go deeper