Tourism industry prepares for influx of Chinese travelers looking for experience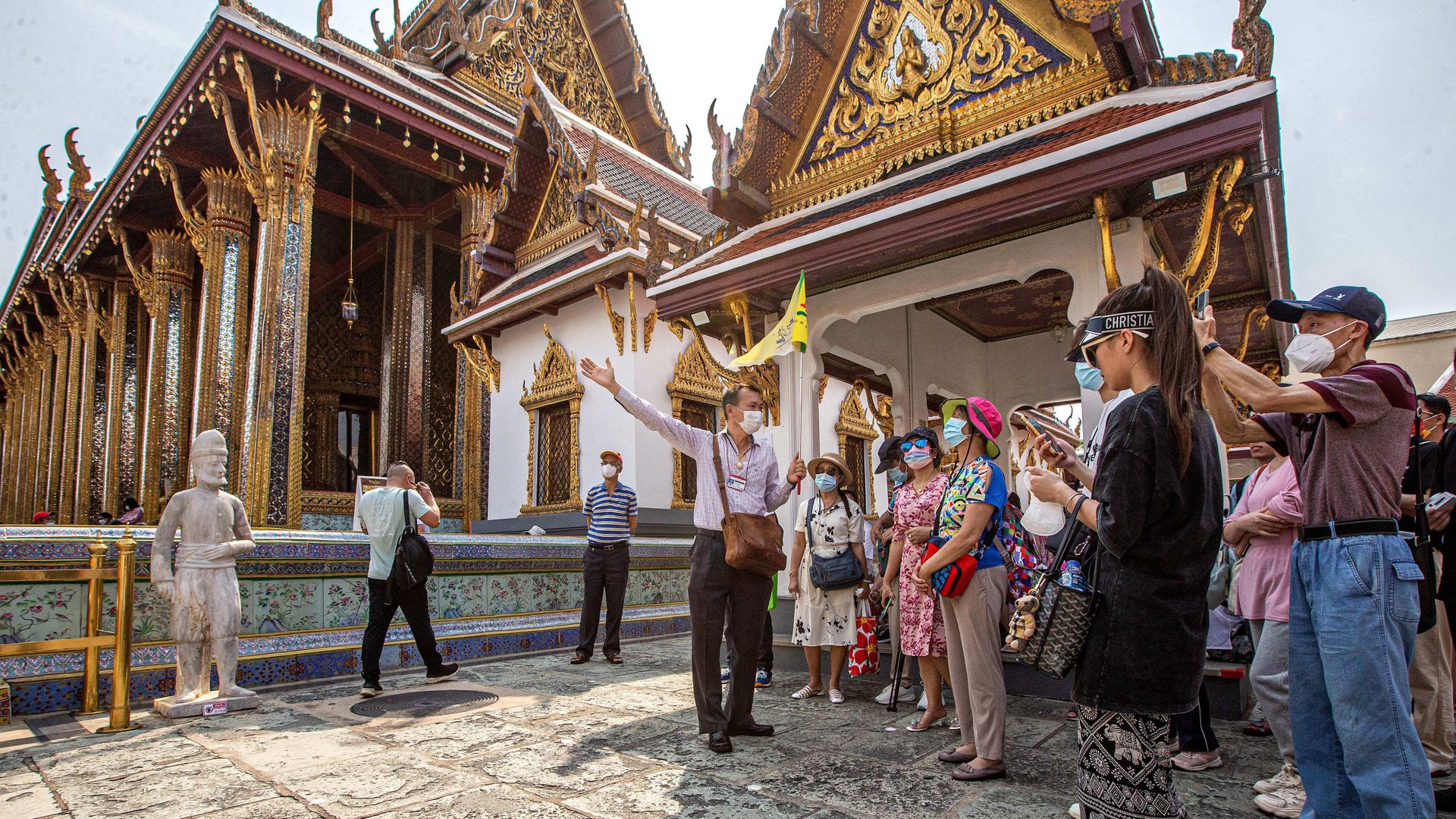 Tourism companies around the world are planning for the return of Chinese tourists by offering packages and services tailored to unique experiences, capitalizing on a trend that began before China locked down in 2020.
Why it matters: The tourism industry must meet the demand for experiences and services tailored to Chinese tourists if it wants to reap the benefits of the largest traveler market, experts told Axios.
What's happening: Experiences that were once exclusive to the wealthy are now sought by middle-class travelers as the Chinese outbound tourism market has become more activity-oriented.
"[We are seeing] more spending on experiences — upgrading hotels, eating fancier meals, riding a hot air balloon, [and] going on a safari," Sienna Parulis-Cook, director of marketing and communications at research firm Dragon Trail International, told Axios.
Airbnb has redoubled its efforts to capture the Chinese outbound tourism market after shutting down its local business in China last year.
The company recently sorted its more than 4 million global listings into dozens of categories for its Chinese-language website, including niche interests like "Moroccan traditional courtyard," "Cuban homestay" and "Mongolian yurt."
Zoom in: The cruise industry saw a surge in Chinese passengers over the last decade.
Battered by the COVID-19 pandemic, European cruise line Viking Cruises temporarily canceled its sailings in 2020, including six ships dedicated to China with Chinese-speaking crew and all-Chinese chefs. The company then shifted its focus to domestic cruise products and launched a luxury ocean cruise in China, Brendan Tansey, its managing director in China, told the Global Times, a Chinese media outlet.
Viking recently resumed offering Rhine River cruises to Chinese tourists again, with its first trips starting in June. Already a favorite among Chinese tourists before the pandemic, the itinerary has been made more flexible and relaxed, with additional options for guests, another Chinese media outlet reported.
Between the lines: "[Chinese tourists] would like to let people know they "could afford to go on these kinds of experiences ... and I had a great time'," said Cai Wenjie, associate professor in tourism at the University of Greenwich.
His colleague and lecturer in tourism, Isabella Ye, explained: "As travelers become more experienced and knowledgeable about different types of destinations, they tend to go from more superficial type of travel experiences to places and experiences that can be transformative."
The big picture: Before the pandemic, China was the world's largest outbound travel market. In 2019, Chinese tourists took 155 million outbound trips, spending $255 billion abroad.
Chinese tourists were already spending less on goods in the years before the pandemic, CNBC reported.
One in five Chinese outbound tourists were "value-seeking" sightseers, and 19% were shoppers, according to a 2018 McKinsey report. "Individualists" who desire a personalized trip experience made up 13%, while backpackers and "sophisticated travelers" who prefer cultural tourism were each above 10%.
The number of Chinese outbound travelers plummeted over the last three years due to travel restrictions, but analysts predict Chinese outbound travel will reach pre-pandemic levels in 2024. Although people are ready to move on from the pandemic, lower levels of Chinese economy growth and consumer confidence will likely translate to Chinese tourists spending even less on shopping abroad, according to a new industry handbook.
What to watch: As Chinese tourists seek cruises, fine dining, sports events and other experiences, more local businesses will have a chance to capitalize on a vast number of travelers, according to the handbook.
"More money is staying in the destination, so the trickle-down effect [for local economies] will be stronger," Wolfgang Georg Arlt, director of the Germany-based China Outbound Tourism Research Institute and a co-author of the handbook, told Axios.
However, Arlt said many industry professionals who had extensive China expertise lost or switched jobs in the last three years, so bringing back those skills will be key to a faster recovery.
Go deeper