The $1 billion push to remove highways dividing communities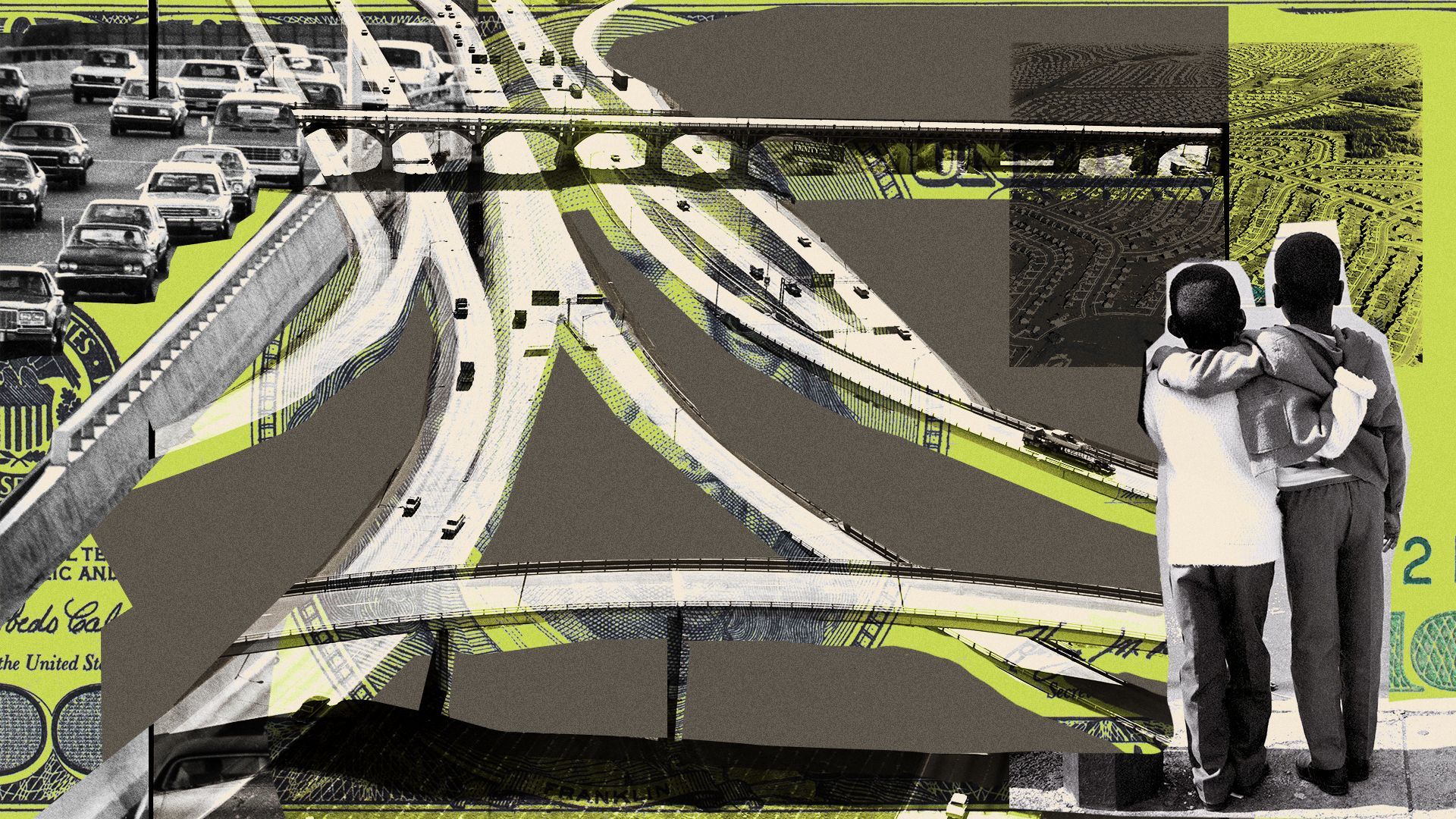 In an attempt to reverse the socioeconomic harm of planning decisions made decades ago, the federal government is doling out $1 billion over five years to remove highways that divide communities.
Yes, but: That's a modest sum compared to the billions the government is pumping into new highway expansion projects that critics fear will repeat the same mistakes.
Why it matters: Highways and rail lines are supposed to help people get to where they want to go. Yet infrastructure can also be a barrier that divides neighborhoods and cuts residents off from economic opportunity.
Communities of color often bear the brunt of the consequences.
Reconnecting neighborhoods by turning highways into boulevards, putting parks over acres of asphalt, or adding more bridges, tunnels, and trails can address some of these inequities and strengthen communities.
Driving the news: The Biden administration recently announced the first round of funding under the "Reconnecting Communities Pilot Program," established under the 2021 bipartisan infrastructure law.
The Transportation Department has awarded $185 million in grants for projects in 45 cities.
Demand was high: the agency received 435 applications seeking a total of more than $2 billion.
Details: Buffalo, New York, is getting the largest award: a $55.6 million grant to build a cap and tunnel over a 1960s-era six-lane expressway, which segregated Black residents from the rest of the city.
Some 600 homes were demolished to make way for the highway, which cut off residents' access to necessities like banks and grocery stores.
It also led to high unemployment and increased health problems, per DOT.
Other notable projects:
Oak Park, Michigan, a Detroit suburb, is receiving $21.7 million to reconstruct a crumbling plaza over I-696, a trenched highway that bisects the city's Orthodox Jewish community.
Boston is getting $2 million to begin planning a park over the Massachusetts Turnpike (I-90) in Chinatown, considered the state's most polluted neighborhood.
St. Paul, Minnesota, received a $2 million grant to study the environmental and traffic impact of a proposed five-block "land bridge" to reconnect the city's majority Black Rondo neighborhood, as Axios' Torey Van Oot reports.
Tampa is getting a $5.3 million grant to lower an interchange ramp to street level in order to eliminate the barrier between downtown and the city's riverfront and to make the streets safer for walking and biking.
A full list of awarded projects can be found here.
What they're saying: The program "is a critical step toward reinvesting in access to opportunity and healing the deep wounds inflicted by flawed transportation policies that, for decades, divided instead of connected Americans to each other," Corinne Kisner, executive director of the National Association of City Transportation Officials, said in a statement.
Backstory: The U.S. Interstate System, created under President Eisenhower in 1956, was touted as "the greatest public works project in history."
Routes were chosen where land costs were the lowest, or political resistance weakest — which usually meant cutting through low-income and minority neighborhoods.
An estimated 1 million people and businesses were displaced to make room for the highways, according to DOT.
Some neighborhoods were completely razed. Those left behind were often isolated — physically, socially, and economically.
Reality check: New infrastructure projects still threaten communities today, critics say.
Mike McGinn, executive director of the pro-pedestrian group America Walks, praised Biden's grant program — but added that "we also must acknowledge that the program is modest compared to the flood of state and federal money still allocated for highways that divide and damage communities."
The group points to multi-billion-dollar highway widening projects or proposals in cities such as Houston, Austin, Milwaukee, Salt Lake City, and Jersey City, among others.
Most would demolish residential homes, businesses, and even churches to make room for the expanded highways.
The bottom line: Cities are still being built around cars, not people.
Go deeper