DEA rules on prescribing controlled substances roil behavioral health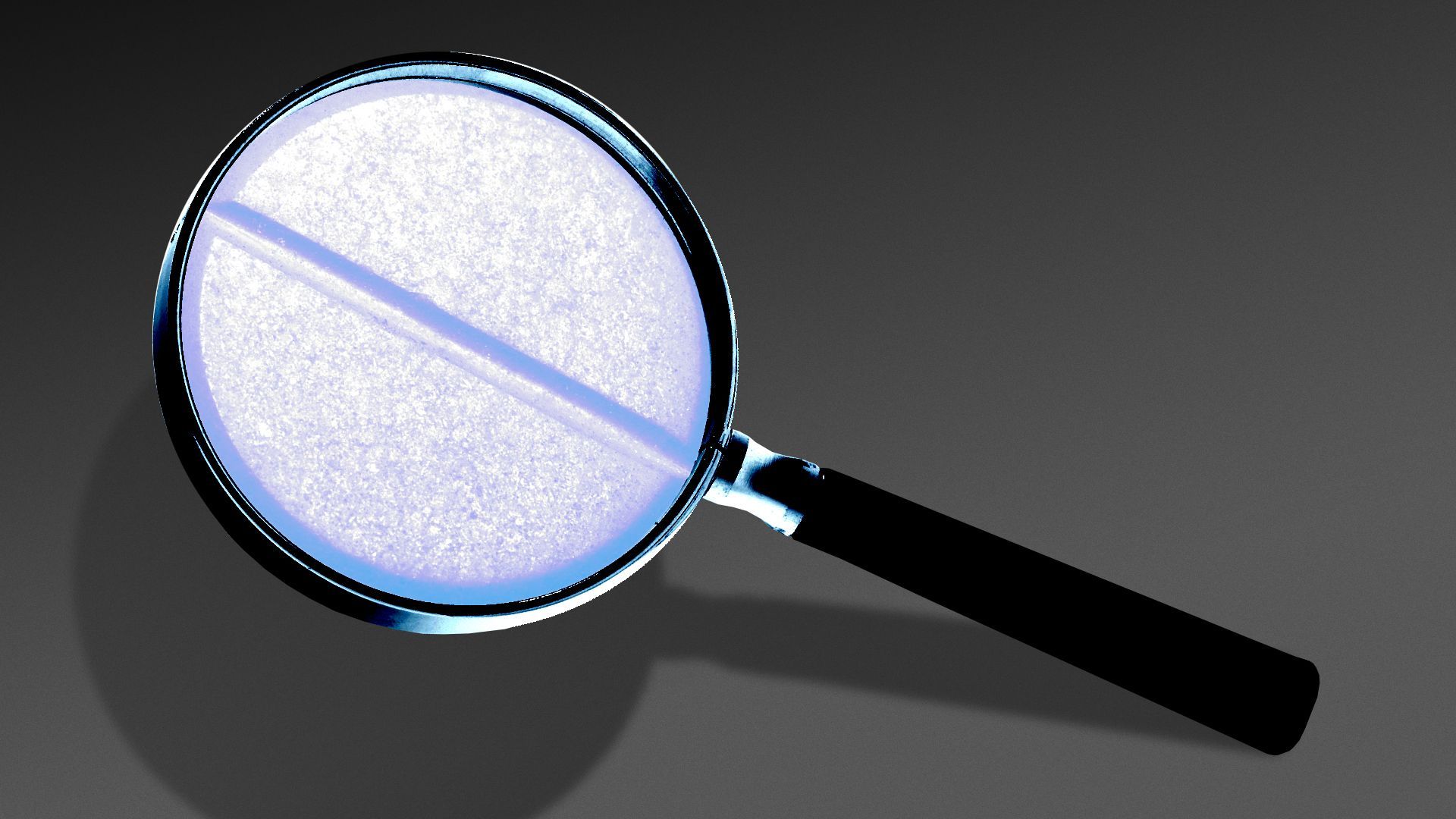 A federal crackdown on overprescribing controlled substances via telehealth is causing confusion and consternation in the behavioral health community over an in-person prescribing requirement for drugs used to treat pain and opioid use disorder.
Why it matters: Child care, transportation and other hurdles can make in-person requirements "an extremely high hurdle" for patients with opioid use disorder, said David Deyhimy, medical director of an addiction treatment clinic in Orange County, California.
The tighter standards come amid a proliferation of fentanyl-laced counterfeit pills made to look like prescription OxyContin, Xanax or Adderall. Experts fear patients could seek out alternatives on the street instead of making a doctors appointment.
The big picture: Pandemic-inspired policies that allowed telehealth dispensing of pain pills and opioid use treatments like buprenorphine were hailed by addiction groups and the Biden administration as a temporary win against a worsening crisis.
An August report from NIH found those with opioid use disorder who received telehealth services had a lower risk of overdosing, and the expanded access to buprenorphine helped people continue their treatment.
Unintentional overdose deaths involving buprenorphine also did not rise as a result of prescribing flexibilities, per a January JAMA Network Open study.
"There's really no empirical support for what they're trying to do," Leo Beletsky, a law professor at Northeastern University focused on substance use and addiction, told Axios.
"The fallout is going to be measured in lives lost."
Driving the news: The Drug Enforcement Administration last Friday moved to require doctors to evaluate patients in person before writing prescriptions for controlled medications including Adderall and OxyContin when the public health emergency ends in May.
It's the agency's latest move to curb virtual overprescribing of controlled substances, which DEA administrator Anne Milgram said in a statement will widen access "while ensuring the safety of patients."
The DEA didn't respond to a request for comment about criticisms of the policy in time for publication.
How it works: After a six-month grace period, the rules would halt a patient's ability to receive some controlled substances via telehealth if the patient has never been seen in person.
The exception is buprenorphine: A 30-day supply could still be obtained before a required in-person exam for refills.
Catch up quick: While less restrictive than pre-pandemic times, the requirements are the opposite of what more than 50 organizations including the American Psychiatric Association and the American Telemedicine Association (ATA) asked the DEA and HHS for last year.
The rules also did not acknowledge a long-awaited special registration process for remote prescribing of controlled substances Congress wrote into the Ryan Haight Act of 2008, said Krista Drobac, executive director of telehealth lobbying group Alliance for Connected Care.
Among pharmacists, there's concern over who's responsible for verifying whether a patient already had the in-person visit and qualifies for a refill, said Brigid Groves, vice president of pharmacy practice at the American Pharmacists Association.
Groves told Axios that it's also unclear how pharmacists will be able to manage the administrative burden, because a system with that information doesn't exist.
What they're saying: This all points to a potential disruption of care and access to treatment that "is going to exacerbate the overdose crisis," said Kyle Zebley, vice president of policy at the ATA.
Orange County's Deyhimy told Axios that the window where a person with opioid use disorder wants to seek treatment can be brief, and when providers miss it, "most of them will never show up for an appointment" — making telehealth a critical and speedier option.
People with disabilities who have relied on telehealth for pain management may now have to navigate health care facilities with inadequate parking or building access, said Chanda Hinton, disability advocate and executive director of Chanda Center for Health.
If those barriers aren't addressed, Hinton said people with disabilities could lose access to their medication and be forced to turn to unregulated, potentially dangerous alternatives.
Between the lines: Not everyone thinks the proposed rules are too tough, especially for medications like Adderall, which don't have the potentially deadly withdrawal symptoms that someone on Xanax or addicted to opioids might face.
But DEA should have made an allowance for people to continue their medication if they've attempted to see a doctor and weren't able to, said Fred Muench, clinical psychologist and senior adviser at the Partnership to End Addiction.
More than 100 million Americans lack a primary care physician.
Yes, but: "Our health care system is really poorly configured to really accommodate a change like this," said Northeastern's Beletsky. "And [the DEA's proposal] does not take into account the challenges and shortcomings of the U.S. health care system and its financing."
The bottom line: The pandemic was a real-time experiment of what was possible in widening access to treatment, but "there will need to be a lot of education for patients who need these medications so that they understand what the process is and they don't fall through the cracks," said Terry Wilcox, CEO of patient advocacy group Patients Rising.
What's next: The DEA is giving the public 30 days to comment on the proposals before drafting the final guidance.
People have already submitted more than 200 responses within the first week.
Editor's note: This story has been corrected to reflect that Fred Muench is an adviser at Partnership to End Addiction, not its president.
Go deeper