Scoop: Dems fear Biden FCC nominee Sohn won't be confirmed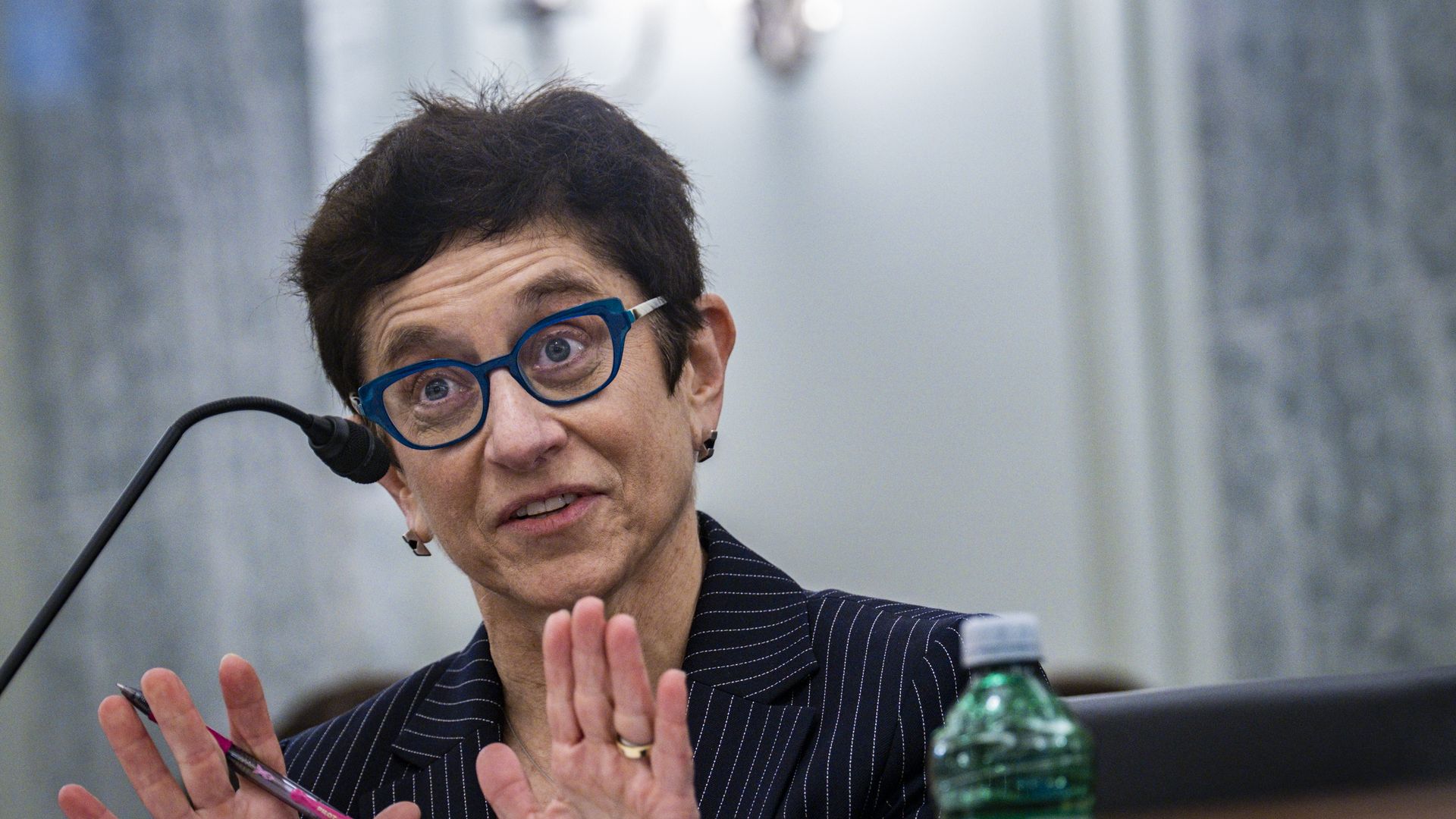 President Biden's nominee for an open seat on the Federal Communications Commission, Gigi Sohn, appears stalled in committee and is in danger of failing to reach the full Senate floor for a vote, according to Democratic Senate officials.
Why it matters: If her nomination falters, the FCC will remain deadlocked with two Republican and two Democratic commissioners — hindering the Biden administration's effort to implement key parts of the president's agenda.
Driving the news: After a contentious Commerce Committee hearing two weeks ago, Sen. Maria Cantwell (D-Wash.), the chair, has yet to schedule a vote on Sohn's confirmation.
That delay — coupled with skepticism from Sen. Jacky Rosen (D-Nev.) and continued opposition from the Fraternal Order of Police — has led some Senate officials to conclude that Sohn's nomination is in serious trouble, like it was in the last Congress.
Republicans are vehemently opposed to Sohn and all voted against her in committee in the last Congress. She cannot afford to lose a single Democrat in committee if she wants a speedy floor vote.
"I'd like to echo concerns raised about the nominee's positions on matters of importance for law enforcement, both nationally and in Nevada," Rosen said at the outset of her questions to Sohn at the Feb. 14 hearing.
While Cantwell told reporters on Wednesday that she hopes and expects to hold a vote on Sohn this month, the hearing has not been scheduled.
What they're saying: "The Senate will determine the particulars of the process, but Sohn is strongly qualified to serve on the commission," said Olivia Dalton, a White House spokesperson.
The big picture: In January, Biden renominated Sohn, a former FCC counselor, for a seat that has now been open for more than two years — hoping that the Democrats' new 51-49 Senate majority would ensure her confirmation.
Conservatives have seized on past Twitter comments to paint her as an ideological Democrat. They have also focused on her association with the Electronic Frontier Foundation, a digital rights group that has clashed with law enforcement.
Sohn, who is also gay, has vigorously defended herself and decried the "misleading attacks on my record and on my character."
In her hearing, she blamed "industry opponents" for using "dark money" groups to stir up opposition. "Regulated entities should not choose their regulator," Sohn said.
What we're watching: Three vulnerable senators on Commerce – Rosen, Sen. Jon Tester (D-Mont.), and Sen. Kyrsten Sinema (I-Ariz.) — are up for re-election in 2024.
All three voted for Sohn in committee last year, but opposition from groups like the FOP carry more influence for senators in an election cycle.
Even if all three again support her in committee, Sohn could face more Democratic defections in the full Senate. If Republicans stay united, she can only lose two Democratic votes on the floor.
The intrigue: Sohn donated $550 during the 2022 campaign to Sen. Raphael Warnock (D-Ga.), who sat on the committee while her nomination was pending.
Her political donations have stirred outrage from Sen. Ted Cruz (R-Texas), the ranking member on the Commerce Committee.
"I'm a citizen who just wanted to participate in the democratic process," Sohn responded.
Between the lines: Senate Democrats facing tough re-elections are showing a willingness to buck President Biden on hot-button issues.
Go deeper