Bald eagles hit hard by bird flu outbreak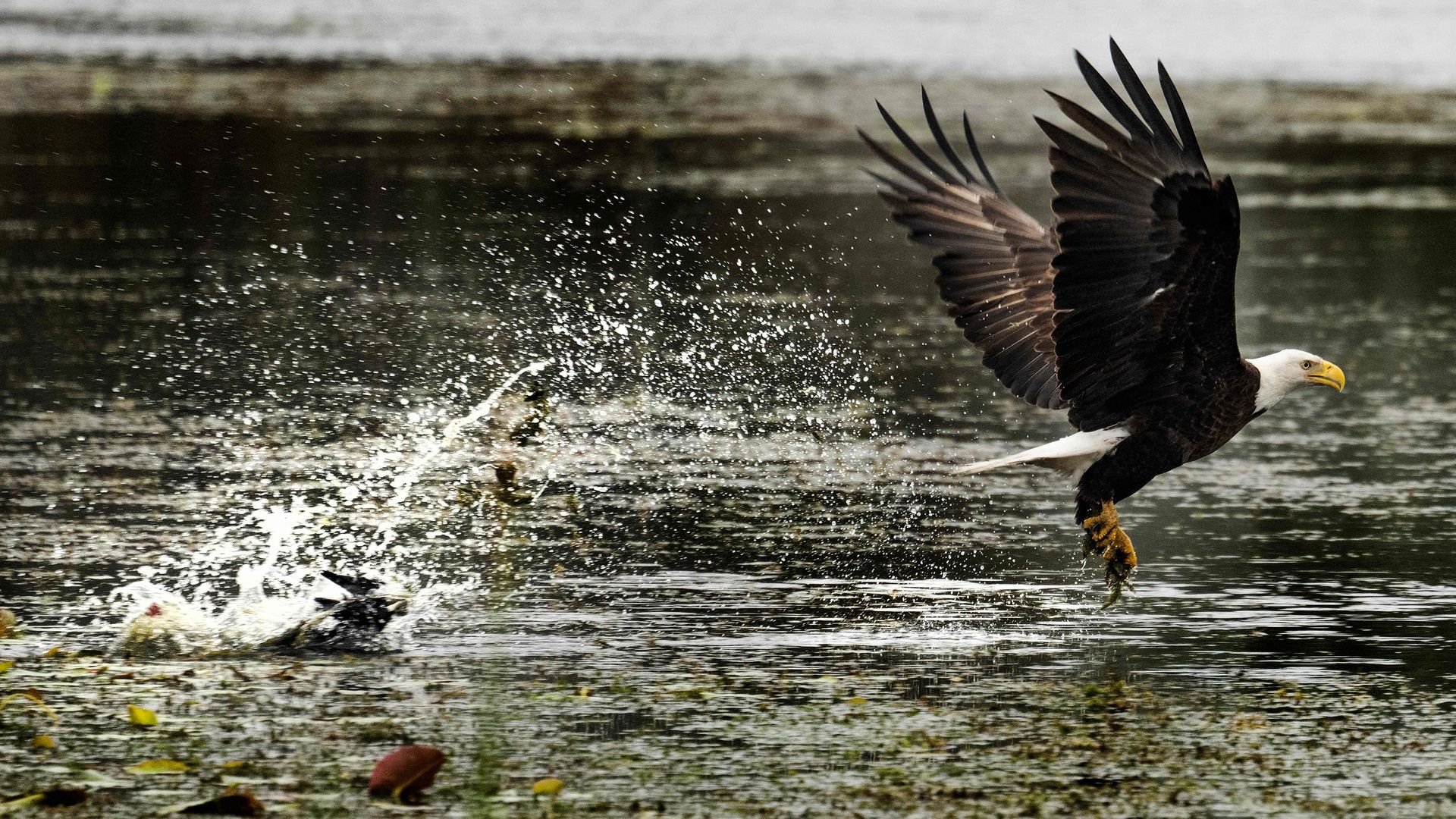 Researchers fear the historic spread of a highly pathogenic, bird-adapted strain of influenza could jeopardize years of conservation success with the bald eagle.
Driving the news: Avian influenza, also known as H5N1, has killed a high number of bald eagles along the southeastern U.S. coast since January 2022, new research published in Nature's Scientific Reports from the University of Georgia shows.
Details: H5N1, which was introduced to eastern North America from Europe in December 2021, has been confirmed as the cause of death for at least 136 bald eagles collected from 24 states since January 2022.
Some of the eagles were viewed while still alive and exhibited several symptoms, including distress, head shaking, ataxia, inability to fly, paralysis and/or lethargy, while infection often resulted in multi-organ necrosis and brain inflammation.
Observations from Florida, Georgia and South Carolina determined that outbreaks often coincided with the bald eagle nesting season, when the birds construct nests near bodies of water containing fish and waterfowl.
Researchers believe bald eagles likely became infected by consuming infected waterfowl, specifically lesser scaup, one of the most abundant waterfowl species in the region that also suffered high numbers of mortalities from the virus during eagle breeding season.
The southeastern coast is particularly important because it contains large and productive populations of breeding eagles that contribute to the viability of the species within the larger Atlantic Flyway.
Flashback: The bald eagle once teetered on the brink of extinction because of hunting, insecticide pollution and habitat loss.
The U.S. Fish and Wildlife Service announced in early 2021 their numbers have roughly quadrupled since 2009, when there were only around 72,000 in the lower 48 states.
By the numbers: A statewide survey in Georgia in 2022 revealed that fewer than half of the nests in coastal regions successfully produced young eagles that year. That's roughly 30% below the average for the region.
By contrast, approximately 65% to 100% of nests in inland regions that year successfully produced offspring.
Similarly, a significant decrease in nest success was observed in coastal regions in Florida during the 2022 breeding season.
Zoom out: The report notes that while infections affecting population dynamics have only been observed locally, bald eagle deaths from H5N1 have been recorded throughout North America, including in Alaska.
H5N1 has killed thousands of wild birds across the U.S. and other countries between 2021 and 2o23, as well as millions of domesticated birds.
What they're saying: "The possible long-term persistence of [H5N1] in North America poses an impending threat to bald eagle populations not only related to direct mortality but also decreased recruitment and warrants continued efforts to understand these potential impacts," the report reads.
"These observed impacts of [H5N1] on bald eagles represent an early horizon scan of an emerging threat to populations of predatory and scavenging birds across North America."
Go deeper: Neighbors push to save bald eagles from impending development in south Charlotte
Go deeper