Scoop: The real reason Netanyahu didn't go to the UAE in January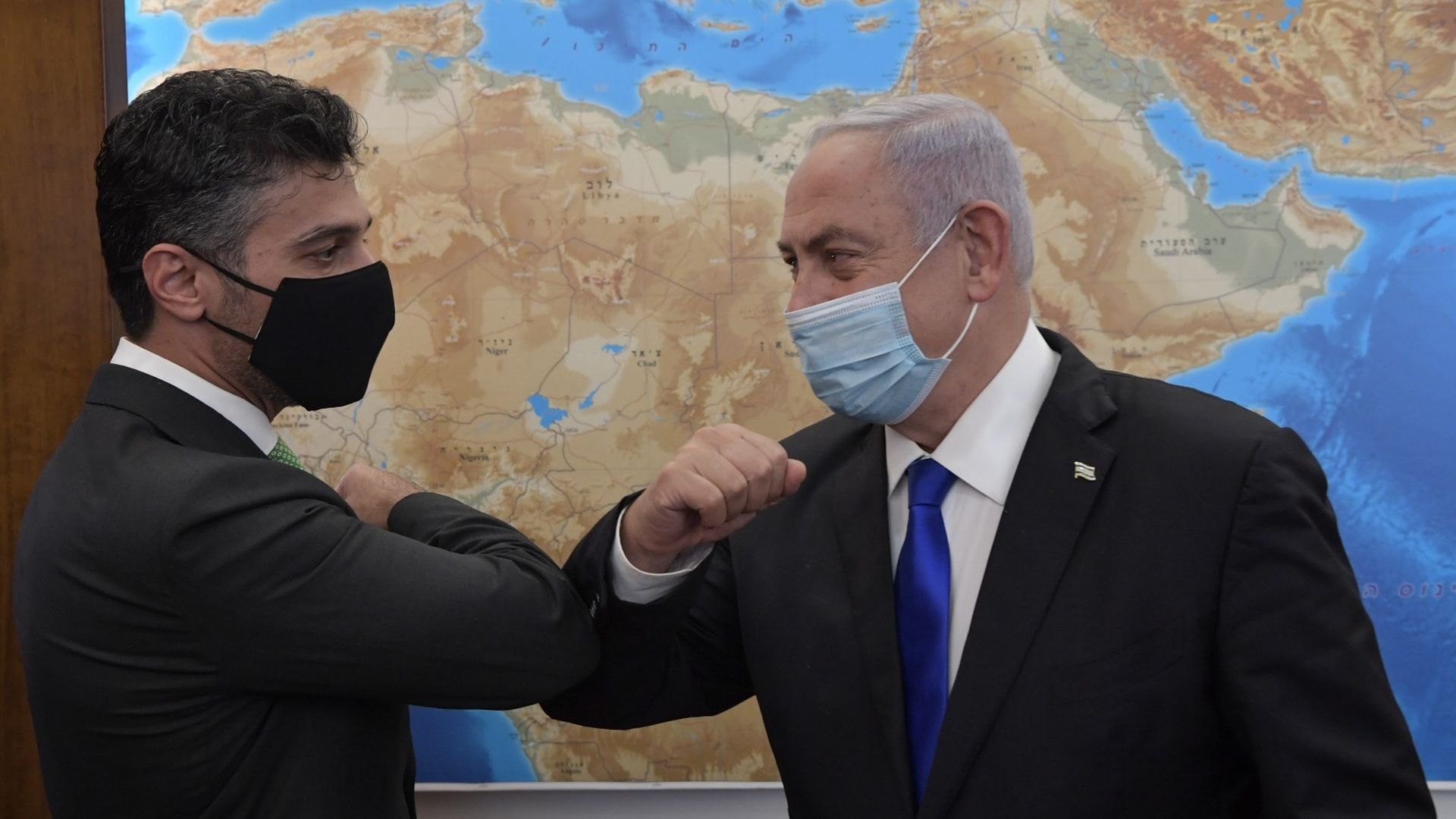 Israeli Prime Minister Benjamin Netanyahu's visit to the United Arab Emirates was postponed in early January because of Emirati concerns that it would cause regional tensions with Iran, three Israeli officials with direct knowledge of the issue told Axios.
Why it matters: The new details about the trip's cancellation partially dispute what officials told reporters at the time. They also shed light on where the two countries, which forged diplomatic relations more than two years ago, differ when it comes to their public posture toward Iran.
It was the fifth time that an official trip by Netanyahu to the UAE has been canceled or postponed. He was scheduled to travel to the Gulf country the last time he was prime minister to celebrate the Abraham Accords, which normalized relations between Israel and the UAE. But those trips were also canceled.
Catch up quick: When Netanyahu assumed office again last year, he said his first foreign trip would be to the UAE.
In late December, the Prime Minister's Office began briefing reporters about Netanyahu's trip to the UAE, which was being planned for the second week of January.
But on Jan. 3, several hours after far-right minister Itamar Ben-Gvir visited the Temple Mount compound, also known as Haram al-Sharif, in Jerusalem, Netanyahu's office said the visit was postponed.
Netanyahu's aides said at the time that the postponement had to do with logistical issues and wasn't connected to the heightened tensions and condemnation, especially by Arab countries, of Ben-Gvir's visit.
But, but, but: The reason for the postponement wasn't logistics as they claimed, according to the three Israeli sources who were directly involved in the planning of the trip. They requested anonymity to speak freely about events that led to the trip's postponement.
The Emiratis wanted the visit to focus on celebrating the Abraham Accords and the countries' bilateral relationship, the three Israeli said.
But Netanyahu wanted to use the visit as a public signal to Iran, the officials told Axios.
According to the Israeli officials, the Emiratis were concerned Netanyahu would give public statements against Iran while on their soil. They didn't want the visit to increase tensions with Iran and decided to postpone it, the officials said.
The Israeli Prime Minister's Office declined to comment.
Two Emirati officials declined to comment on the trip's postponement but said they do want Netanyahu to visit.
State of play: Israeli officials say Netanyahu understood the situation and is committed to keeping any visit to the UAE focused on bilateral issues.
But the increased tensions between Israel and the Palestinians in the West Bank since then have created another obstacle and political sensitivities that delay the scheduling of a new date for the visit, the Israeli officials said.
Go deeper