Lukashenko's China visit suggests Beijing's growing involvement in war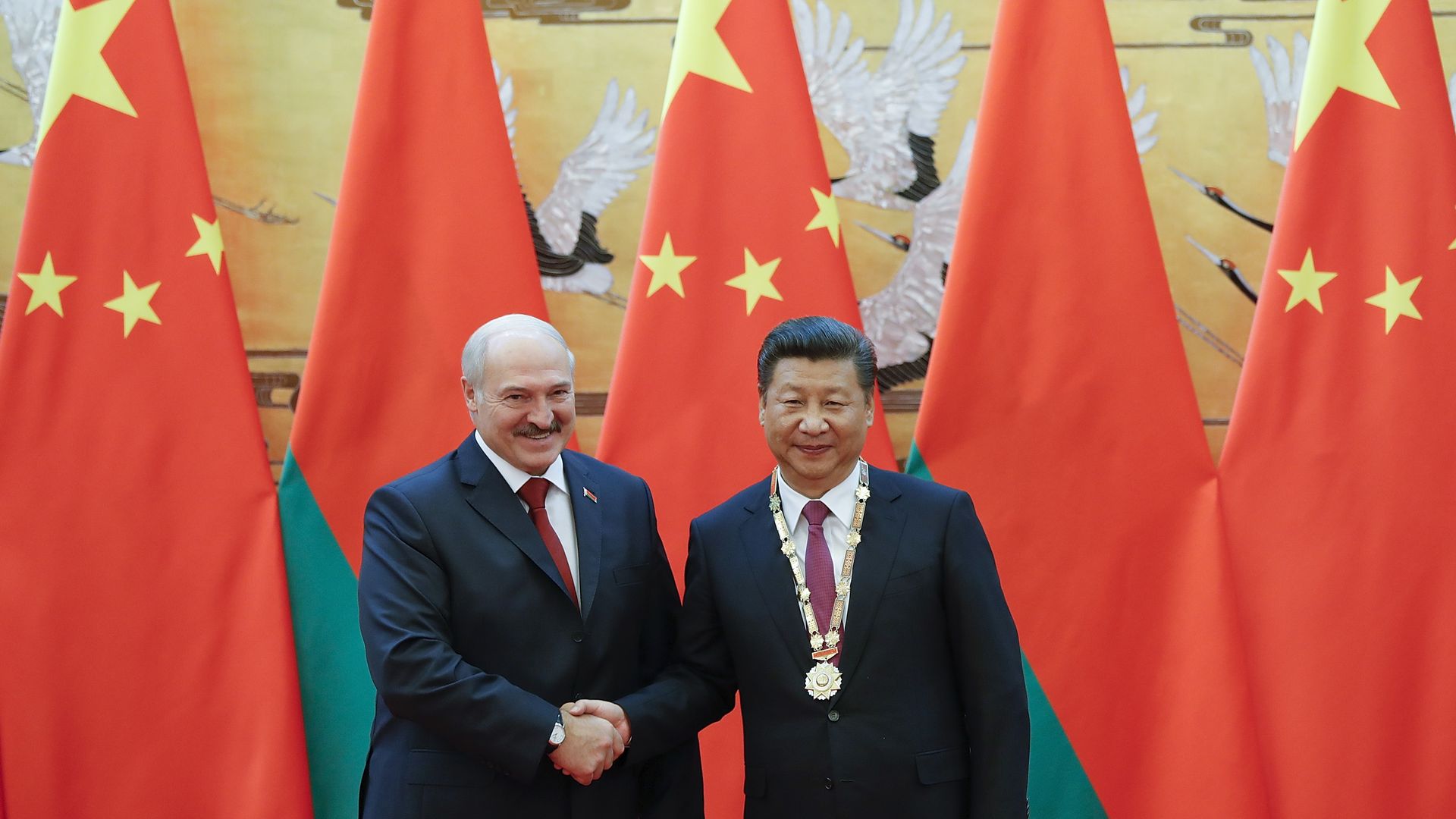 Belarus' President Aleksandr Lukashenko will visit Beijing this week, on the heels of China's announcement of its proposed peace plan for the Russia-Ukraine war.
Why it matters: Welcoming a close Putin ally, while ignoring Ukraine's repeated requests for dialogue, suggests China's leaders will prioritize Moscow's interests over Kyiv's as they advocate for a cease-fire.
Lukashenko's visit may also portend growing Chinese engagement in the Russia-Ukraine war if a cease-fire isn't reached, Yurii Poita, an expert on Ukraine-China relations at the Kyiv-based Center for Army, Conversion and Disarmament Studies, told Axios.
"Our assessment is that Russian defeat would be the worst scenario for China," Poita said.
State of play: Russia's invasion of Ukraine has now stretched on for more than one year, with heavy losses on both sides. High Ukrainian morale, Western support for Kyiv and a weakened Russian army have made the war costly for Putin, and analysts don't see a clear path to victory for him in Ukraine.
The Chinese government has taken no official position on the war, but it hasn't condemned it and refuses to refer to it as an invasion. Chinese officials have heavily criticized Western sanctions against Russia.
What's happening: Beijing called for a cease-fire last week and announced a 12-point proposal for a peace agreement between Russia and Ukraine that repeats anti-Western talking points and also implicitly criticizes some Russian actions, such as threats to nuclear plants and blocking grain exports.
Ukrainian President Volodymyr Zelensky said last week that he welcomed some parts of the proposal. The Kremlin said the plan "deserves attention" but that conditions for peace do not yet exist.
The announcement comes as the U.S. has claimed China's leaders are considering sending lethal military aid to Russia for the first time, a claim China's Foreign Ministry has denied.
Background: Lukashenko, who has led Belarus for almost 30 years and overseen a crackdown on media, civil society and political opponents, has allowed Russia to use Belarus as a staging ground for its military operations in Ukraine.
Lukashenko has also sought closer ties with Beijing. He and Chinese President Xi Jinping met in September 2022 and upgraded the bilateral relationship to an "all-weather comprehensive strategic partnership."
"Minsk has long considered China as a key foreign policy and economic partner and, therefore, invested a lot of time and political effort in deepening relations with Beijing," Yauheni Preiherman, who directs the Minsk Dialogue Council on International Relations, told the New York Times.
Between the lines: The visit may also have implications for discussions on the potential delivery of Chinese aid to Russia, Poita said, with Belarus becoming a way for Beijing to avoid the appearance of sending military aid directly to Russia.
"There would possibly be no restrictions on China's delivery of weapons to Belarus, which could then be delivered to Russia," Poita said, adding he had no specific knowledge of any planned negotiations in Beijing.
"Cooperation in the military-industrial complex can surely be part of that, especially since the two countries already have a track record of cooperation in this realm," Preiherman said.
Zelensky has sought dialogue with Beijing, most recently in a letter hand-delivered by Ukraine's first lady to the Chinese delegation at Davos in January.
To date, that dialogue has not happened, and Xi has not called Zelensky or scheduled a meeting with him.
What to watch: If Lukashenko publicly endorses China's peace plan as his visit concludes, that would suggest Beijing is seeking to bolster the plan's international legitimacy, Poita said.
Go deeper