Why Ajay Banga got the nod to lead the World Bank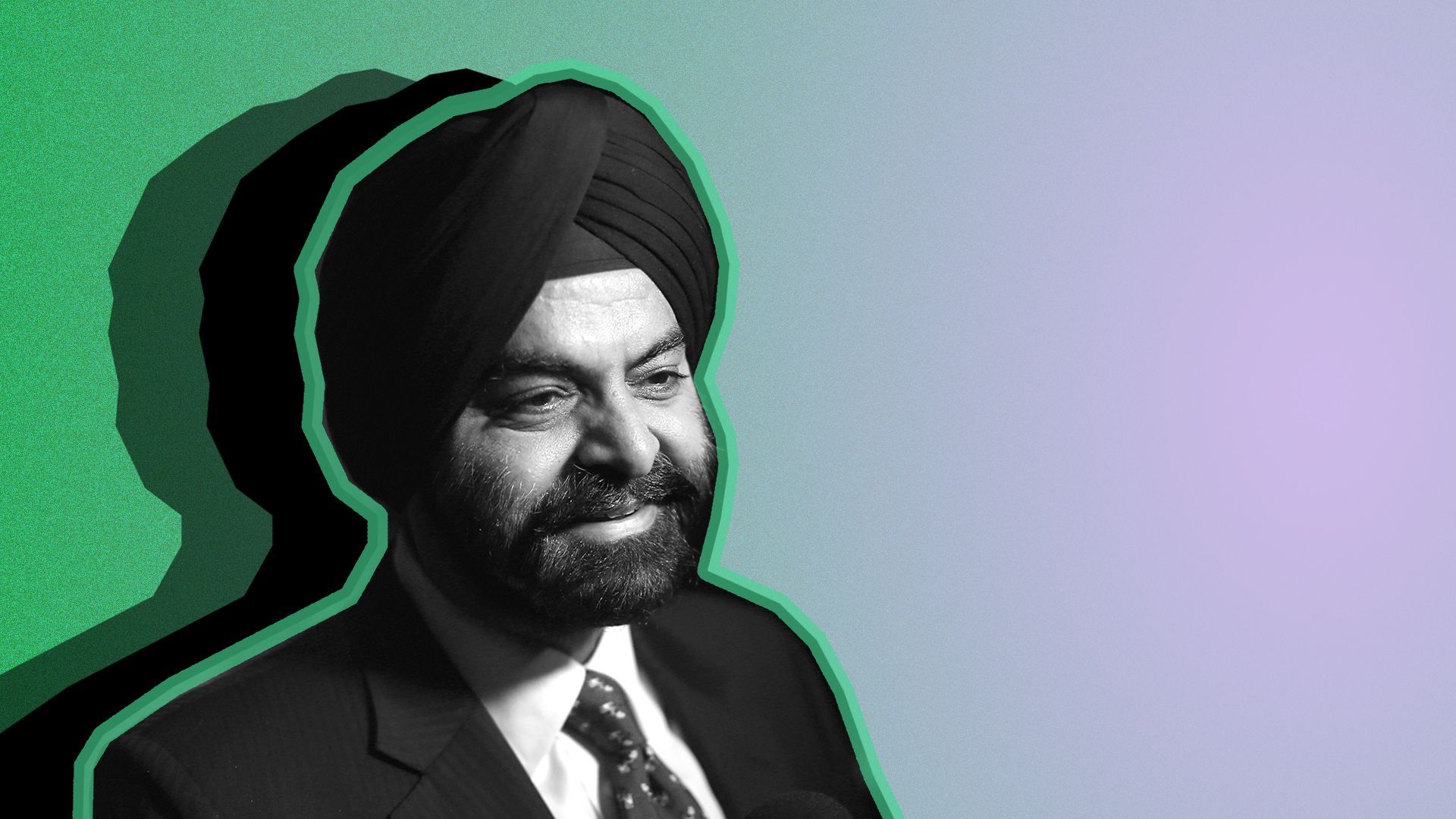 Ajay Banga, the former CEO of Mastercard, is going to be the next president of the World Bank.* His nomination came as a surprise — but precisely because it was so unexpected, it tells us a lot about the importance with which the U.S. views change at the Bank.
Why it matters: Reading between the lines, the nomination of Banga underscores what Treasury Secretary Janet Yellen has called an "urgent" need for profound change and reform at the institution.
The big picture: The World Bank at the end of last year started circulating a radical and unprecedented roadmap, implying major changes to the organization on various fronts, especially climate.
What they're saying: "The [Bank's] core model involves countries borrowing to make specific investments aimed at addressing development constraints in their own countries. That model is insufficient to meet the moment. Such a model will always underinvest in addressing global challenges," said Yellen earlier this month.
The Bank's "Vision and Mission" will be expanded to place climate in a more central position.
Its financing activities will move away from direct loans to member sovereigns. Instead, the idea is to facilitate a much greater range of loans, to include more sub-national borrowers, and — crucially — much more private-sector lending.
Between the lines: In an ideal world, the Biden administration would have nominated a woman capable of implementing this radical agenda who had extensive public-sector experience and strong climate bona fides.
One name on everybody's lips was Nigerian-born World Trade Organization director-general Ngozi Okonjo-Iweala, who became a U.S. citizen in 2019.
Yet the nomination went to Banga, a man who has spent his whole career in the private sector and who is more familiar with the ICC (the International Chamber of Commerce, which he chaired until last June) than the IPCC (the Intergovernmental Panel on Climate Change).
What would motivate such a choice? Only the conviction that Banga, unlike career technocrats, has the drive and ability to make radical change to an often hidebound institution, observers tell Axios.
That's something the Biden administration clearly wants, and something Banga's immediate predecessors — David Malpass, Jim Yong Kim, Bob Zoellick, and Paul Wolfowitz — have generally failed at.
Banga is also respected on both sides of the aisle, they say, making it more likely that he will be able to persuade Congress to approve a capital increase for the Bank.
Even with a capital increase, the Bank's $100 billion per year or so of lending is not nearly sufficient to meet the trillions of extra dollars per year of climate investment that is needed for the world to transition away from fossil fuels.
Barbados prime minister Mia Mottley is leading a drive for development banks — led by the World Bank — to invest $1 trillion in climate resilience. In order to meet that goal, Banga will need to corral private-sector money — and his decades at Citigroup, Mastercard, and General Atlantic will come in very handy.
The catch: The Bank's ambitious reform agenda is running into pushback from debtor countries, including India, who worry that it could mean higher borrowing costs.
By nominating an Indian national, Biden could be attempting to minimize the chances of Indian opposition to his nominee, one development expert tells Axios.
The bottom line: This is likely to be the hardest job of Banga's storied career. If he does succeed in implementing radical reforms at the Bank, he will do so where many others before him have failed.
Go deeper