Inside Israel's failed Ukraine-Russia mediation efforts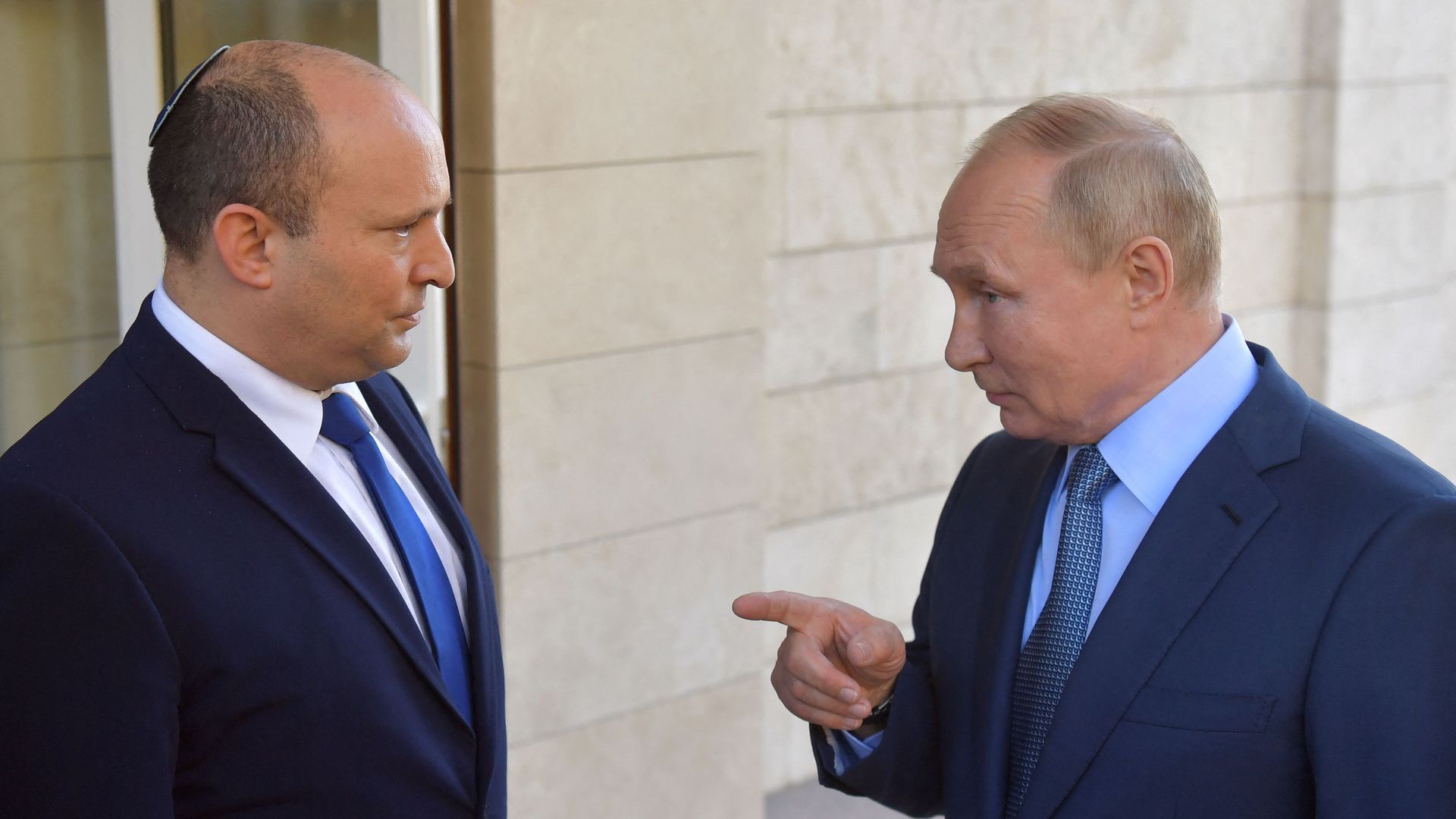 Former Israeli national security adviser Eyal Hulata, who was deeply involved in mediation efforts between Kyiv and Moscow last year, recently told Axios he doesn't see any chance there will be a deal to end the war in Ukraine anytime soon.
What he's saying: If both sides think time is on their side, a deal won't be possible, Hulata said in his first time speaking about Israeli policy toward the war since leaving the Prime Minister's Office in early January. "It was true in the beginning of the war, and it is still true today."
The big picture: Israel over the course of the year has taken a relatively cautious approach to Russia's invasion, wary of upsetting the Kremlin and harming Israel's security interests in Syria.
But as the war grinds on and Iranian aid to Russia becomes clearer, the Israeli government is facing pressure at home and abroad to reconsider its policy of not sending military aid to Ukraine.
Prime Minister Benjamin Netanyahu has said in recent weeks that he will consider renewing Israeli mediation if he is asked to do so.
But Hulata thinks it won't be possible after everything he's learned from Israel's past failed mediation efforts. "Israel doesn't have the ability to go back into this. It was the case since the mediation died last April, and it is still true today."
Flashback: Hulata was one of the closest advisers to former Prime Minister Naftali Bennett, who on the second day of the Russian invasion was asked by Ukrainian President Volodymyr Zelensky to mediate between him and Russian leader Vladimir Putin.
Bennett, who had no experience in international diplomacy, decided to try.
The former prime minister's dramatic March 5, 2022, meeting with Putin in Moscow was the key part of the mediation initiative.
Behind the scenes: Hulata said the idea of traveling to Moscow to meet with Putin was a result of German Chancellor Olaf Scholz's trip to Jerusalem on March 2.
"We needed to make sure we are operating under a clear mandate from the U.S. and the E3 — France, Germany and the U.K. Bennett was serious about it. We didn't want this to be a PR stunt," he stressed.
Bennett said he spoke in advance with the leaders of the U.K., France, Canada and the U.S. According to Bennett, Canada and the U.K. weren't enthusiastic. France was on board, and the U.S. was somewhere in the middle.
The Biden administration was "not against it, but they were skeptical about the chances of success. And in hindsight, they were right," Bennett said.
White House national security adviser Jake Sullivan told Bennett at the time that he didn't think Putin was ready to stop and roll back the invasion, but that he should go to Moscow and see what he says, Hulata recalled.
"At the time, there weren't too many people who could speak to Putin," Hulata said.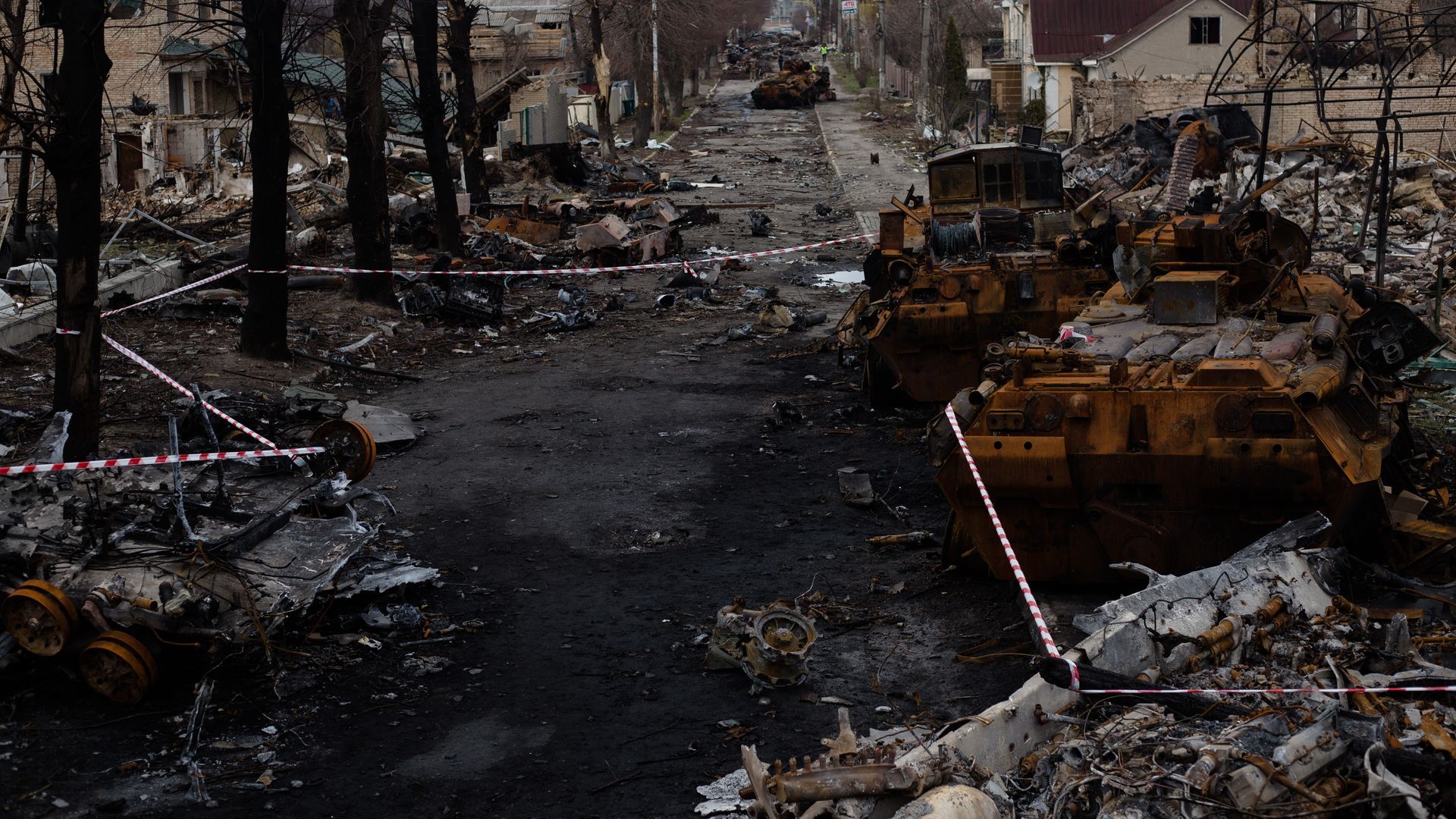 Hulata and Bennett both agreed that after the meeting with Putin, there was a feeling that the gaps were not as wide as people thought and that a deal was possible.
"In the next month, the mediation efforts were almost the only thing we did," Hulata told Axios. He said Israel was deeply involved in the negotiations that were taking place in March in Belarus between Russian and Ukrainian diplomats.
The Ukrainian side sent the draft proposals to Jerusalem and we gave our input, Hulata said. Some 18 proposals were exchanged during these weeks, according to Hulata and two other sources directly involved.
But by late March, it became clear "the penny [had] dropped" and the mediation efforts were not going anywhere, Hulata said.
"They finally died when Bucha happened," he added, referring to the atrocities committed against civilians that were revealed after Russian forces withdrew from the city at the end of March.
What they're saying: "We saw that each party thought it was winning. Zelensky was not open to any concession, Putin thought he was winning, and the Western countries saw the Russians bleeding and saw it as an opportunity to strengthen NATO," Hulata told Axios. "What we realized at the time is that the real issues between Russia and Ukraine are unbridgeable."
Nevertheless, he doesn't regret the mediation effort.
"From day one, we felt that we can't stand idly by and let this war continue without trying to stop it. The choice was between being careful and doing nothing and trying, failing and taking the risk that we will be criticized," he said. "It's true, we failed, but I was proud we tried."
Go deeper