Space brings transparency to the war in Ukraine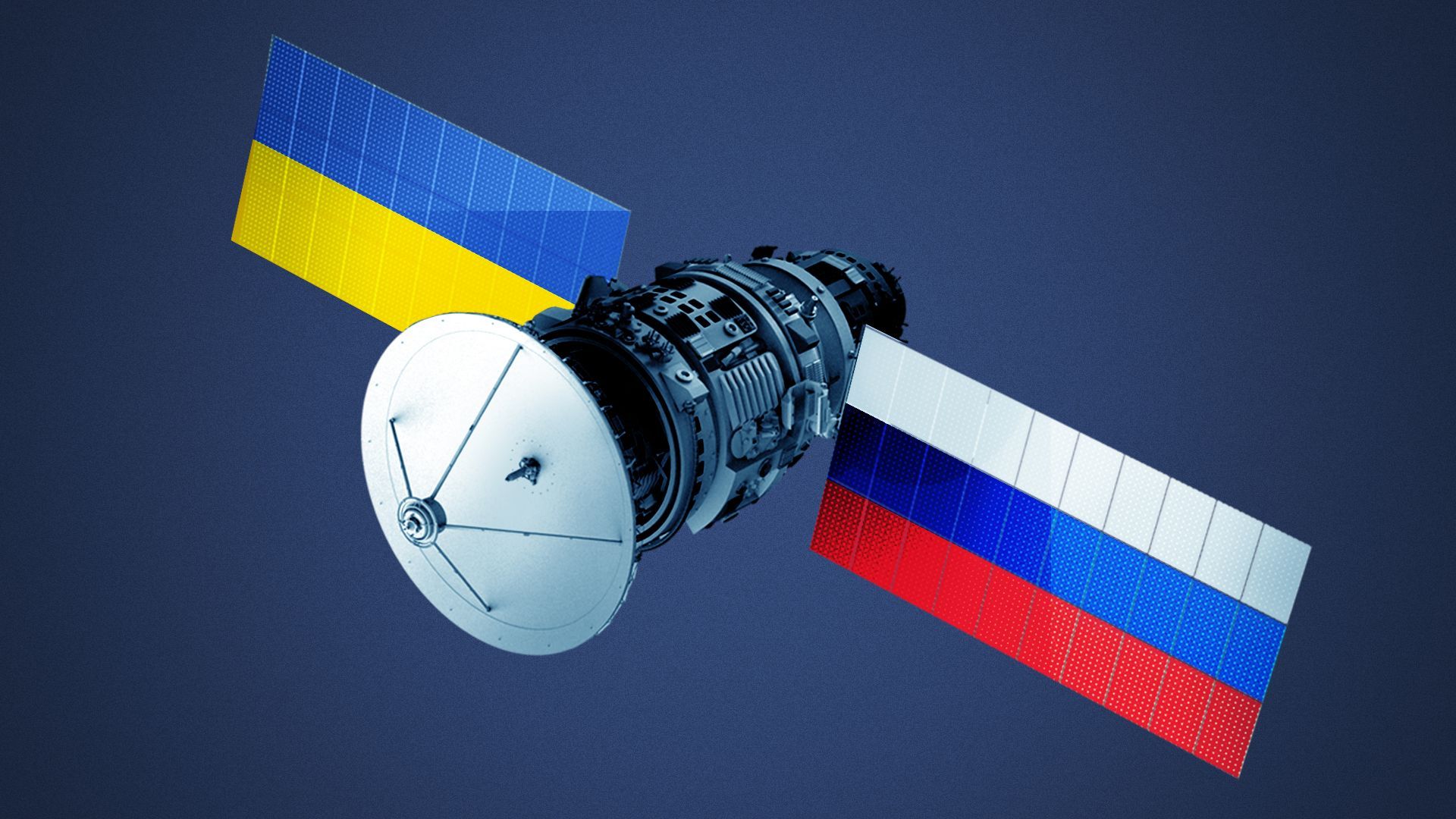 Detailed images of the battlefield in Ukraine taken from space and satellite internet beamed to the war's front lines have shaped the year-long conflict — and how the public understands it.
Why it matters: Space-based technologies have been essential to warfighting for decades, but their use in the conflict in Ukraine has demonstrated how they can give citizens a clear view of war.
What's happening: Planet, Maxar and other companies are using satellite images beamed back from orbit to reveal details of what's happening on the ground.
In April 2022, satellite photos disproved claims by Russia that images of bodies in the streets of Bucha were staged by Ukrainian forces. Photos from Maxar showed bodies in the streets before Russian forces pulled out of the city.
SpaceX's Starlink has also been key to Ukraine's efforts, allowing people on the ground to access the internet and aiding in situational awareness on the battlefield.
The big picture: In an interview with the BBC last year, the head of the Space Force General Jay Raymond said the war in Ukraine is the "first war where commercial space capabilities have really played a significant role."
Many of these companies are also regularly sending these types of photos to media outlets.
"[T]he worldwide attention to the event has been much larger, much wider, and our imagery has been used to help tell a critical story going on at this point," Maxar CEO Dan Jablonsky tells Axios.
Through the release of images of the war in Ukraine, both Maxar and Planet say they aim to increase transparency and accountability.
"As the saying goes, 'Sunlight is the best disinfectant for democracies,' and we feel that advances in commercial imagery are helping to provide that sunlight and shepherd in a new era of shared awareness at a scale that we really haven't seen before in past conflicts," Planet Federal's Robert Cardillo tells Axios.
Between the lines: These companies could also be putting their assets at risk through their efforts.
SpaceX's Elon Musk said in May 2022 that Russia's cyberattacks on Starlink have ramped up.
A Russian official said in October that commercial satellites could be considered "legitimate" targets for retaliation.
The intrigue: Using commercial assets in wartime also allows private companies to make decisions about what's acceptable use and what isn't.
SpaceX this month limited Starlink capabilities in Ukraine after the nation's military used the satellite constellation to operate drones targeting Russian troops.
Starlink "was never intended to be weaponized, but the Ukrainians have leveraged it in ways that were unintentional and not part of any agreement," SpaceX president and COO Gwynne Shotwell said on Feb. 9.
What to watch: These uses of space technology could have far-reaching consequences in the future.
Planet and Microsoft collaborated to create a building damage assessment tool for Ukraine. "This is something that normally would have taken months to complete, but given the urgency, was delivered in a matter of weeks," Cardillo said.
Government agencies have already been partnering with these companies to buy imagery for years, but the uses of the data during the war in Ukraine could further entrench those partnerships.
Go deeper