The worker flexibility premium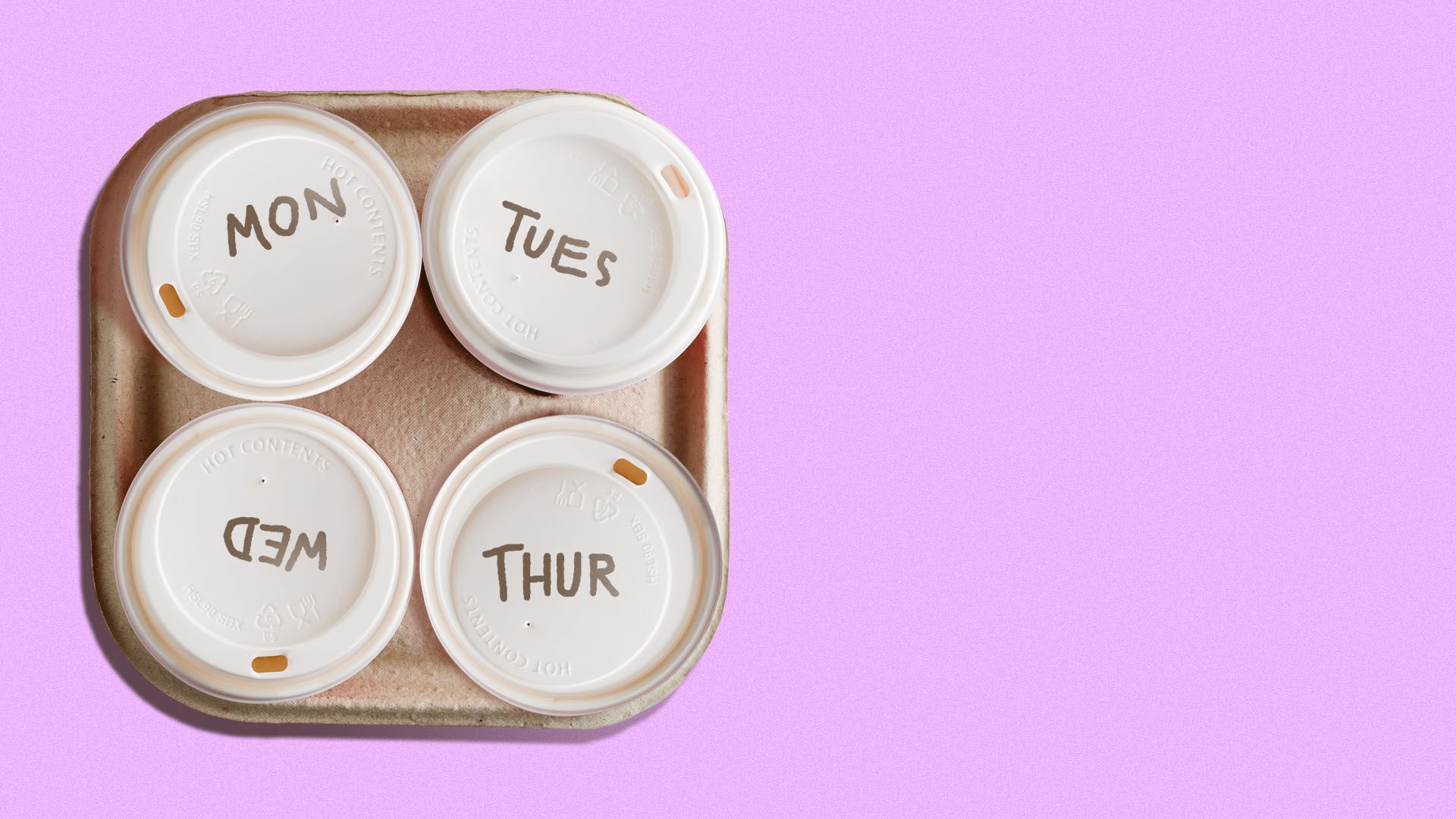 Shorter workweeks are creeping into recruiting strategies, particularly for smaller businesses looking to compete against giant corporates.
Driving the news: Results out today from the world's largest four-day workweek trial show how roughly 3,000 workers across 61 companies in the U.K. benefitted in areas of stress, burnout and work-life balance.
What they're saying: "Anecdotally," offering shorter weeks as a benefit to attract talent "is the number one reason companies approach us," says Hazel Gavigan, global campaigns and activation officer at the nonprofit group 4 Day Week Global, an organizer of the pilot program.
"Pre-pandemic, it was more about improving productivity and improving worker well-being," Gavigan tells Axios.
"But since the onset of the pandemic and the Great Resignation and Quiet Quitting ... smaller tech companies in particular can't compete with the massive salaries that Google and Facebook offer, but they can offer really attractive benefits such as [four-day workweeks]."
The big picture: This latest viability test comes as companies with deep pockets and wide reach including Disney and Amazon, mostly recently, are starting to pull workers back to offices.
But with labor markets expected to remain tight, workers will likely retain some bargaining power in dictating how and when they perform their jobs.
On Tuesday, CNBC reported that Amazon employees are pushing CEO Andy Jassy to drop return-to-office mandates.
What the U.K. trial found: Work stress decreased over the period of June to December 2022, according to the study.
39% of workers reported feeling less stressed, compared to 13% that experienced an increase.
71% reported reduced levels of burnout, compared to 22% who felt it increased.
54% found it easier to balance work with household jobs.
Be smart: Child and family care remain top priorities for people considering job opportunities, the U.S. Chamber of Commerce has found.
Notably, participants in the four-day workweek trial cite added time for caregiving as a top benefit — with the time that men spent looking after children in the four-day workweek trial increasing by more than double that of women.
Yes, but: Before everyone gets too excited about the prospect of permanent three-day weekends, systemic challenges and inequities remain.
Past research has shown that women opt-in to more flexible work arrangements and then experience more downside.
They've been less likely to get as big a pay increase, and are more likely to be let go in downturn, Ellen Ernst Kossek, distinguished professor of management at the Daniels School of Business at Purdue, tells Axios.
Lastly, while the U.K. trial required that companies didn't slash pay, broader implementation will likely vary.
For some workers, a reduced week at one job may force them to get a second to make up lost income, eliminating any burnout reduction benefit, Kossek adds.
And if some jobs extend hours for four days but schools and daycares aren't aligned with those longer days, childcare problems will remain.
The bottom line: Companies considering four-day weeks also need to rethink the rest of their work culture and to ensure new work flexibility doesn't compound existing inequities.
Go deeper
Go deeper