Updated Feb 21, 2023 -

World
Turkey hit by new earthquakes, leaving 8 dead and hundreds injured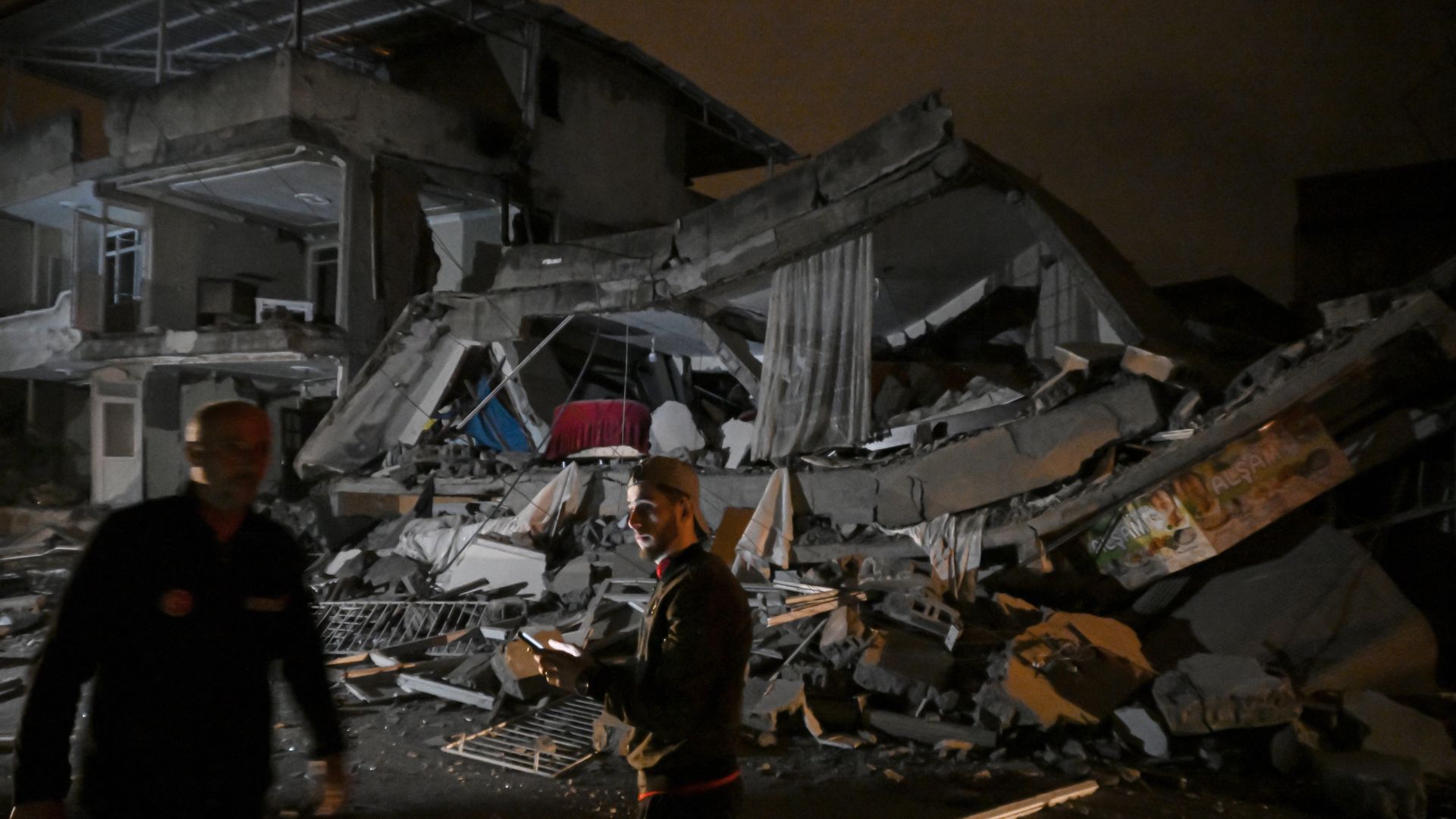 A 6.4-magnitude earthquake shook southern Turkey on Monday, just two weeks after a massive earthquake and aftershocks devastated the region.
Driving the news: Turkey's Disaster and Emergency Management Authority (AFAD) confirmed on Tuesday that six people had died and 294 others were injured, including 18 in serious condition.
In Syria, pro-government news outlets reported that a woman and girl had died as a result of the panic during the new earthquake, AP reported.
The first earthquake on Monday was followed by a second 5.8 magnitude quake, according to AFAD, which urged people to stay away from the coastline as a precaution against possible rising sea levels.
The 5.8 earthquake was the largest of 90 aftershocks that followed the 6.4 quake, AFAD said Tuesday.
The quakes struck Turkey's Hatay province and were felt in Syria, Jordan, Israel and Egypt as well, AP reported.
The combined death toll in Turkey and Syria from the massive earthquakes that hit the region earlier this month has neared 45,000.
State of play: Lutfu Safas, the mayor of Hatay, told Turkish broadcaster NTV on Monday that several buildings had collapsed and trapped people inside, the New York Times reported.
Safas urged people to avoid going near or inside damaged buildings.
Syrian state media said Monday that six people had been taken to Aleppo University Hospital as a result of falling debris.
The Syrian Civil Defense, first responders also known as the White Helmets, said in an update Tuesday that about 190 people had suffered various injuries as a result of falling debris, jumping from buildings, stampedes and fainting.
The earthquake caused the collapse of cracked buildings in several cities and damaged a number of other buildings. But there were no cases of people being trapped under the rubble, they added.
The White Helmets said Monday that there was "a state of panic and fear among the people" as a result of the new quake.
The Syrian American Medical Society, which operates hospitals in northern Syria, said a number of people — including a seven-year-old boy — had been treated after suffering heart attacks brought on by fear from the earthquakes, AP reported.
Editor's note: This article has been updated with new details throughout.
Go deeper