Russian ambassador: U.S. trying to "demonize" Russia with crimes against humanity claims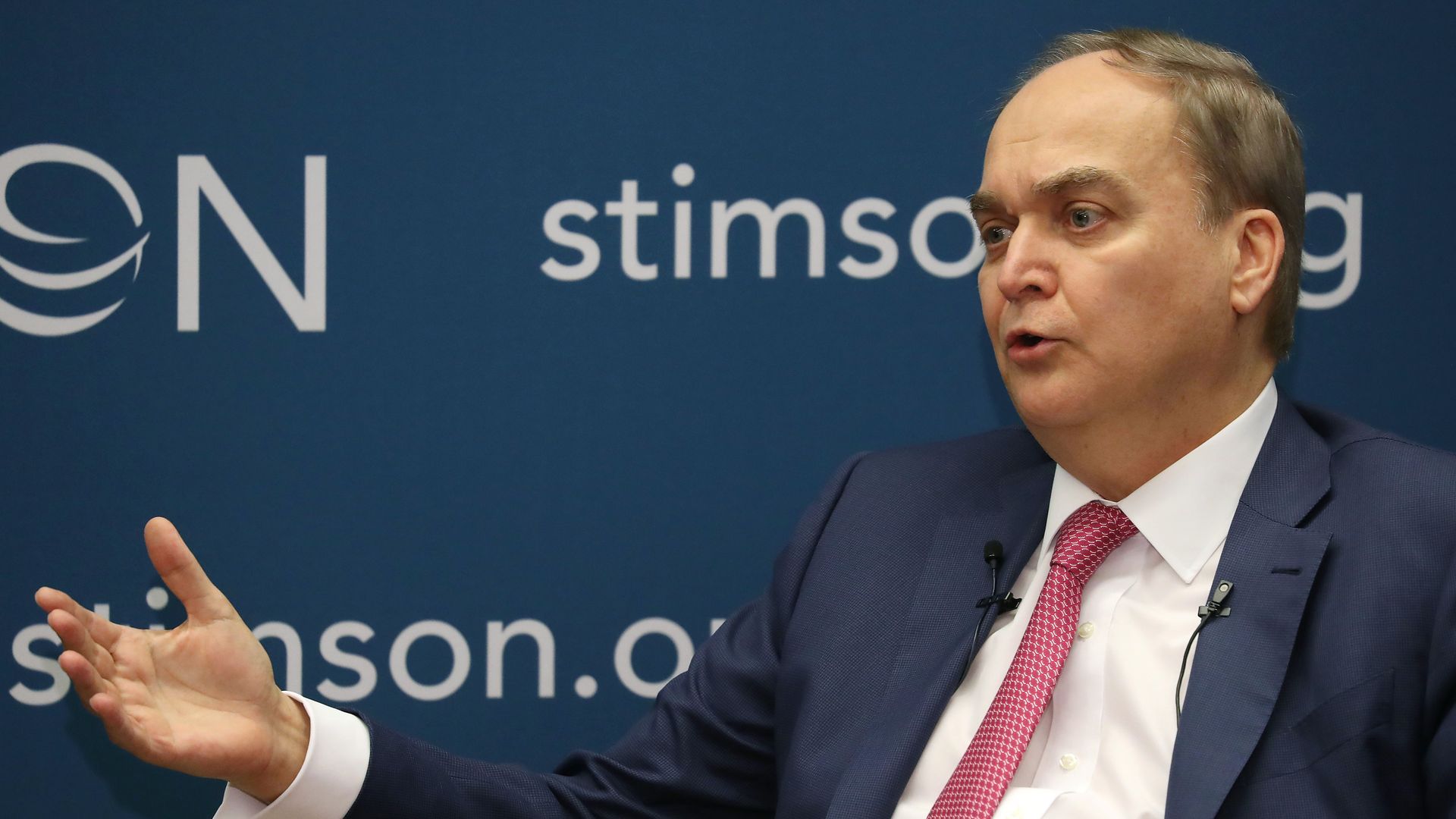 The U.S.' declaration that it has formally determined that Russia has committed crimes against humanity during the war in Ukraine is an attempt to "demonize Russia," Anatoly Antonov, Russia's ambassador to the United States, told reporters Saturday.
Driving the news: Vice President Kamala Harris made the announcement about the administration's formal determination at the Munich Security Conference on Saturday, just days ahead of the one-year anniversary of Russia's invasion of Ukraine.
State of play: "We consider such insinuations as an attempt, unprecedented in terms of its cynicism, to demonize Russia in the course of a hybrid war, unleashed against us," Antonov said, in a media exchange posted on the embassy's Telegram channel.
Antonov added that the message was intended to justify the U.S.' "own actions to fuel the Ukrainian crisis" and denounced the U.S. for providing offensive weapons to Ukraine.
Antonov alleged that the U.S. ignores the "use of prohibited indiscriminate ammunition by the armed forces of Ukraine" and that it "turns a blind eye to the atrocities of the Zelensky regime," which he said included "shootings of unarmed captured Russian soldiers."
"Washington's two-facedness is outrageous," he said.
Secretary of State Antony Blinken said in a statement Saturday, that Russia's crimes against humanity included "execution-style killings of Ukrainian men, women and children; torture of civilians in detention through beatings, electrocution, and mock executions; rape" and the deportation of Ukrainian civilians to Russia.
"We reserve crimes against humanity determinations for the most egregious crimes. Today's determination underlines the staggering extent of the human suffering inflicted by Moscow on the Ukrainian civilian population," Blinken added.
The big picture: China is now considering providing Russia with "lethal assistance" for the war in Ukraine, which could include weapons, Blinken told NBC's "Meet the Press" in an interview that aired Sunday.
Blinken stressed that while the move was under consideration, "we have not seen them cross that line."
Sen. Lindsey Graham (R-S.C.) told ABC's "This Week" in an interview that aired Sunday that the U.S. should designate Russia a state sponsor of terrorism and begin training Ukrainian pilots on the use of F-16 fighter jets.
Graham noted that such a designation would "make it harder for China to give weapons to Russia" since it would mean that China would subsequently be subject to sanctions.
Go deeper