U.S. trying to get deal to prevent Israeli-Palestinian showdown at UN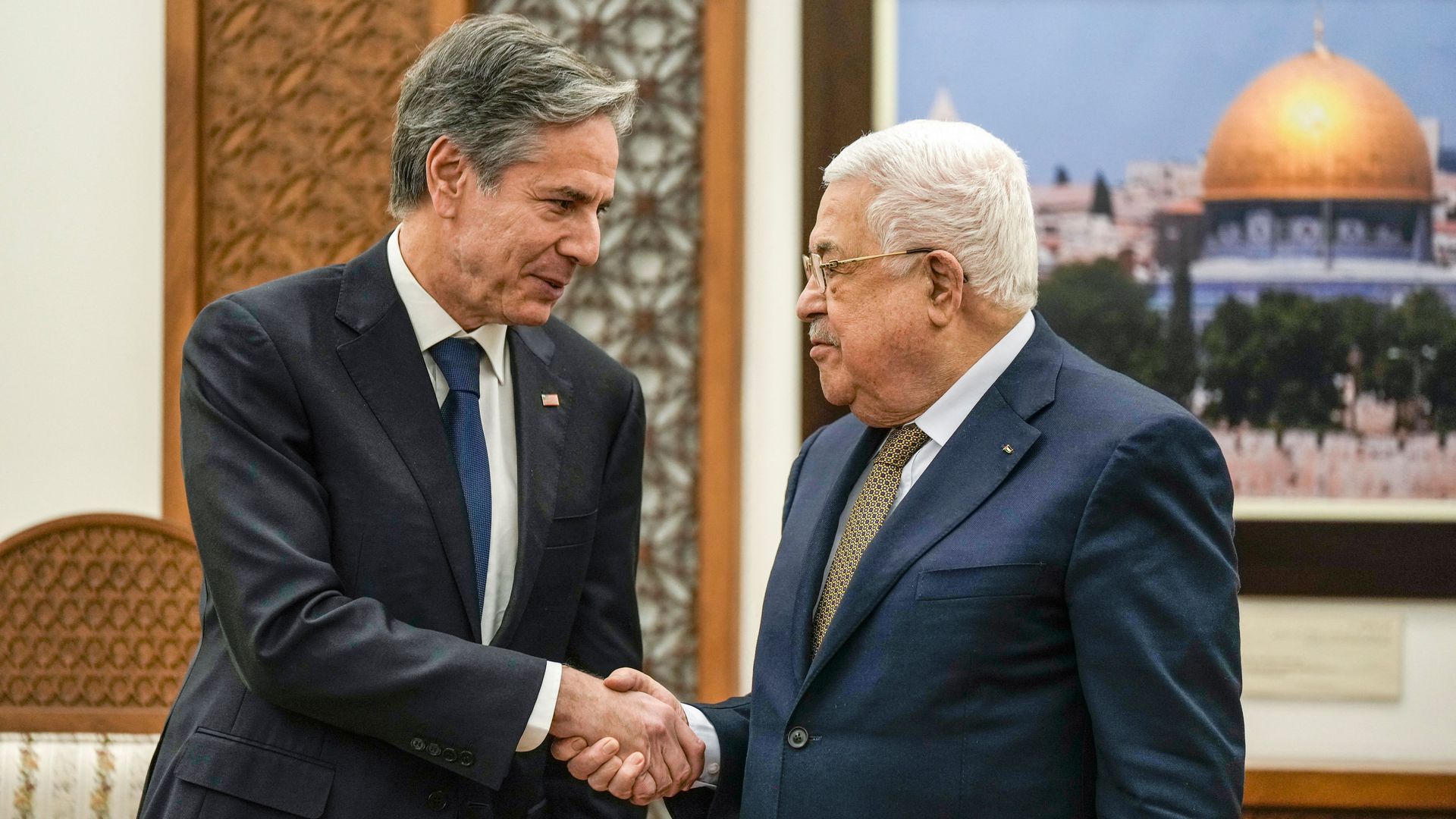 Secretary of State Tony Blinken is trying to broker a deal with Israel and the Palestinian Authority that would prevent a vote at the UN Security Council on a resolution against the Jewish settlements in the occupied West Bank, according to two sources briefed on the issue.
Why it matters: If the resolution moves forward and passes, it will likely force the U.S. to decide whether to use its veto to support Israel, which it has repeatedly done in the past.
The Biden administration opposes any unilateral moves by Israel, including settlement expansion, that would hurt efforts to negotiate a two-state solution to the Israeli-Palestinian conflict.
Officials say the U.S. is also concerned that a showdown at the UN — even if it ends with a veto — will lead to further escalation between the Israelis and Palestinians ahead of the historically sensitive period of Passover and the holy month of Ramadan.
Catch up quick: Israel announced last weekend it was legalizing nine outposts in the West Bank and approving the planning and building of 10,000 new housing units in existing settlements.
Much of the international community considers Israeli settlements in the West Bank illegal under international law.
Driving the news: Blinken called Palestinian President Mahmoud Abbas on Saturday and asked him not to push for a vote at the UN Security Council on Monday, according to the State Department.
"There is an urgent need to take steps to restore calm. The U.S. opposes unilateral measures that would further escalate tension," Blinken told Abbas, per a State Department statement.
Abbas told Blinken the Palestinians seek action in the UN Security Council due to Israel's insistence on violating signed agreements, the Palestinian presidency said in a statement.
"Israel needs to stop all unilateral measures, including settlement construction, home demolitions, raids on cities and villages and the extrajudicial killings of Palestinians," Abbas told Blinken, according to the statement.
According to Abbas' office, the Palestinian president told Blinken the U.S. needs to intervene and press Israel "to stop its dangerous measures."
Blinken told Abbas he would reach out to the Israeli government. Shortly after, Blinken spoke to Israeli Prime Minister Benjamin Netanyahu and asked him to take steps to calm down the situation, sources briefed on the call said.
Between the lines: Palestinian and Israeli officials say that the chances to get a deal that will prevent a vote are very low.
What to watch: A senior European diplomat from a member of the Security Council said negotiations between several member nations at the UN were ongoing in an attempt to convince the Palestinians to agree to a presidential statement by the UN Security Council against Israeli settlements instead of a vote on a resolution.
Go deeper