How big companies like Tesla and Starbucks are fending off unionization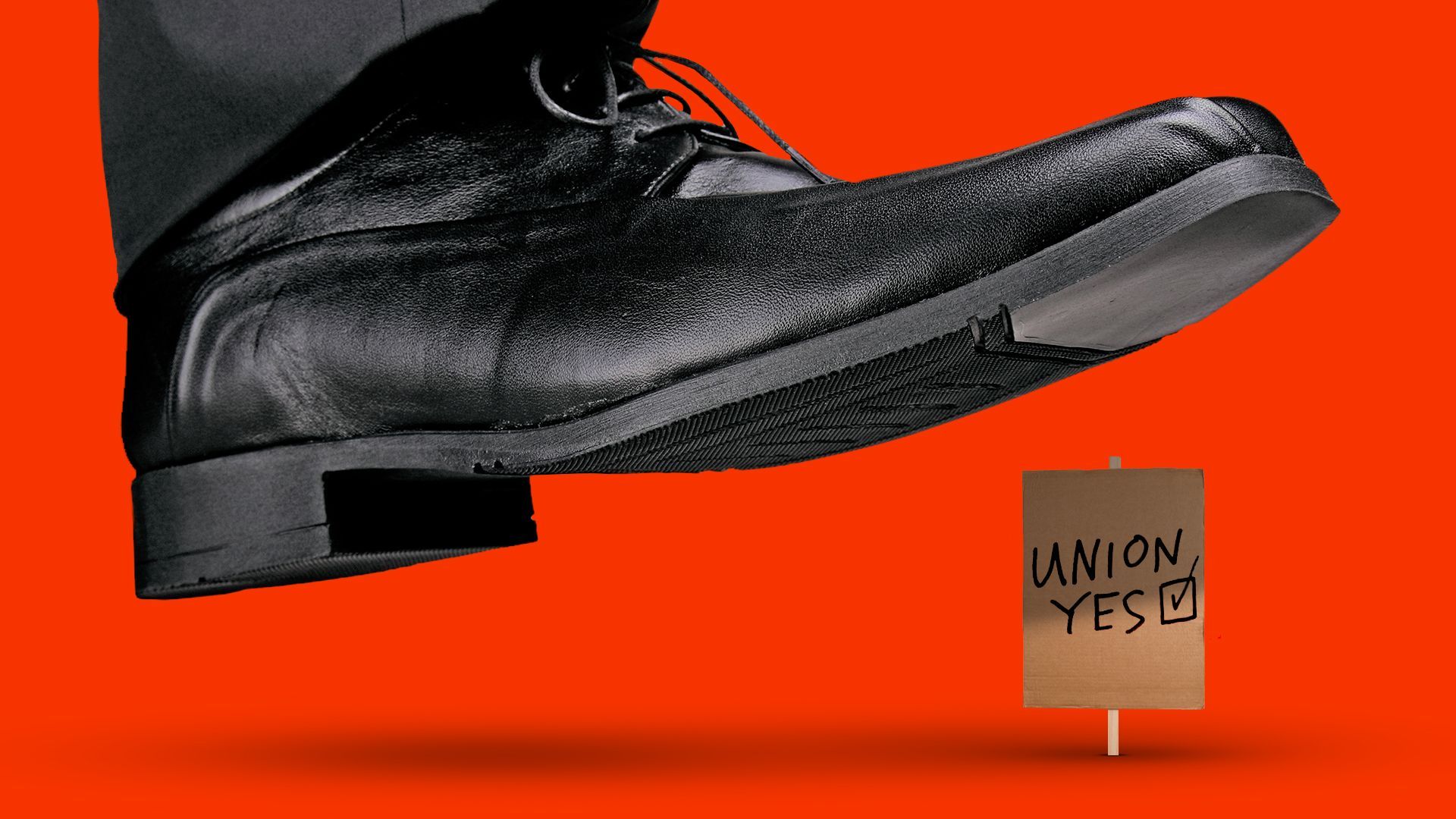 Starbucks workers are struggling to clear the biggest hurdle when it comes to union organizing — negotiating their first contract.
Why it matters: Though surveys show that the public is increasingly pro-labor, big employers — even widely recognized brands like Starbucks, Amazon and Tesla — are not shy about aggressively fending off unionization.
Driving the news: It's been a busy week. Tesla was accused of firing 30 employees in Buffalo in retaliation for announcing a union campaign, according to a charge filed at the National Labor Relations Board on Thursday, first reported by Bloomberg.
The NLRB ruled on Monday that Starbucks unfairly fired two organizers in Philadelphia and ordered that they be reinstated with back pay.
"We disagree with the decision and are considering all options to obtain a full legal review of the matter," a Starbucks spokesperson told Axios in an email, adding that the employees violated policies.
The labor board has lodged 77 complaints against the company since 2019 for unfair practices, like illegally firing workers or threatening and intimidating them. That appears to be the most complaints filed by the board against a company in recent history.
Meanwhile, interim CEO Howard Schultz declined to appear before a Senate Committee, chaired by Sen. Bernie Sanders (I-Vt.), to testify about its labor dealings.
"Apparently, it is easier for Mr. Schultz to fire workers who are exercising their constitutional right to form unions, and to intimidate others who may be interested in joining a union than to answer questions from elected officials," Sanders said in a blistering statement on Wednesday.
Explaining that Schultz would soon step down as CEO the same month as the hearing, the company offered a lower-ranking executive to appear in his place. In a letter to Sanders, the company's general counsel emphasized it's been "a model employer" and an industry leader when it comes to compensation and benefits
State of play: For the past year, newly unionized Starbucks workers have been meeting with the company's lawyers and representatives to try to negotiate a deal. So far, no group has gotten to a contract.
Right now Starbucks is refusing to negotiate in sessions in which workers appear over Zoom — a new way to delay the process, experts said.
Jasmine Leli, a Starbucks union leader in Buffalo who's been in several of these sessions, says the process has been both empowering — because early on workers could list their proposals — and "frustrating," because the company hasn't said much of anything in session.
Context: Under the federal labor law, unions can bring whoever they like to the bargaining table — but the issue of digital participation is new and will likely be litigated in court, says Kate Bronfenbrenner, director of labor education research and a senior lecturer at Cornell University's School of Industrial and Labor Relations.
There's precedent: Arbitration is often done virtually, as are court hearings. It would be unusual for a court to prohibit this at the bargaining table, she says.
This is a way for Starbucks to delay the process, she adds.
Between the lines: Companies have always aggressively fought unionization, but what's different these days with Starbucks is that they're not just challenging workers and unions, they're challenging the legitimacy of the National Labor Relations Board itself, says Bronfenbrenner.
For the record: The idea that Starbucks is trying to delay the bargaining process is "simply false," Andrew Trull, a company spokesman, told Axios in an email.
The company said it objects to "virtual broadcasts of bargaining sessions." And the union's insistence on them is a "delay tactic." Starbucks has filed 90 unfair labor practice charges against the union since October 2022. (None have translated into complaints from the NLRB.)
"Starbucks respects our partners' rights to organize and engage in lawful union activities, has fully honored the process laid out by the NLRB and has worked to ensure that partners can trust the process is fair and their voice is heard."
What's next: "They're going to have to come to the table to bargain with us. We're not going away. We're here," says organizer Leli. "It's going to happen."
"There will likely be more NLRB rulings against Starbucks — I don't think the rulings will have much impact on Starbucks's behavior," Kevin Reuning, a political science professor at Miami University, who is following these efforts, told Bloomberg.
Schultz is stepping back in April as CEO to make way for Laxman Narasimhan, but experts expect the new leader to stay the course. "I expect them to keep pushing as hard as they can to stop any organizing," Reuning said.
Go deeper