Michigan State University gunman bought weapons legally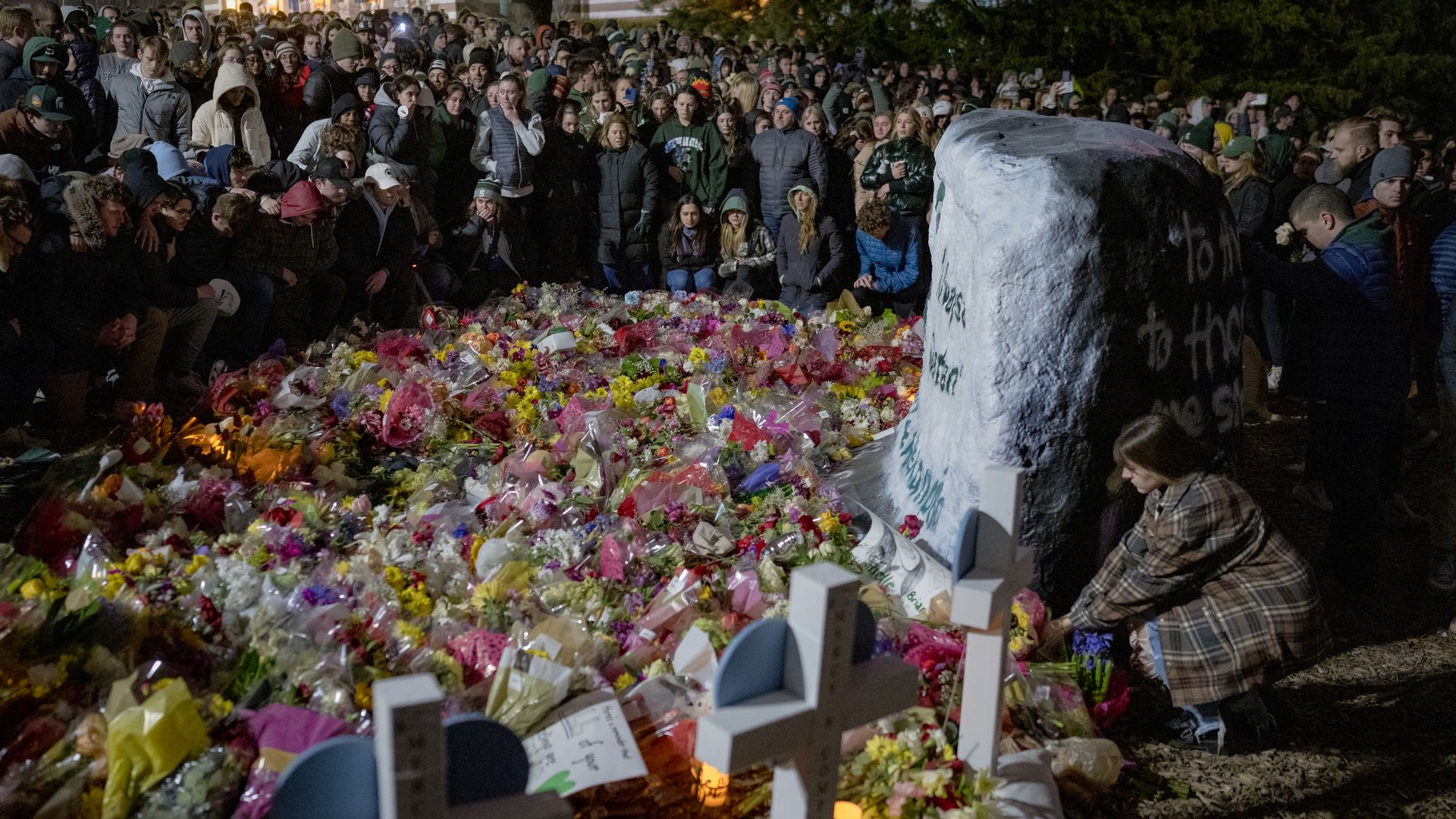 The gunman who shot and killed three students at Michigan State University and left five others hospitalized earlier this week carried two legally purchased, but unregistered handguns during the shooting, police said Thursday.
Driving the news: MSU Deputy Police Chief Chris Rozman said the 43-year-old suspect, who later died of self-inflicted gunshot wounds, had more magazines and ammunition on him when he was found, as well as a note.
Michigan State Police Lt. Rene Gonzalez said the two-page note contained threats against additional places — including businesses, a church and at least one school district in New Jersey — as well as "an indication of why, maybe a motive, but nothing that we can actually confirm just yet."
The investigation into the shooting is still ongoing, Rozman said, calling it "very complex." Police still have not established any connection between the gunman and MSU, he added.
What they're saying: The five students hospitalized after the shooting remained in critical condition, but "I'm pleased that we are seeing some signs of improvement," said Teresa Woodruff, MSU's interim president, during a press conference Thursday.
Gonzalez said police are still attempting to establish a motive for the shooting, adding that the suspected gunman, Anthony Dwayne McRae, had been an employee at a warehouse owned by Meijer, a Michigan-based supermarket chain.
"In a couple other businesses, it appears he had some issues with the employees there where he was asked to leave. So, a possible motive for that is he just felt slighted, and that's kind of what the note indicated," Gonzalez said.
It was unclear what businesses were included in the note.
The big picture: It took police several hours to locate and identify McRae after he fled the campus after two separate shootings: one at Berkey Hall that left two people dead and another at the MSU student union, which left one person dead.
Rozman defended law enforcement's response to the shooting, saying, "People may question the timing — this was an ongoing complex incident."
McRae, who had a history of mental health issues, was charged with multiple gun-related crimes, including carrying a concealed pistol without a concealed carry permit, in June 2019 in Lansing, Michigan, according to the Detroit News.
McRae's father told police in an interview that his son did not have any friends and "pretty much never left his room," Gonzalez said.
Authorities earlier this week identified the three students who died — junior Arielle Anderson of Grosse Pointe, sophomore Brian Fraser of Grosse Pointe and junior Alexandria Verner of Clawson.
Go deeper: Michigan State University campus shooting leaves 3 dead, 5 critically injured
Go deeper