Updated Feb 15, 2023 -

World
Europe-Xinjiang trade ties on shaky ground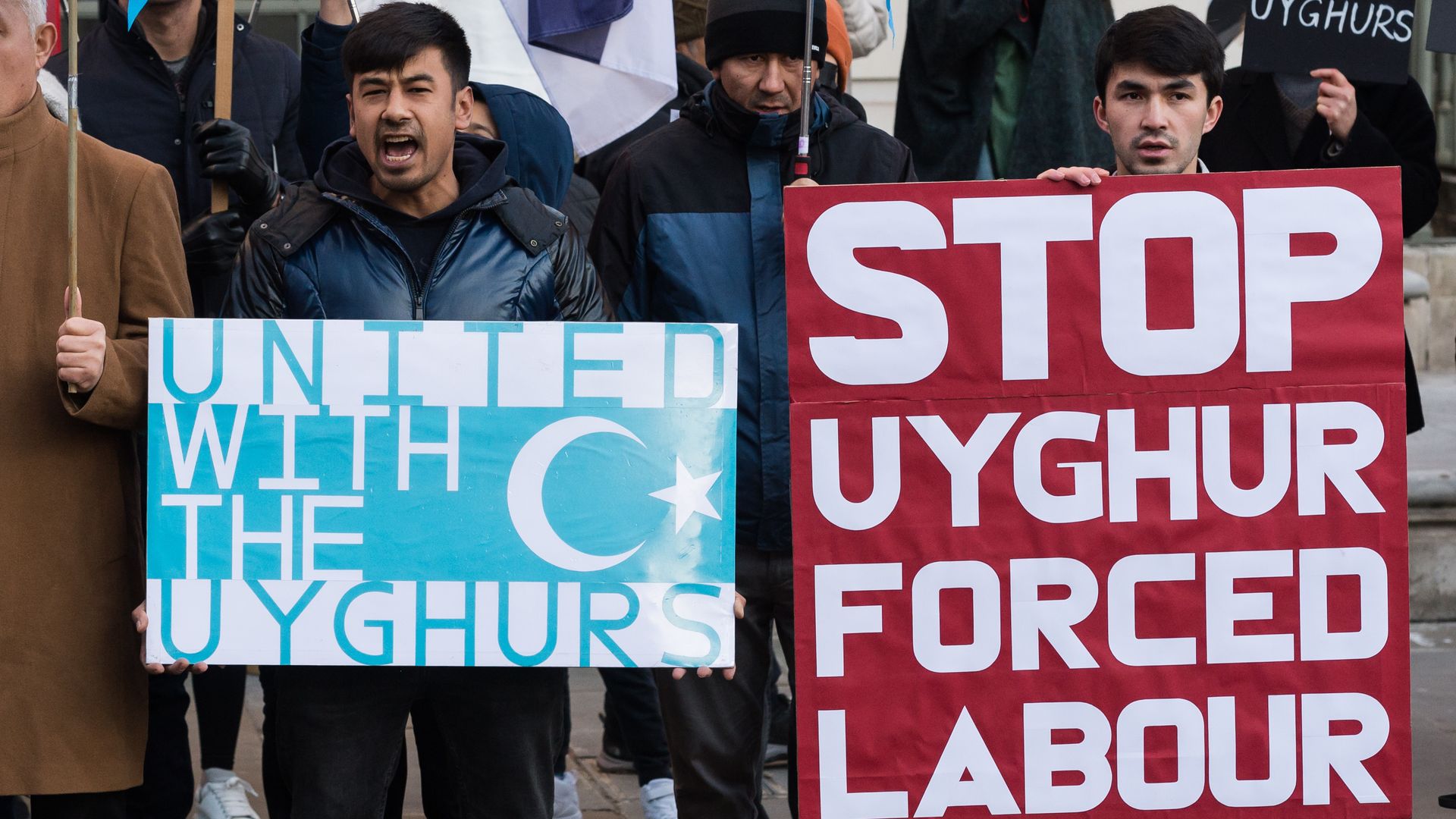 Close trade ties between China and Europe once guaranteed warm relations. But those economic links are now facing scrutiny as Europe's view on Beijing has soured.
What's happening: China was planning to send a delegation of Xinjiang officials to Brussels, but that trip has been postponed amid outrage from human rights groups who called the possible visit a "charm offensive."
China's top diplomat, Wang Yi, is currently in Europe and plans to attend the Munich Security Conference later this week.
The EU and China will relaunch a human rights dialogue this week that stalled two years ago after rounds of tit-for-tat sanctions, China's foreign ministry confirmed on Wednesday, though it's not clear what behind-the-scenes negotiations led to this minor rapprochement.
The big picture: EU-China relations plummeted in 2021 after China sanctioned more than a dozen EU individuals and entities for their comments about Xinjiang, where Chinese authorities have committed human rights abuses against Uyghurs and other ethnic minorities.
Economic ties between Europe and Xinjiang — and by extension, a good chunk of China's exports — may be on the chopping block as well. The EU is considering a proposed ban that could see European companies delinking their supply chains from one of China's key export regions.
Background: In September 2022, the European Commission revealed a proposal to ban the import of goods made through forced labor, which if implemented would derail Xinjiang-linked supply chains.
In May 2022, the German government ended benefit programs for German companies investing in Xinjiang.
German carmaker Volkswagen is facing growing scrutiny over its factory outside Urumqi, the regional capital of Xinjiang.
The latest: In what would have been a rare overseas trip for a Chinese official sanctioned by the U.S., Xinjiang Governor Erkin Tuniyaz was expected to visit London and Brussels later this month, multiple media outlets reported.
But on Tuesday, an EU spokesperson told the South China Morning Post that the visit was postponed.
Chinese officials confirmed the postponement of the trip to the Post, blaming "scheduling reasons."
A spokesperson for the British foreign office also told the Post they understood Tuniyaz had canceled his visit to the U.K.
The potential trip had drawn fierce backlash from European lawmakers and activists, who pointed to the fact that Tuniyaz, an ethnic Uyghur who is also the deputy party secretary in Xinjiang, was sanctioned by the U.S. in 2021, along with three other Chinese officials. They were accused of participating in the arbitrary detention of Uyghurs and members of other ethnic minorities in Xinjiang. He has not been sanctioned by the U.K. or EU.
"The place to deal with these individuals is in a tribunal or a court of law, not in the quiet office of a foreign office official," British MP Iain Duncan Smith, who has been sanctioned by China for speaking out about Xinjiang, told lawmakers last week.
"Beijing is doubling down with the charm offensive. This may be due to domestic economic and political pressures, which are making them take a different approach from the former 'wolf warrior' tactics," Julie Millsap, an advocate for Uyghur human rights, told Axios about the potential trip.
Western countries should use China's softened position to demand meaningful reform and adherence to international law from China, she added.
Between the lines: The visit's cancelation amid fierce backlash from human rights advocates and lawmakers demonstrates how the Chinese government's repression in Xinjiang — once considered an obscure human rights issue — has come to dominate European perceptions of China.
Editor's note: This story has been updated to reflect that Tuniyaz's EU visit was postponed.
Go deeper