Lee Enterprises forces furloughs in latest cost-cutting move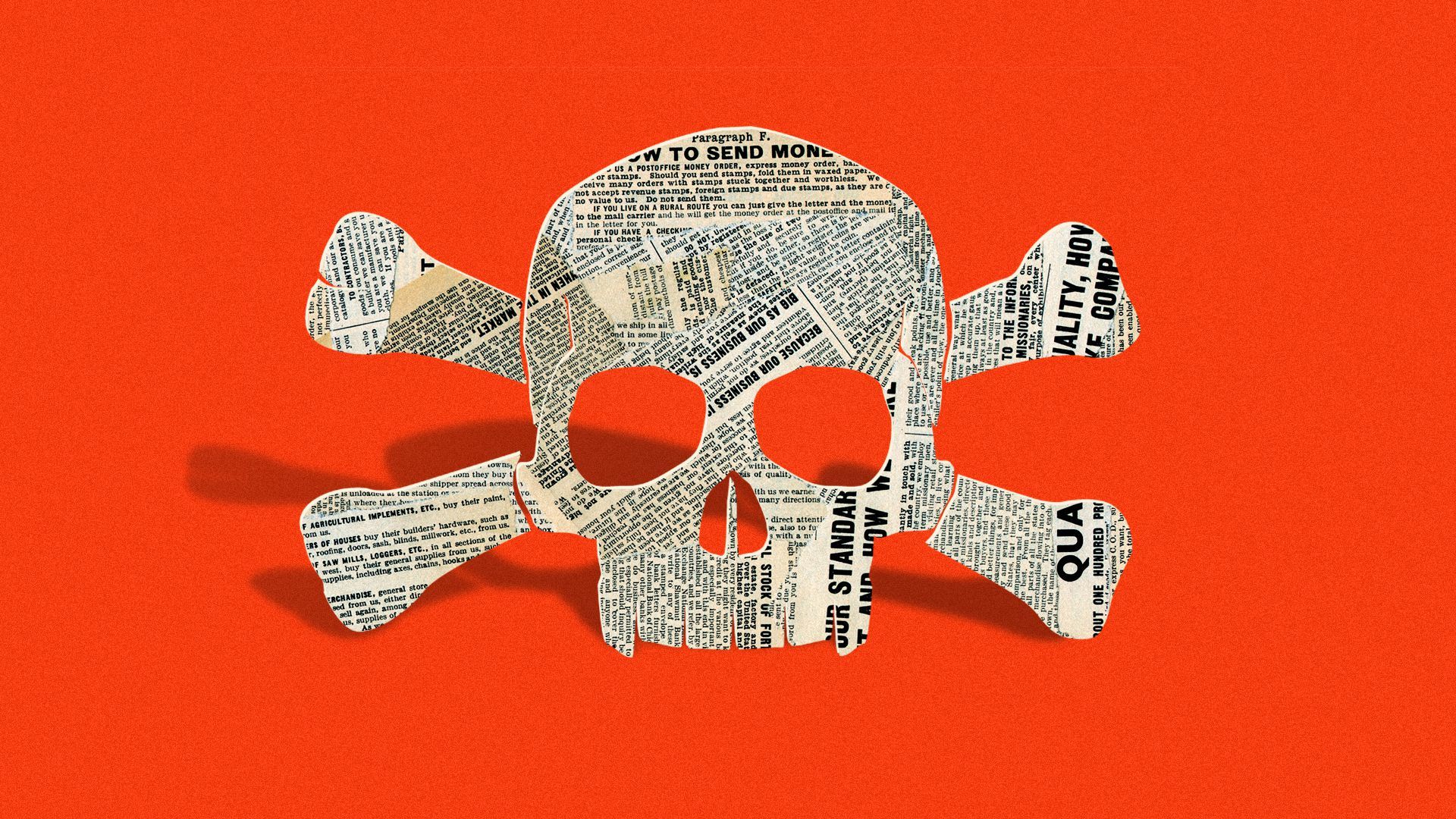 Lee Enterprises is telling some employees that they will need to take a two-week, unpaid furlough or accept a salary reduction, according to an internal memo obtained by Axios.
Why it matters: Since thwarting a hostile takeover from Alden Global Capital last year, Lee's struggles have deepened, prompting some Lee staffers to wonder if hedge fund ownership would have been better.
Catch up quick: Alden Global Capital, an investment firm known for slashing costs at local papers, dropped its bid for Lee Enterprises last year following a bitter legal battle.
The big picture: The cost-cutting measures, and the latest forced furloughs, have caused employees to wonder if they would have been better off on Alden's payroll.
"Alden is clearly horrible and a terrible owner, and for me, what is frustrating is it feels like Lee has done their best impression of Alden's cost-cutting since Alden made that buyout attempt," says David Carson, vice president of United Media Guild and a staff photographer at the St. Louis Post-Dispatch.
"Nearly three years into the new regime, it's becoming apparent that it might as well have been Alden, as Lee Enterprises is following the same playbook," wrote Jim Heaney, a reporter with the Investigative Post, a watchdog news outlet in Western New York, and a former investigative reporter with The Buffalo News.
Lee declined to comment. Alden did not immediately respond to a request for comment.
Details: In an email sent Monday, staffers at Lee-owned Richmond Times-Dispatch were told that all of their mandatory furlough time must be scheduled by the end of February.
Employees will continue to receive their benefits throughout the furlough period, and deductions for those benefits will continue to be taken out of their paychecks, the email read.
"In order for Lee to comply with federal wage and hour laws, you are not allowed to do ANY work while out on furlough," read the email. "Please do not read or respond to emails or voicemails, do not return calls and do not come into the office. Do not attend any function as an official representative of the paper."
Lee, one of the last remaining independent newspaper companies, has been rolling out furloughs across its newsrooms. Staffers at The Roanoke Times, the Globe Gazette and the Lincoln Journal Star were told earlier this month.
Not all Lee staffers have been informed of furloughs, however, including some of Lee's unionized newsrooms.
Lee has not approached the unions of three Virginia papers that are represented by Washington Baltimore News Guild, local representative Paul Reilly tells Axios in an email.
United Media Guild, which represents staffers at the St. Louis Post-Dispatch and The Southern Illinoisan, also has not been notified of furloughs, Carson says.
"In the past, we have agreed to it. I'm not sure which way members [would] vote on it this time," Carson says in a phone call. "During COVID, we took a two-week furlough, and I think people were like, 'OK, I understand what's going on. I understand the economic pressure.'"
"Being a journalist at any newspaper company now kind of feels like you're in an abusive relationship sometimes," Carson says.
Between the lines: The St. Louis Post-Dispatch recently let go of its librarian, the last remaining staffer of its once "robust" library and research department, Carson says.
"The size of our news staff at the Journal Star is now less than half of what it was when I started in 2014, even though the issues and people we are covering are increasingly complex and nuanced," Lincoln Journal Star reporter Chris Dunker says over text.
"The loss in wages adds insult to injury as many haven't received a pay raise in years and are now dealing with inflation the same as everyone else," Dunker says. "We want to serve readers and cover our communities with depth and sensitivity, but [this] corporate model ... is making that almost impossible."
What to watch: Local newspapers continue to face steep headwinds as the advertising market slows and as more attention shifts to digital products.
Go deeper:
Editor's note: This story was updated to specify the description of Alden as an investment firm.
Go deeper