Supply-chain mapping startup staffs up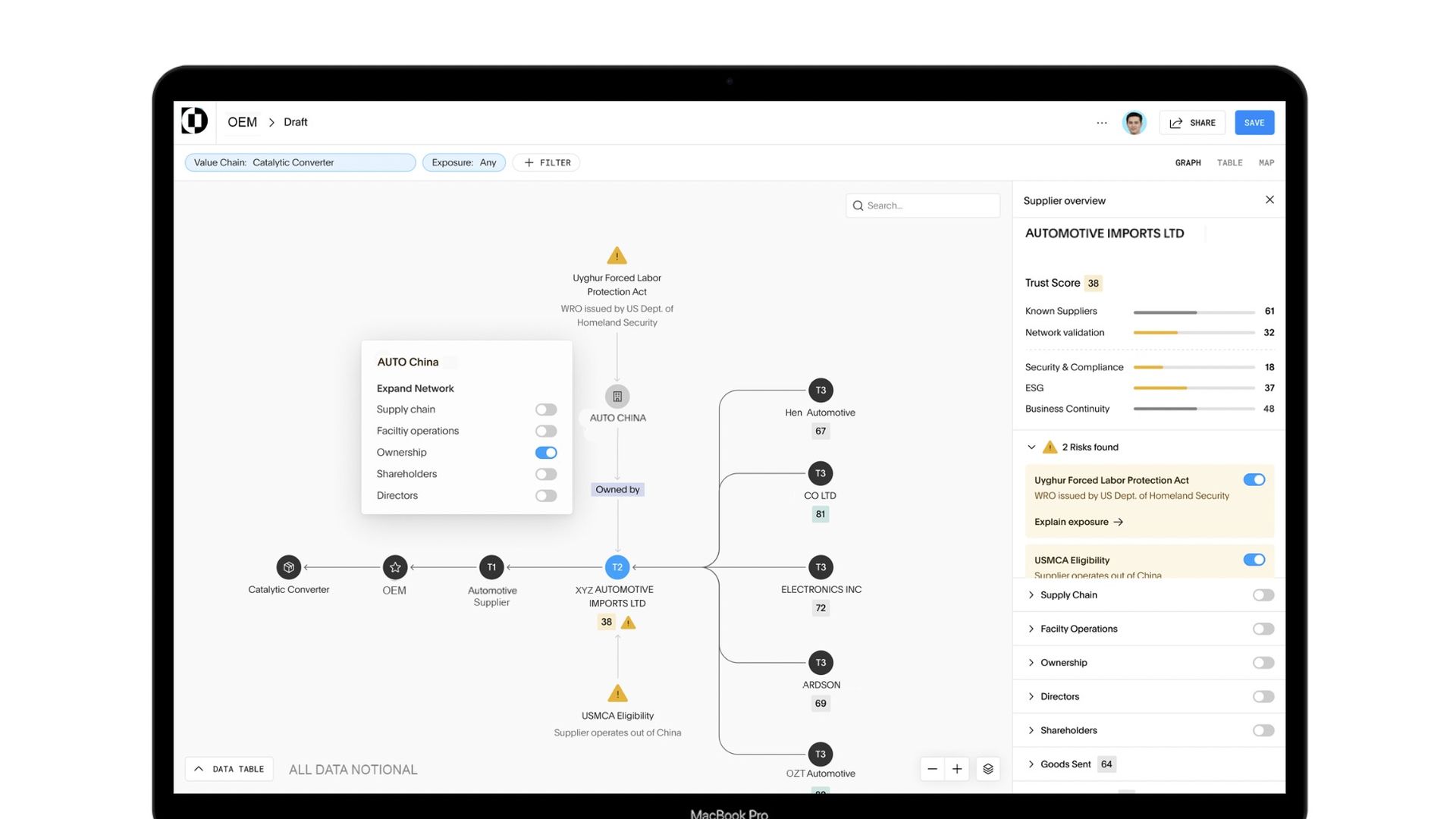 After raising more than $115 million, New York startup Altana has made several key executive hires designed to advance its mission: mapping the world's supply chains.
Why it matters: Companies are paying a lot more attention to supply chains in a world disrupted by global pandemics, wars and climate change. Even so, many have little idea what is taking place beyond the first layer or two of their suppliers.
Details: The company's most recent hire is Jonathan Prince, who left Slack last week to become Altana's marketing chief.
Also joining in recent weeks are:
Former Komodo Health executive Kathleen Ragelis as VP of people;
Coursera and LinkedIn veteran Shwetabh Mittal as VP of product;
and Aashish Patel as VP of information security.
How it works: Altana provides a dynamic graph of the global supply chain fed by a mix of publicly available data and non-public supply chain data, in some cases providing visibility all the way from raw materials into finished products.
Altana uses a federated learning approach, connecting to — and learning from — siloed, non-public customer data. Sensitive data remains on customers' computer systems, while the derived insights are shared across Altana's customer base.
"We work with sophisticated organizations with very sensitive data, and all of our customers agree to this intellectual property framework," CEO Evan Smith told Axios. Publicly identified customers of Altana include shipping giant Maersk, UPS, Boston Scientific, Merck and the US Customs and Border Protection Agency.
Altana has 120 employees, three times its size a year ago, and more than 20 customers, Smith said.
The big picture: A better understanding of supply chains can help companies in a variety of ways, from preventing disruptions to adding redundancy to calculating environmental impact.
Between the lines: Altana uses a variety of incentives to convince companies to share their data. With its customs and border patrol partnership, for example, companies who share their supply chain data can help speed their shipments through inspections designed to bar the import of goods made using forced labor.
In the future, sharing such information could give customers access to financial services, such as insurance against supply chain disruptions.
Go deeper