Search and rescue efforts nearing end in Turkey, U.N. liaison says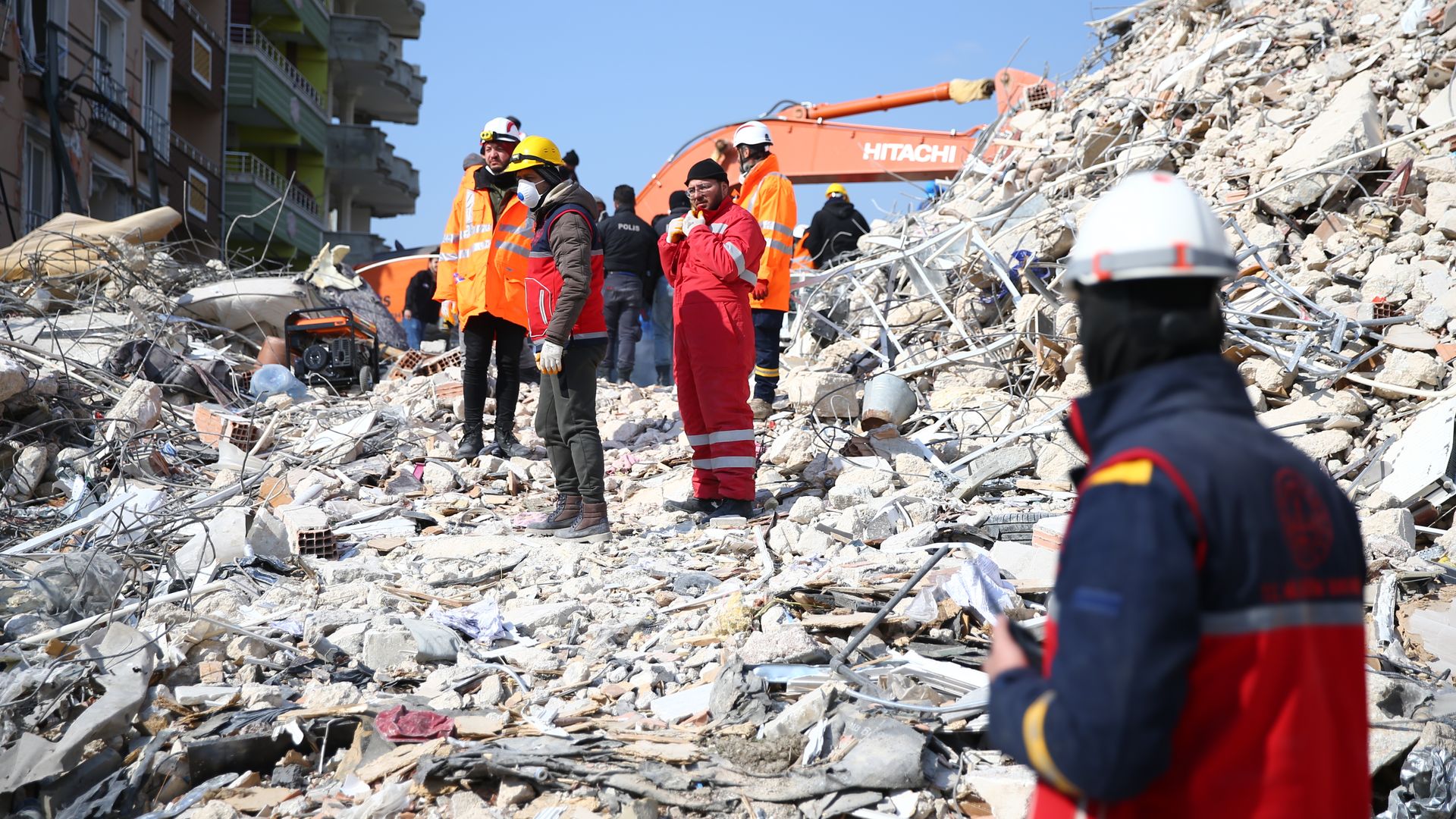 Five days after a 7.8-magnitude earthquake struck Turkey and Syria, a UN liaison officer is warning that the two countries are nearing the end of the search and rescue window.
Driving the news: The possibility of finding survivors is decreasing as the hours pass, Belit Tasdemir of the AKUT Search and Rescue Association said in an interview with CNN on Saturday. His comments come as rescue workers persist in efforts to locate and safely extract people trapped amid the devastation.
In the town of Nurdagi, Turkey, a family of five was rescued from their collapsed home over 100 hours after the initial earthquake, AP reports.
A few towns over in Islahiye, a crew pulled a 3-year-old girl and her father from debris, while a 7-year-old girl was similarly rescued in the province of Hatay.
What they're saying: "The sheer level of, and how widespread the devastation is, is completely unprecedented in terms of what we've seen before in Turkey," Tasdemir told CNN from Turkey, noting that the "mammoth" rescue efforts are taking place in below freezing temperatures.
"We're approaching the end of the search and rescue window, and plus the probability of finding survivors under the rubble in below freezing temperatures is becoming a lower probability."
The big picture: The rescues in Turkey on Saturday were a glimmer of hope as search and rescue efforts stalled in other areas impacted by the earthquake.
The volunteer organization Syria Civil Defense said Saturday it is ending its search and rescue operations for survivors in opposition-held areas. "No survivors have been rescued alive from the rubble since Thursday," the group tweeted.
The combined death toll across Turkey and Syria surpassed 24,400 on Saturday.
Go deeper