Emmett Till's cousin sues for arrest of woman connected to his kidnapping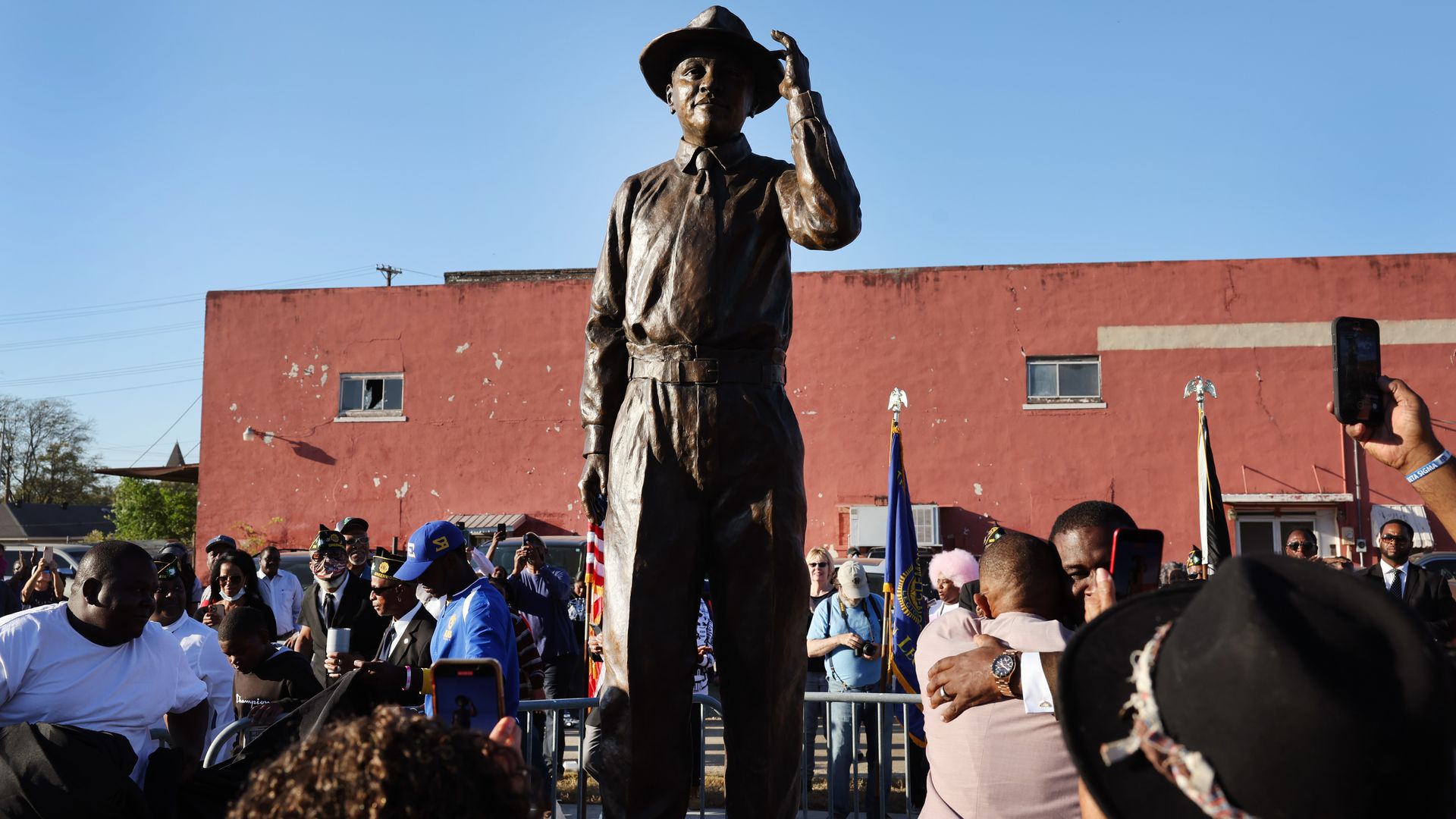 A family member of the late Emmett Till is demanding in a new federal lawsuit that Leflore County Sheriff Ricky Banks serve a 1995 arrest warrant on the white woman whose accusations of harassment against the 14-year-old Till led to his abduction and lynching.
Driving the news: The warrant, which charged Carolyn Bryant Donham for kidnapping in Till's case, has spurred calls for an arrest and answers since it was discovered last June in a Mississippi courthouse basement. A grand jury in Mississippi declined to indict her in August.
What they're saying: "It was Carolyn Bryant's lie that sent Roy Bryant and J.W. Milam into a rage, which resulted in the mutilation of Emmett Till's body into a[n] unrecognizable condition," the lawsuit states.
"The Leflore County Sheriff is complicit in the trio's escape from justice even though both Roy Bryant and J.W. Milam admitted to the crime."
The lawsuit, filed by Till's cousin Priscilla Sterling, also accuses Banks of engaging in "racially selective enforcement of law" that fails to adequately serve justice for Black people who are the victim of crimes perpetrated by white people.
"Carolyn Bryant's whereabouts are known," the complaint notes. "This action is being brought in order to compel the Lelfore County Sheriff to serve the warrant."
Banks did not immediately return Axios' request for comment.
Catch up quick: Till crossed paths with Donham, who was then 20, in Mississippi at the grocery store she ran with her husband. Donham accused Till of grabbing and propositioning her despite witness accounts saying he whistled at her.
Within days, Donham's husband and brother-in-law abducted and lynched Till after brutally mutilating his body.
An all-white jury cleared the two white men in 1955, though they admitted to killing Till in an interview a year later.
In 2008, Donham reportedly recanted her allegation that Till harassed her prior to his murder, though federal investigators say she later denied doing so.
Worth noting: The Department of Justice formally closed its second investigation into the 1955 murder after finding no verifiable evidence of Donham's alleged recantation, which it said wasn't properly recorded or documented.
The big picture: Till's case, which helped spark the civil rights movement, laid bare the racism and inequities in the justice system that many feel still exist today.
President Biden signed into law last March the Emmett Till Anti-Lynching Act, a historic bill that made lynching a federal hate crime in the U.S. for the first time in history — after more than 200 attempts to codify federal anti-lynching legislation.
The National Park Service has also indicated that the site of Till's murder could be preserved under the National Park System as a way to honor his memory and his significance in the civil rights movement.
Go deeper