Scoop: Yelp fires back at AGs over crisis pregnancy centers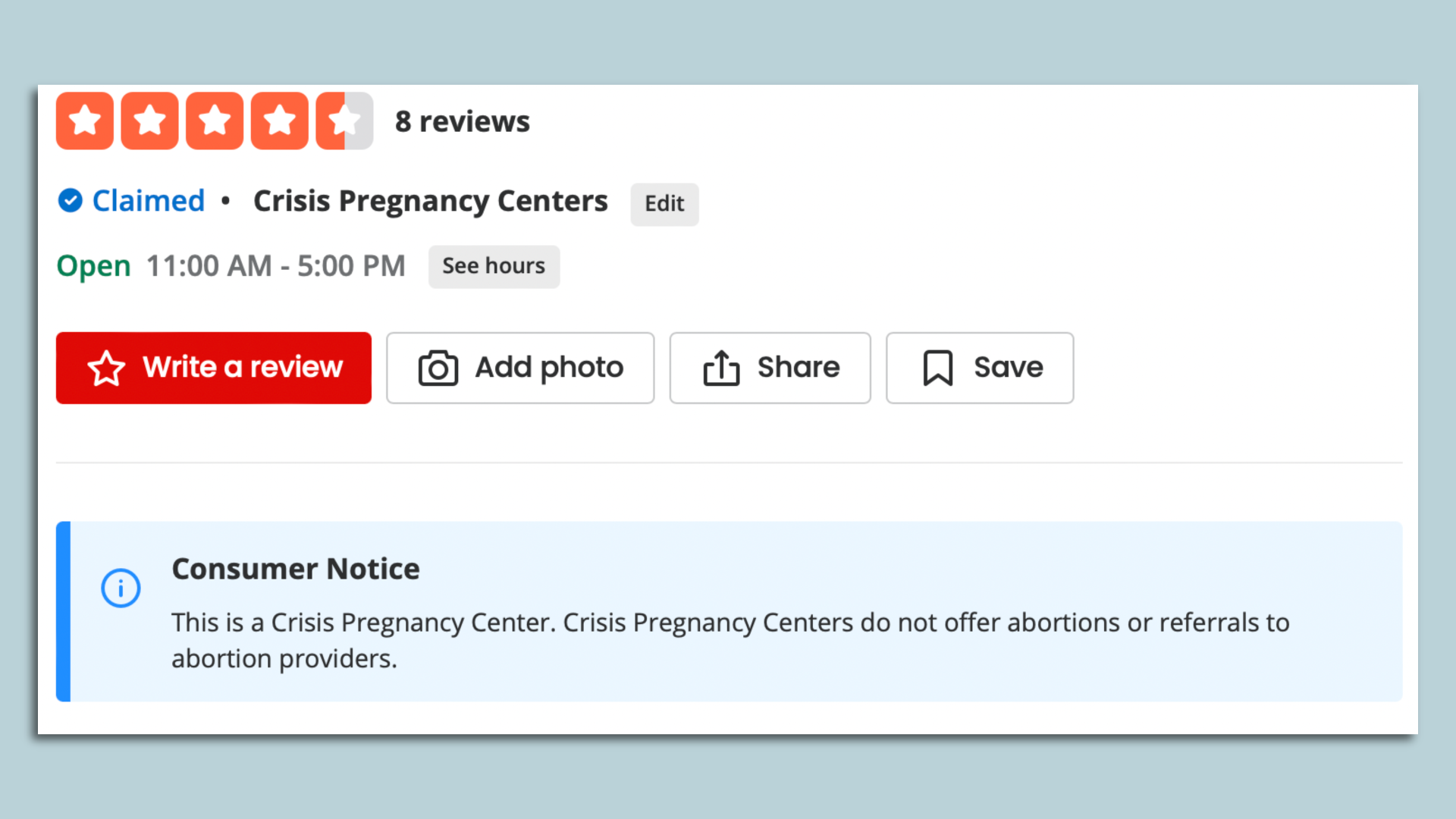 Yelp has sent a strongly worded letter to a group of state attorneys general who earlier this week criticized the online reviews site for its labeling of crisis pregnancy centers, Axios has learned. The company is also modifying the way it labels such services for added clarity.
Between the lines: Yelp, along with Google, last year moved to more clearly label crisis pregnancy centers to distinguish them from agencies that provide abortions.
Details: In a letter on Wednesday, Yelp denied its move to label crisis pregnancy centers was related to any political pressure. The company said it created the policy because some centers have attempted to mislead customers over the types of services they offer.
Yelp is changing the way it words its labeling of crisis pregnancy centers to be more direct. The new language accompanying such listings will be: "This is a Crisis Pregnancy Center. Crisis Pregnancy Centers do not offer abortions or referrals to abortion providers."
That wording replaces a previous notice that such facilities "provide limited medical services and may not have licensed medical professionals onsite."
Of note: Yelp's letter comes a day after Kentucky Attorney General Daniel Cameron and 23 other Republican AGs criticized Yelp and accused it of discriminating against crisis pregnancy centers in a letter to the company.
The AGs said Yelp's notice was overly broad and "misguided" and would discourage women from obtaining needed care.
What they're saying: "Yelp's mission focuses on connecting members of the public with the businesses that they seek to find, and Yelp's categorization of businesses, including Crisis Pregnancy Centers, and associated notification, reflect that mission," Yelp general counsel Aaron Schur said in the letter, which was seen by Axios.
Schur's letter notes that Yelp doesn't prevent listings for crisis pregnancy centers nor does it interfere with those seeking such facilities.
"Yelp's Crisis Pregnancy Center notification, which it implemented in August 2022, is another way Yelp helps connect members of the public with the actual healthcare services that they seek," Schur wrote. "While some people come to Yelp to find businesses that offer pregnancy resources, there are others who turn to Yelp to find reliable information about abortion providers."
Go deeper