Big oil stirs up a battle over leading the clean tech arms race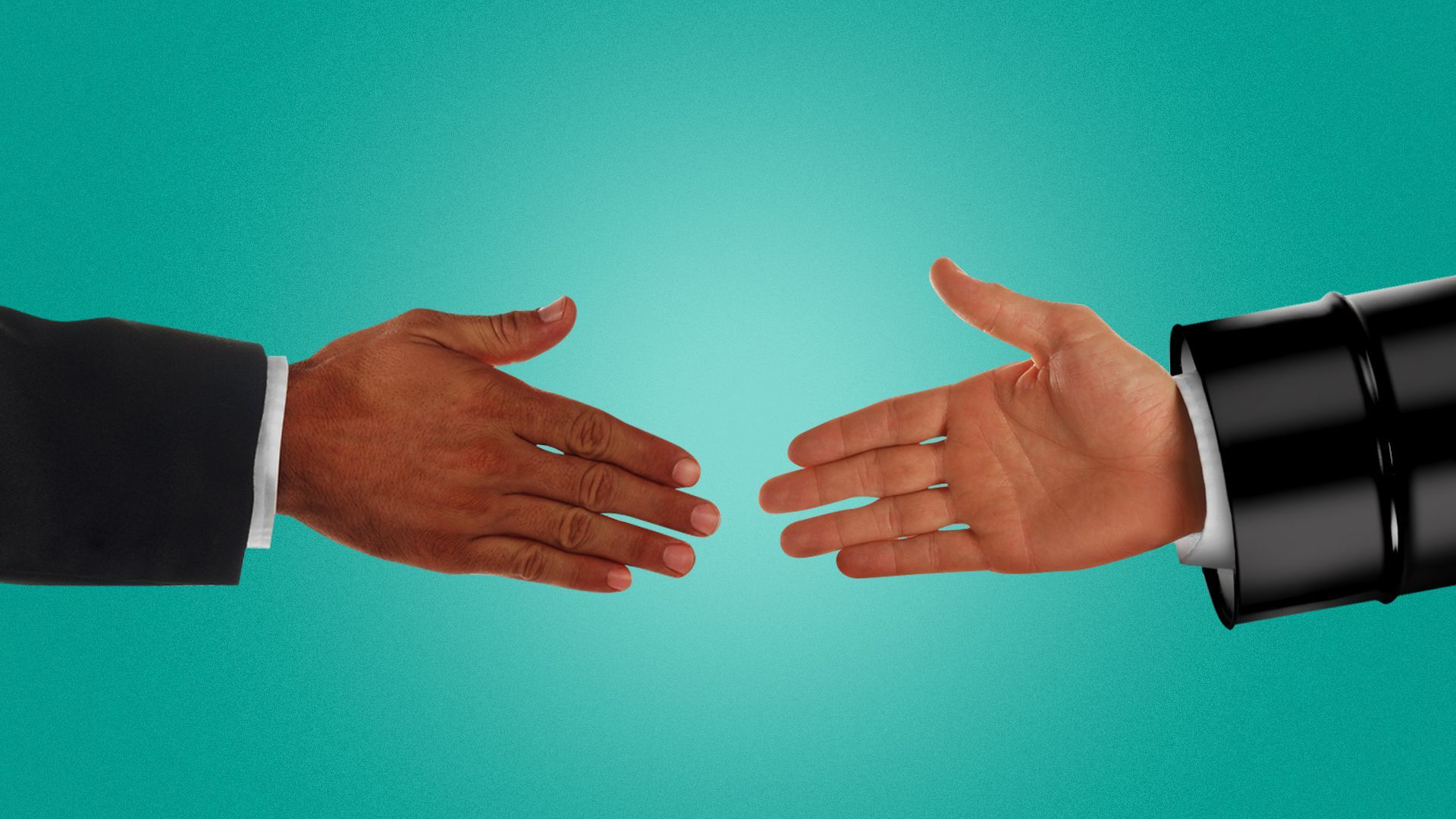 Big oil and climate tech startups are sparring over who is best positioned to lead the low-carbon transition.
State of play: To hear CEOs like Exxon's Darren Woods tell it, their companies are ideally equipped to implement large-scale, low carbon infrastructure, such as carbon capture and storage facilities (CCS) and hydrogen production and distribution.
Meanwhile, clean energy startups maintain they are already poised to lead decarbonization efforts.
Why it matters: The vision that ultimately prevails in the real world will determine whether net zero emissions goals are met, and therefore how much the planet will warm compared to preindustrial levels.
The big picture: Woods recently downplayed the role that climate tech startups may play in the energy transition. In an earnings call last week, he told analysts regarding Exxon's "low carbon solutions" division: "I think we're very well positioned there. This is not a game for startups," he said.
"These are large scale projects that require the kind of project expertise that we have, require the kind of size and balance sheet capacity that we have, require the technology and operating experience that we have," Woods said.
Exxon plans to invest $17 billion in low carbon solutions through 2027.
The other side: These comments have landed with a thud among the broad community of climate tech funders, who say they miss the billions in investments coming into the sector and rapid deployment of renewables and other technologies.
Flashback: Woods' comments echoed those of then-Shell CEO Ben van Beurden, who in 2021 also minimized clean tech startups' role in an interview with Axios.
Between the lines: In the view of Exxon and Shell, the giant companies are best equipped to deploy the most complex low and zero carbon solutions, such as CCS, hydrogen and large-scale biofuels, at the commercial scale.
This is because they have the advantage when it comes to engineering skills, cash and geological experience, among other factors.
The intrigue: Climate tech funders see Woods' vision as myopic.
"They're just dwarfed by what's actually happening in the market and attempting to kind of minimize startups," she said of Exxon in particular.
Zoom in: Lippert says Exxon and Shell's emphasis on CCS and hydrogen indicate they may be placing the wrong clean energy bets.
"Those actually aren't the sectors that we see being the biggest in driving climate technology," Lippert said.
She pointed to International Energy Agency numbers showing renewables, electric grid and storage now make up more than 80% of total power sector investments.
Our thought bubble: There is an irony in fossil fuel companies seeking to claim the climate action mantle, given that their industry is responsible for most of the planet-warming greenhouse gases in the first place.
The bottom line: Andrew Beebe, managing director at Obvious Ventures, told Axios that history shows startups play a leading role when it comes to deploying clean technologies.
There is a role for both major incumbent companies and new ventures in advancing the clean energy economy, Beebe said. "This is an all hands on deck moment."
Go deeper