The Dems who want to call GOP's debt ceiling bluff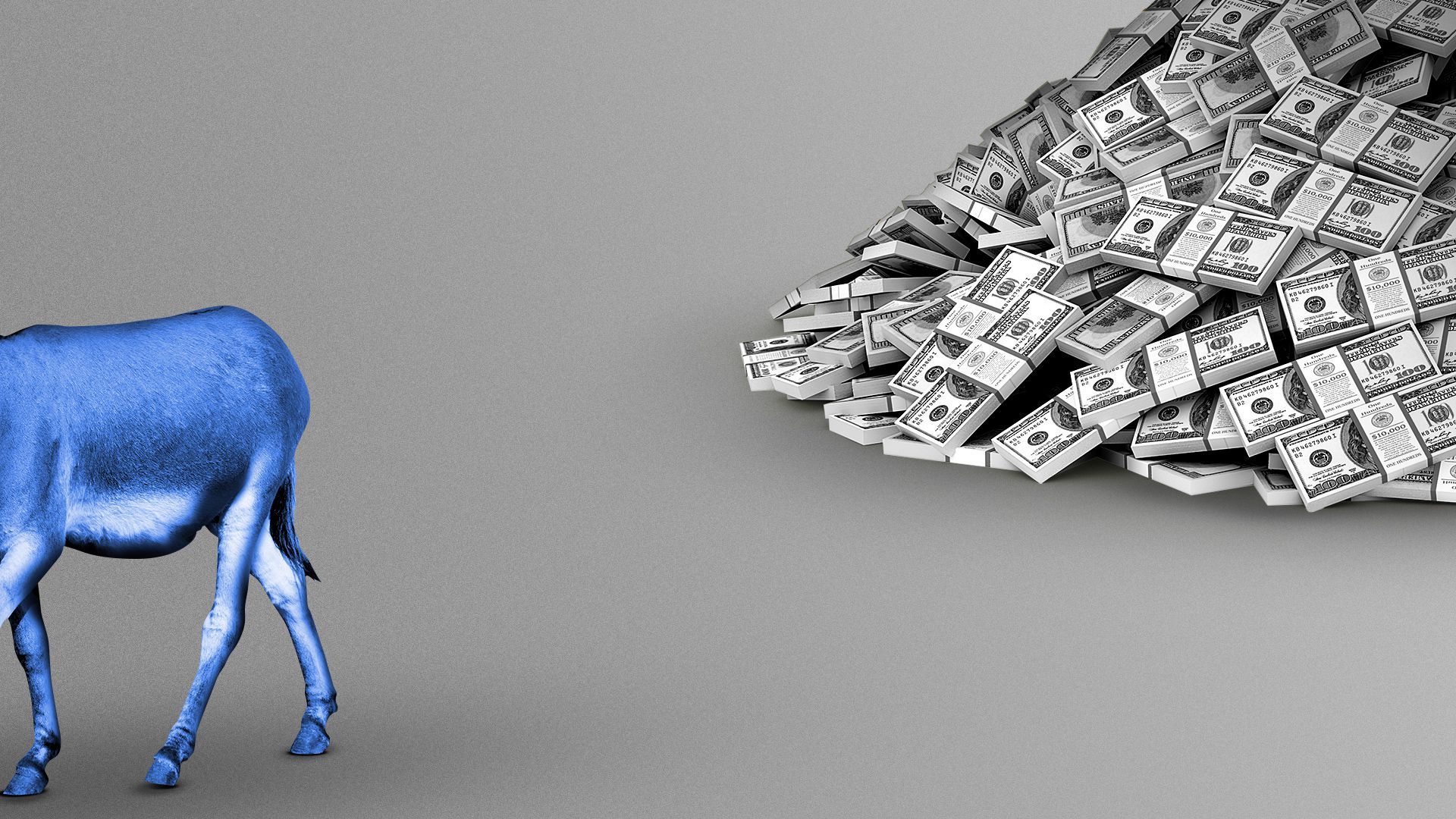 A subtle political recalibration is leaving House Republicans with potentially less leverage to force spending cuts.
The big picture: As national debt has risen from around $19 trillion in 2011 to more than $31 trillion today, many left-leaning economists have begun to rethink the risks of debt accumulation, and some congressional Democrats say they no longer view it with as much alarm.
What they're saying: "[I]n the early 2010s, the last time we faced a potential crisis over the debt ceiling, there was an elite consensus that budget deficits were a severe, even existential threat. This consensus was, in retrospect, completely wrong," left-leaning economist Paul Krugman recently wrote.
"As long as the economy continues to grow and innovate and expand, we can easily afford the debts that we have," said Christopher Smart, a former Treasury official who led the response to the European financial crisis under President Obama.
"If we were to enter a rigid approach to drastically cutting back spending so that we don't have a deficit next year, we'll send the economy into a tailspin and won't be able to pay back our debts."
State of play: The 2011 negotiations left Democrats with a bad taste in their mouth. They argue that Republicans proved their hypocrisy over the issue by repeatedly raising the debt ceiling while former President Trump was in office and passing tax cuts that further contributed to deficit spending.
But the lessons learned over the last decade run deeper, some members say, and one major takeaway has been that none of the catastrophic scenarios that budget hawks warned about in 2011 came true.
The consensus has shifted "100%" since 2011, Sen. Brian Schatz (D-Hawaii) told Axios in an interview.
"There's less nervousness about debt and deficits ... not zero, but less. And we have total strategic clarity on how unwise it is to give these nutjobs something in exchange for threatening Americans."
Sen. Bernie Sanders told Axios: "Debt is an issue, but ... we have to make sure that we don't drift into austerity economics and that we address the nation's needs in a fair and equitable way."
Yes, but: Even members whose thinking has evolved were quick to clarify that it's not that they think debt doesn't matter at all.
"I don't think anyone knows exactly where the line is," said Sen. Chris Van Hollen (D-Md.). "Clearly, the predictions of catastrophe that accompanied the past discussions on debt never happened."
The other side: Budget hawks say the U.S. is at a fiscal inflection point and that keeping the nation's debt level in check will only get harder.
"I would say one of the reasons this has not been as explosive until now was because when interest rates were artificially low... we didn't see the negative effects," said Sen. Mark Warner (D-Va.)
"We had basically funny money when there was 0% interest," said Sen. Joe Manchin (D-Wv.) , who has said he's open to negotiations with Republicans.
Our thought bubble, from Axios chief economic correspondent Neil Irwin: The case for deficit reduction now is much stronger than it was in 2011.
Inflation is high, unemployment is low, interest rates are well above zero, and the date of reckoning for Social Security's funding gap is not that far away.
But the experience of the 2010s, when a pivot to fiscal austerity was ill-timed, hangs over the fiscal debate now.
What we're watching: Most Democrats are careful to say they're open to negotiating deficit reductions — just not in connection with raising the debt ceiling.
President Biden "welcomes a separate discussion with congressional leaders about how to reduce the deficit and control the national debt while continuing to grow the economy," the White House said in a statement following Biden's meeting with House Speaker Kevin McCarthy.
"We can deal with it in an honest fashion if we also include those tax breaks for the wealthier people. This notion about just cut money for veterans and low income families — it's a nonstarter for me," Senate Majority Whip Dick Durbin told Axios.
"We recognize that we need to negotiate, but it should be on the budget — on what we're doing moving forward. We shouldn't negotiate paying our bills," said Sen. Ben Cardin.
The bottom line: "Democrats think first about the investments they think are necessary and not about how to pay for them," said former House Budget Committee Chairman John Yarmuth, a Democrat who retired at the beginning of the year.
"Recent history is influencing the concern about increased debt. Except for inflation this year, none of the predicted consequences of debt have materialized over the last 20 years or more, so it's not a priority concern."
Go deeper