White House announces new cancer initiatives on Moonshot anniversary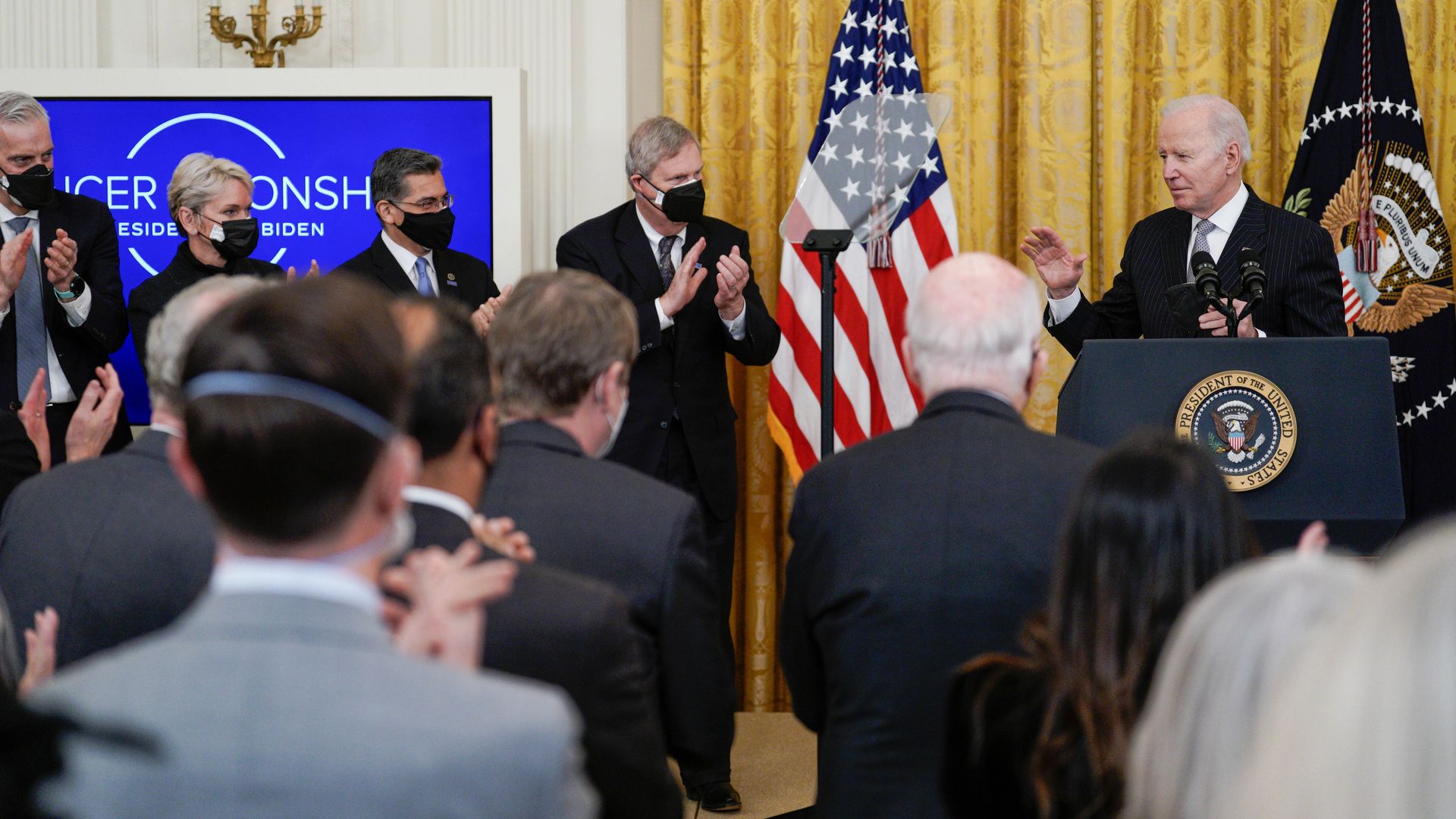 Families with kids fighting cancer in the U.S. will soon have clinical and patient navigation support to help them find optimal care, connecting with research trials and more portable, shareable health records under a partnership being launched by the National Cancer Institute.
Why it matters: It's among a series of actions directed at cancer care and prevention the Biden administration plans to announce today to mark the first anniversary of the revived Cancer Moonshot, the White House shared first with Axios.
The big picture: President Biden and First Lady Jill Biden relaunched the Moonshot — first started when Biden was vice president — with a goal of cutting the cancer death rate at least in half over the next 25 years and improving the experience of cancer patients and their families.
At his State of the Union address about a month later, Biden called for a "unity agenda" around fighting cancer.
Between the lines: Last year's announcement did not include any new funding commitments, but the administration has since announced investments in other areas of cancer screening and research.
Today, the White House will also announced $10 million in funding through the Health Resources and Services Administration (HRSA) to connect 22 community health centers with NCI-designated Cancer Centers to support cancer screenings for underserved communities.
HHS is also launching a national accelerator called "CancerX," as part of a public-private partnership to support startups working on projects such as digital patient care coordination, or new platforms to support patients with their post-treatment care. 
The pediatric cancer navigation program is a public-private partnership between NCI, other federal agencies including CMS, and research and industry groups.
State of play: There has been some encouraging news on the cancer front recently. Data published last month found U.S. cancer death rates have fallen by a third since 1991, with about 3.8 million deaths averted in that time.
Yes, but: Cancer is still the second leading cause of death in America. Progress may be stymied by rising incidence of some cancers, such as breast, prostate and uterine cancers, which also have the greatest racial disparities in survival.
What to watch: Jill Biden will be in San Diego on Friday and Saturday to promote the Moonshot initiatives, the White House announced Wednesday.
Go deeper