Central banks vs. the markets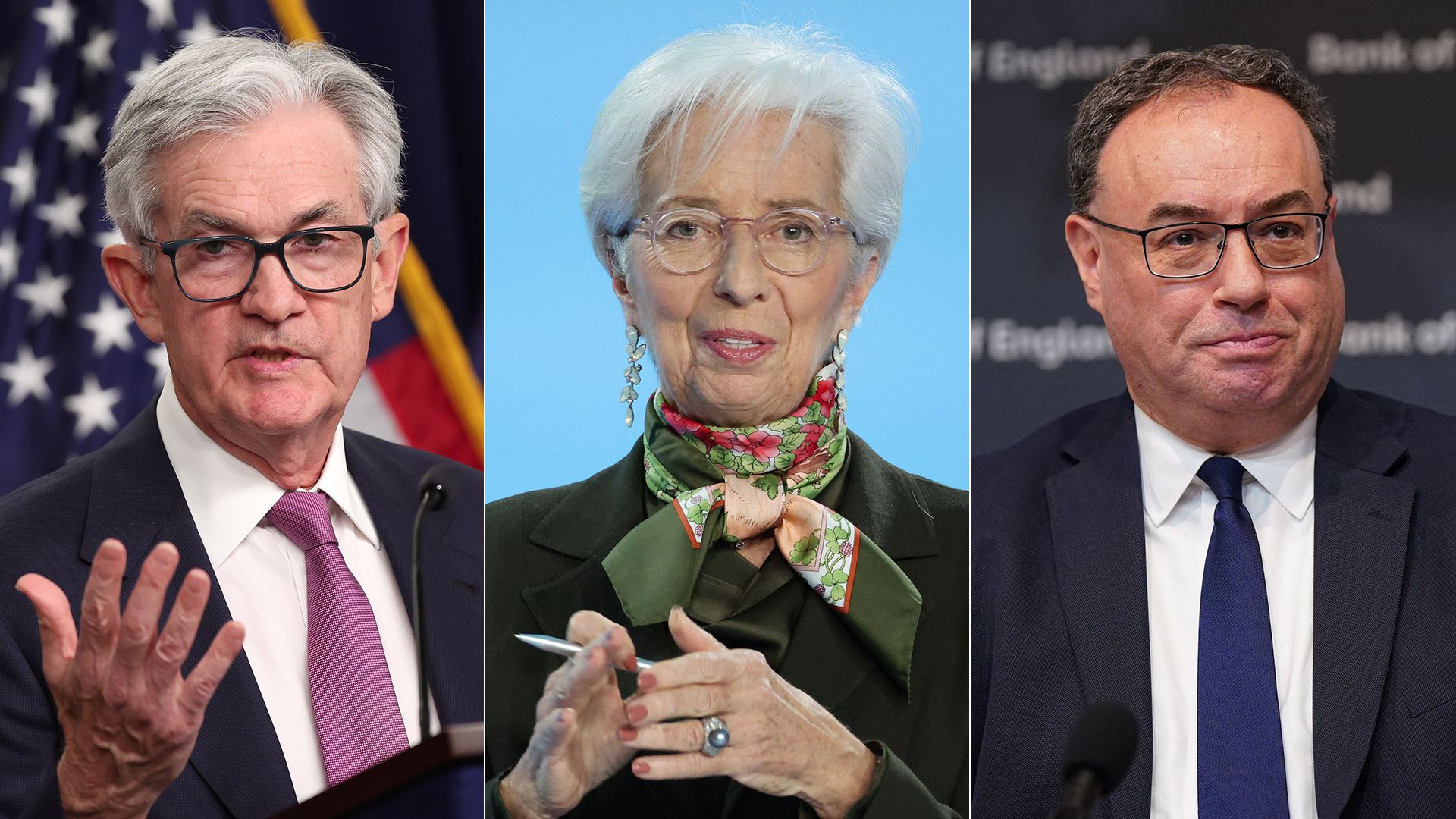 They're all trying. From Washington to London to Frankfurt, major central banks are saying — in every way they can — that they have more work to do to push interest rates high enough to vanquish inflation.
Why it matters: Markets are betting that inflation will dissipate rapidly, and that rate cuts will arrive sooner than the central bankers themselves think. That conviction has driven a buoyant start to the year for stocks and bonds.
The big question for 2023 and beyond is, who is right? Either central banks will end up reversing themselves and cutting rates soon, or markets will back down if policymakers follow through on their stated plans.
Driving the news: In his news conference yesterday, Fed Chair Jerome Powell seemed almost resigned to the reality that financial markets are betting on inflation coming down faster and more painlessly than he and his colleagues expect.
"There is a difference in perspective by some market measures on how fast inflation will come down," Powell said. "I'm not going to try to persuade people to have a different forecast, but our forecast is that it will take some time and some patience, and that we'll need to keep rates higher for longer. But we'll see."
"It would be very premature to declare victory, or to think that we've really got this," he said.
Meanwhile, across the Atlantic today, the Bank of England and the European Central Bank both hiked rates another half percentage point — sounding awfully similar to Powell.
"It is too soon to declare victory just yet," said BoE governor Andrew Bailey. "Inflationary pressures are still there… we need to be absolutely sure that we really are turning the corner on inflation."
Yes, but: Global markets are increasingly confident that this corner has already been turned, interpreting central bankers' acknowledgement that inflation is coming down as confirmation of the thesis that the period of monetary tightening will soon end.
The yield on 10-year U.K. government bonds was down a whopping 0.24 percentage points today in early trading. Its U.S. Treasury counterpart yielded 3.37%, down from 3.88% at the start of the year.
The S&P 500 is up about 9% so far in 2023.
The bottom line: They can't both be right. And this will be a much less painful year if the implicit market forecast is vindicated by events.
Go deeper