U.S. government considers changing how it asks about Latinos' race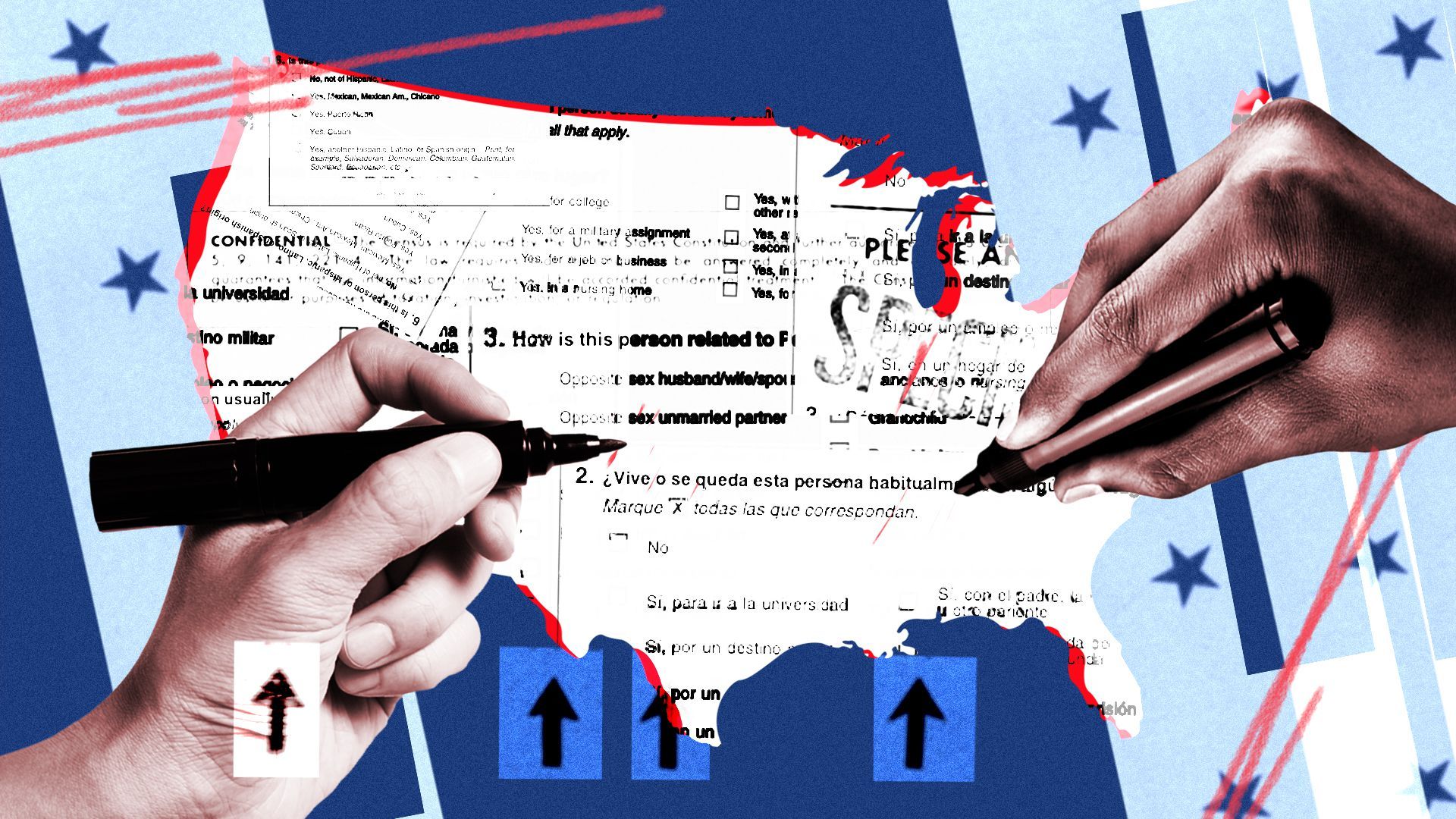 A proposed change to how the U.S. Census and other federal agencies ask what race Hispanic people are is drawing mixed responses, including concerns that Latinos' multiracial backgrounds will not be adequately measured.
Why it matters: The data collected from those forms is key to determining political representation and the allocation of billions of dollars in federal funds.
Details: Federal forms currently ask first if someone is Hispanic or Latino, followed by what their race is.
Under the proposal from an interagency group working with the U.S. Office of Management and Budget, which oversees federal agencies, the two questions would be combined into one: "What is your race or ethnicity?"
In the Hispanic/Latino category, there would be a sub-question about country of origin.
What they're saying: The proposal suggests that the government recognizes it's not effectively and accurately counting people, says sociologist Laura E. Gómez, a professor at UCLA and author of "Inventing Latinos."
"Not all Latinos, but a significant portion, do not see themselves in the race questions as formulated now," she says, noting that in 2020 there was a 42% increase in Latinos who identified as "some other" race.
People from Latin America and the Caribbean are often mestizo, or of mixed Indigenous, European, African and sometimes Moorish roots.
But they may feel that marking "Black" or "Native American" doesn't accurately reflect them, so they use "other," Gómez says.
Yes, but: The change could mask the wide diversity among Latinos, making it harder to measure how the experiences of different groups differ, says Nancy López, director of the Institute for Race and Social Justice at the University of New Mexico.
Although respondents can check off both "Hispanic or Latino" and "Black" or another race designation, they may not be aware of that.
If someone who is Afro-Latino checks "Hispanic" but not "Black," that could skew data that tells us, for instance, that Black Dominicans in some places have fewer housing opportunities than white Hispanics, López adds.
"We would never use one question that conflates gender and sexuality or education and income arguing people are confused," she says. "If we do this, the resulting data will not show experiences in housing, health, voting rights and other consequences."
López says if the change is implemented, the government should at least try adding another category or box to avoid such omissions.
She suggests "Mestizo," like how the Brazilian census uses "pardo" for mixed race, which she says could better capture how someone would be pegged as and treated based on markers like skin color.
What's next: There will be a 75-day period for public comments before a final decision is made.
Editor's note: This story has been updated to remove an erroneous reference to NBC Latino being the first to report the news.
Subscribe to Axios Latino to get vital news about Latinos and Latin America, delivered to your inbox on Tuesdays and Thursdays.
Go deeper