Exclusive: NBCU and PointsBet extend betting deal by two years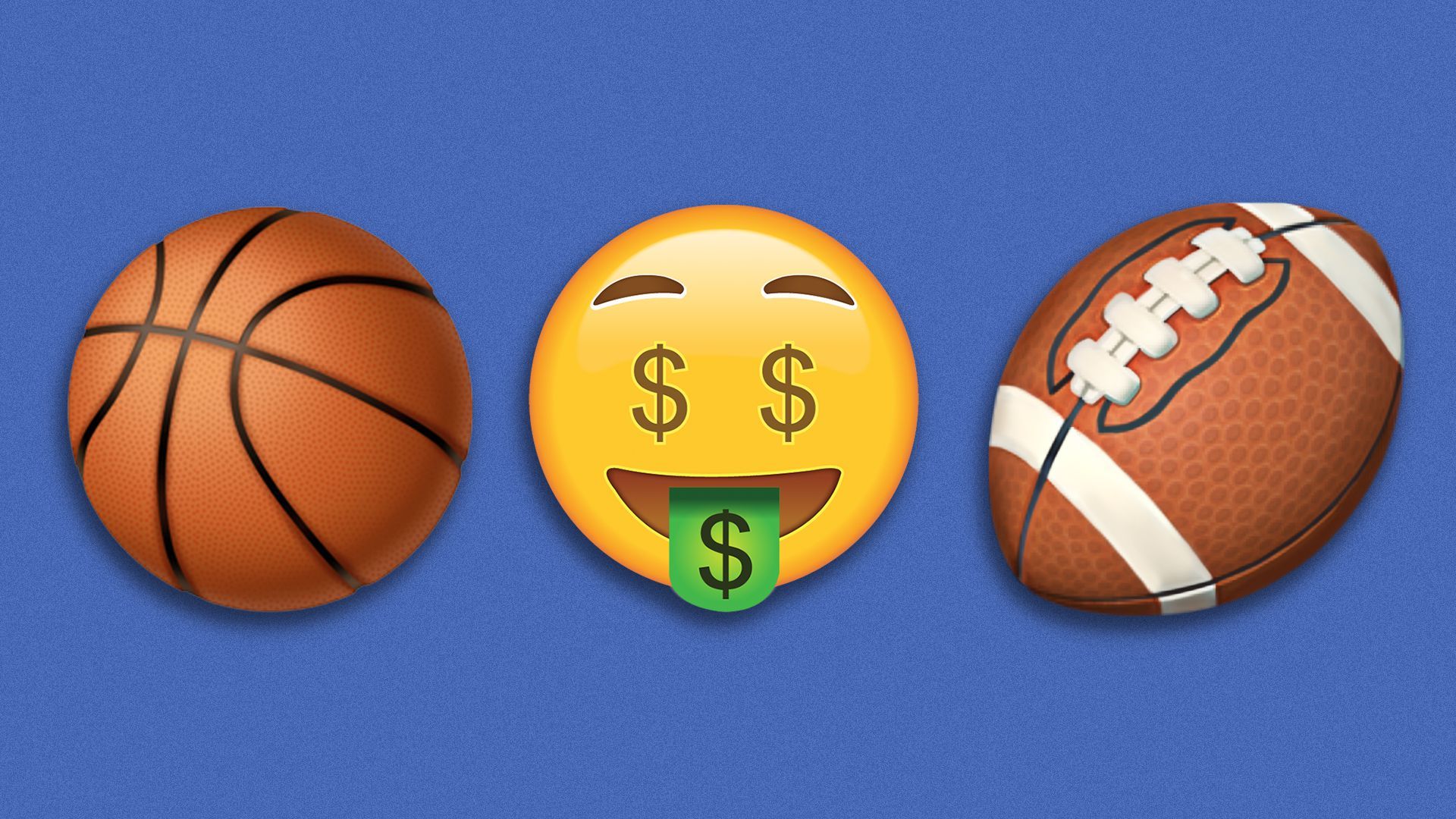 NBCUniversal and PointsBet are extending their five-year sports betting deal by two years, executives told Axios. The extension amends the initial deal terms to reduce PointsBet's annual ad spend commitment with NBCU properties and to shift some of its ad spend obligations to more regional NBCU assets.
Why it matters: The changes allow NBCU to continue with its betting strategy while also helping PointsBet, an Australian online sports book operator, focus its advertising spend on the 14 U.S. states it currently operates in.
Catch up quick: PointsBet has been trying to expand its U.S. presence since launching in New Jersey in 2019. It's since launched in states including New York, Colorado, Indiana, and others.
It inked its initial five-year deal with NBC Sports — worth nearly $500 million — in 2020. The deal gave NBCU an equity stake in PointsBet and made PointsBet the exclusive sports betting partner of NBC Sports.
In addition to advertising, the agreement also gave PointsBet exclusive game day integrations across the NBC's regional sports networks.
Details: Moving forward, PointsBet will be required to spend roughly $58 million per year on marketing with NBCU channels, compared to the roughly $90 million per year spend that was required when the initial deal was signed in 2020.
The total committed marketing spend for the remaining next five years of the deal between August 2022 and August 2027 is $294 million, per a source familiar with the deal.
The deal, which is in its third year, also expands PointsBet's media integrations from NBC Sports properties only to more regional properties within NBCU's portfolio and its parent Comcast's portfolio, including Peacock, USA Network, Comcast local TV ad network effectv and CNBC.
The deal also includes a new carve out that allows NBCU to partner with another sports betting operator on the national level. NBCU announced a partnership with BetMGM in September.
Be smart: The revised deal will make it easier for PointsBet to be more efficient with its marketing obligations, which is critical as the online sports book operator strives for profitability.
While the company is planning to launch in more states — most imminently, Massachusetts — its strategy has shifted in recent years to focus more on regions with heavy betting opportunities than scaling very broadly in the U.S.
"Our distinct focus is on being hyper-targeted and ensuring all of our continued investment is made in markets we are live in for online wagering, and in channels where we believe high frequency sports bettors exist," PointsBet USA CEO Johnny Aitken told Axios.
Between the lines: Last year, PointsBet and NBCU launched a sports betting-themed telecast called "BetCast," an alternate NBA broadcast for sports betters that aired in local markets. With the deal extension, "BetCast" will remain a large focus in some of PointsBet's biggest local markets.
"NBC is the megaphone for sports in some our most important regional markets such as Chicago and Philadelphia, where they broadcast three teams (NBA, NHL and MLB) in each city across a 12-month calendar," Aitken said.
Being exclusive with NBCU, he added, "is very valuable."
The big picture: Online sports book operators have spent billions of dollars to acquire customers, and most, including PointsBet, have yet to turn a profit.
FanDuel last year became the first U.S. online operator to turn a profit for one quarter. It expects 2023 to be the first year it achieves full-year profitability.
PointsBet's losses widened in 2022 compared to the year prior, due mostly to heavy marketing expenses in the U.S.
The path (or speed) to profitability, particularly in the U.S., "is a key focus for management," executives said in the company's last earnings report.
What to watch: PointsBet reports quarterly earnings for the first quarter of its 2023 fiscal year on Tuesday.
Go deeper