National Prayer Breakfast returns under congressional leadership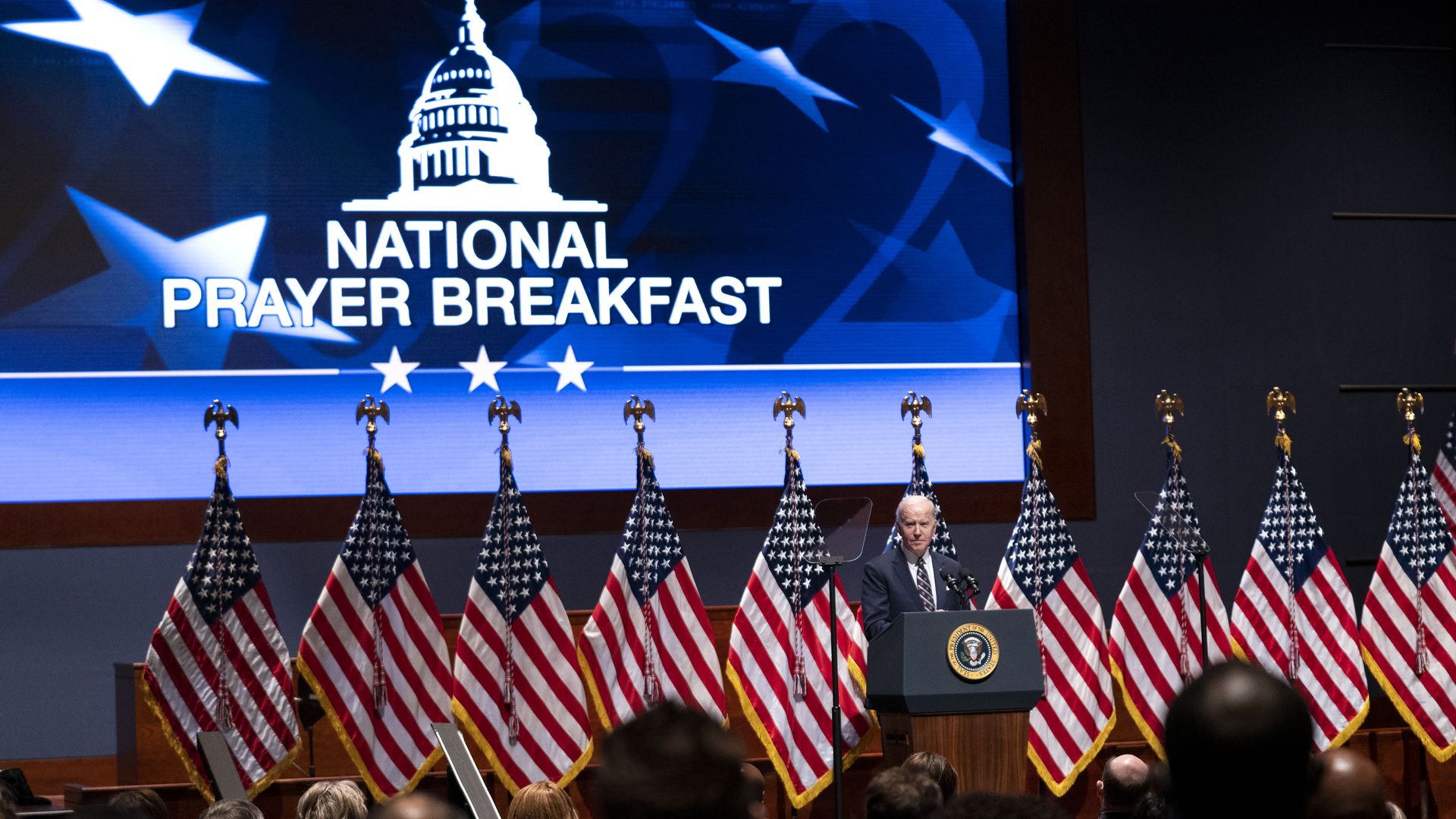 The National Prayer Breakfast is returning to Washington, D.C. this week, but the decades-old event will look different from years prior as new leadership takes the reins.
The big picture: The breakfast, scheduled for Thursday, will be held at the visitors' center at the Capitol and will be much smaller than previous events, AP reports.
The event is no longer being run by the International Foundation, often referred to as "the Family," but instead a newly created National Prayer Breakfast Foundation, led by former Sen. Mark Pryor (D-Ark.).
"As with many other things in our country, the COVID years allowed the Members to hit the reset button and organize a working group to fulfill this longtime vision," Pryor said of the event, per the Religion News Service.
The reimagined event allows Congress to "return to its roots" and "come together and pray for the president, pray for his family and administration, pray for our government, the world," Pryor said, per AP.
Zoom out: Every president has attended the breakfast since Dwight D. Eisenhower first made an appearance in 1953.
The breakfast has historically been held in a hotel ballroom with hundreds of participants from around the world, per the Religion News Service.
The event has drawn criticism in recent years and lawmakers raised concerns that they did not know many details about the event, per AP.
"Some questions had been raised about our ability as members of Congress to say that we knew exactly how it was being organized, who was being invited, how it was being funded," Sen. Chris Coons (D-Del.) told AP.
"Many of us who'd been in leadership roles really couldn't answer those questions," Coons said.
In 2018, Maria Butina, who attended two breakfasts, pleaded guilty to conspiracy charges alleging that she acted as an unregistered foreign agent on behalf of the Russian government, per AP.
Flashback: President Biden spoke at the breakfast the past two years.
During his remarks in 2021, Biden condemned "political extremism," speaking just one month after the Jan. 6 Capitol riot.
What to watch: Members of Congress, Biden and Vice President Kamala Harris, along with other administration officials, have been invited to the event.
Pryor expects about 200-300 people in attendance at Thursday's event, per AP.
The breakfast will also feature bagels, coffee and tea and not be a sit-down event, as it has been in the past, per the Religion News Service.
Go deeper