Updated Jan 26, 2023 -

World
Russian missiles kill 11 in Ukraine after U.S., Germany promise tanks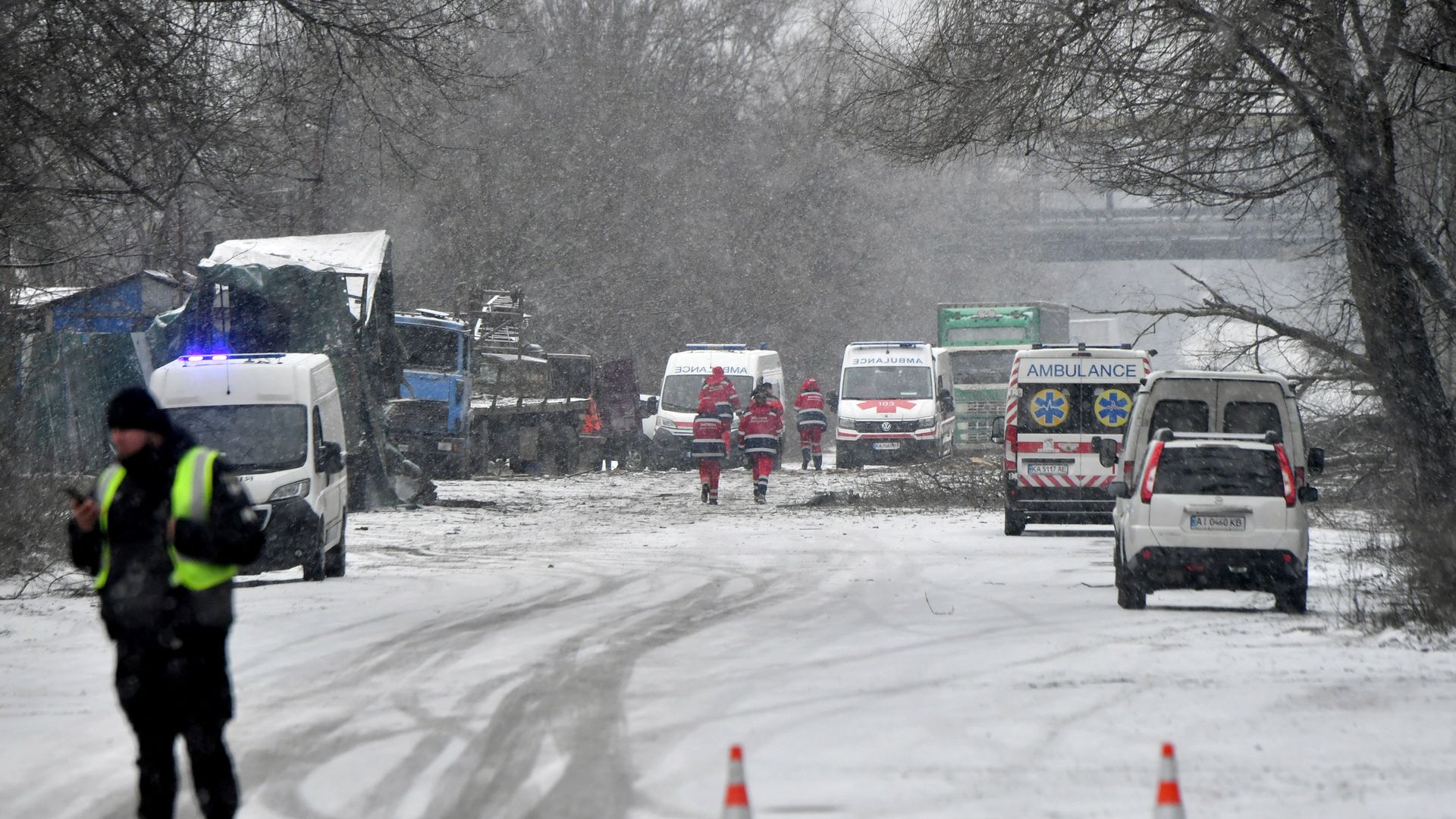 Russia launched a new barrage of missile strikes on Ukraine Thursday, a day after the U.S. and Germany announced plans to send battle tanks to aid Ukraine's embattled military.
The latest: The strikes killed at least 11 people and wounded at least 11 others, Oleksandr Khorunzhyi, a spokesperson for Ukraine's State Emergency Service, told national television.
Eleven regions of Ukraine were affected by the strikes, Khorunzhyi said.
Ukrainian air defenses shot down 47 of the 55 Russian missiles launched, Ukraine's military chief Gen. Valeriy Zaluzhnyi wrote in a Telegram post Thursday.
Twenty of the Russian missiles were shot down in the area surrounding Kyiv, he added.
"The goal of the Russians remains the same – psychological pressure on Ukrainians and the destruction of critical infrastructure. But we cannot be broken!" Zaluzhnyi wrote.
Ukraine's Air Force Command said in a Facebook post Thursday that it had shot down 24 Iranian-made drones that were launched overnight.
Zoom in: Explosions rocked Kyiv Thursday morning, with the missile strikes leaving one dead and two wounded, Kyiv Mayor Vitali Klitschko wrote on Telegram.
It is the city's first attack-related death in the new year, per AP.
The Russian strikes hit energy facilities in Ukraine's Odesa region as well as several other regions, Odesa Gov. Maksym Marchenko wrote in a Telegram post. No civilian casualties were reported in Odesa as a result of the strikes, he wrote in a subsequent post.
The strikes on energy facilities resulted in emergency power outages in several regions, with the Odesa, Kyiv and Vinnytsia regions most affected, Ukrainian Minister of Energy German Galushchenko wrote in a Facebook post.
The state prosecutor general's office wrote on Telegram that three people were killed following strikes on critical infrastructure in Zaporizhzhia region.
The office also confirmed via Telegram that shells struck Kharkiv region, damaging several private houses.
Officials in the Kherson region said shelling over the past day had killed two people and injured five others, AP reported.
Editor's note: This story was updated with new information.
Go deeper