FDA rethinks its strategy on future COVID vaccines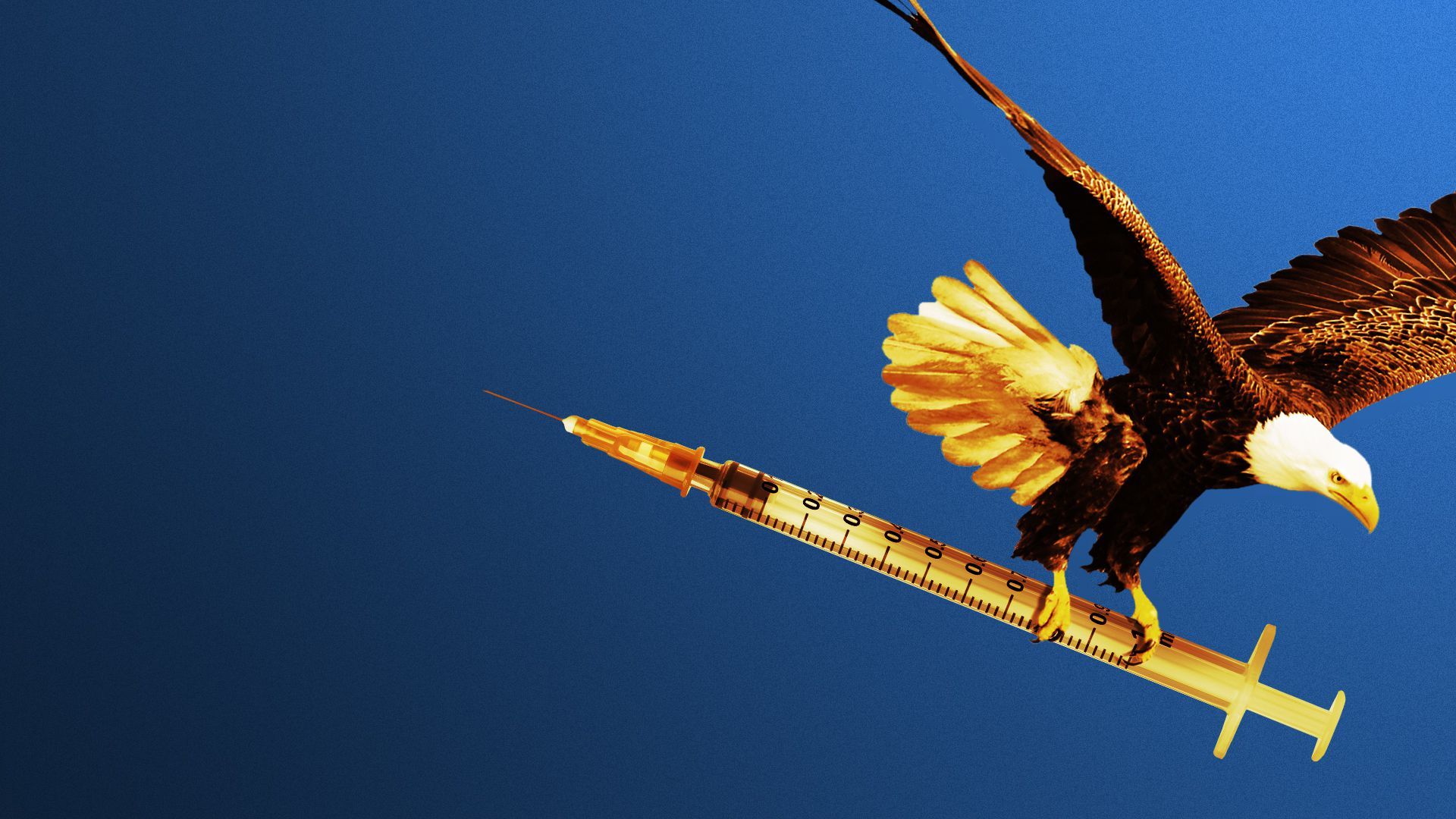 An FDA advisory panel meeting tomorrow could start a reset of how the U.S. approaches its COVID-19 vaccine strategy.
Driving the news: The agency has sent signs they want to move from the on-the-fly response that's, at times, left the public confused to an annual vaccination schedule that more closely mirrors flu vaccines.
The outside experts first have to decide whether to go to a single shot that will make a person "fully vaccinated."
They will also consider the process for determining when it makes sense to update the vaccines against emerging variants, per an FDA briefing document.
"It signals an idea of thinking for a longer-term horizon," Jason Schwartz, an associate professor at the Yale School of Public Health, who is not on the advisory panel, told Axios.
Yes, but: Experts on the Vaccines and Related Biological Products Advisory Committee, or VRBPAC, have serious questions about the reboot — and whether they have sufficient data to support it.
"I'd like to see some data on the effect of dosing interval, at least observational data," Eric Rubin, editor in chief of the New England Journal of Medicine and a committee member, told the New York Times. "And going forward, I'd like to see data collected to try to tell if we're doing the right thing."
Previous recommendations may have been less effective by not being focused on high-risk individuals, such as the elderly or those with pre-existing health conditions, committee member Paul Offit, director of the Vaccine Education Center at Children's Hospital of Philadelphia, told Axios. He wants to see data about whether it's necessary for broad booster recommendations.
"I think by giving a blanket recommendation for everyone over six months of age, we diluted that message," Offit said.
The big picture: CDC and FDA officials will present an update on the effectiveness and safety of the original and booster versions of the approved COVID vaccines. Pfizer, Moderna and Novavax will also present data on their shots.
Experts like Peter Hotez, a vaccine researcher at the Baylor College of Medicine, said he's hearing questions from "early adopters" of the boosters. "Hey doc, isn't it time for another booster soon?" Hotez said. "That I would like some clarity around."
Between the lines: One of the questions to watch is whether the committee continues backing bivalent booster doses, which are based on the original COVID strain and a later variant — or if the shots should only match the latest strain in circulation.
Offit said he's intrigued to see more data on the latter strategy, particularly after data presented by Pfizer last summer indicated it might've induced more protection against Omicron.
"Let's break out of that mold and consider it. I'm not saying we should do that, but let's see the data," he said.
What to watch: Health experts say they'll also be closely watching any discussion that veers into new vaccine development.
"They're talking about the future of vaccines," Megan Ranney, academic dean at the Brown University School of Public Health, told Axios. "One of my big hopes is this will lead to funding for quicker development of new and improved versions of COVID vaccines. That's really what we need," she said.
"These mRNA vaccines were tremendous, their development in record time was unprecedented and we know a lot more about COVID now than we used to. So it's time for us to invest in other things," Ranney said.
Hotez, who was involved in the development of the Corbevax vaccine, which is being used outside the U.S., said he'll also be listening for indications the U.S. will consider new vaccine technologies. "It's not clear the mRNA vaccines are holding up that well in terms of the durability of protection," he said.
Be smart: No matter what VRBPAC recommends and the FDA ultimately authorizes, officials are still essentially "flying blind," Michael Osterholm, director of the University of Minnesota's Center for Infectious Disease Research and Policy, told Axios.
"We're dealing with a virus that's been throwing 210-mile-per-hour curve balls at us," he said. "People are trying to figure out 'Well, how do we adjust to this virus? We could make this decision today to go with a once-a-year vaccine. But what happens if a new variant emerges in July and suddenly has major changes for the world?"
Go deeper