Flood of "right to repair" bills signals DIY watershed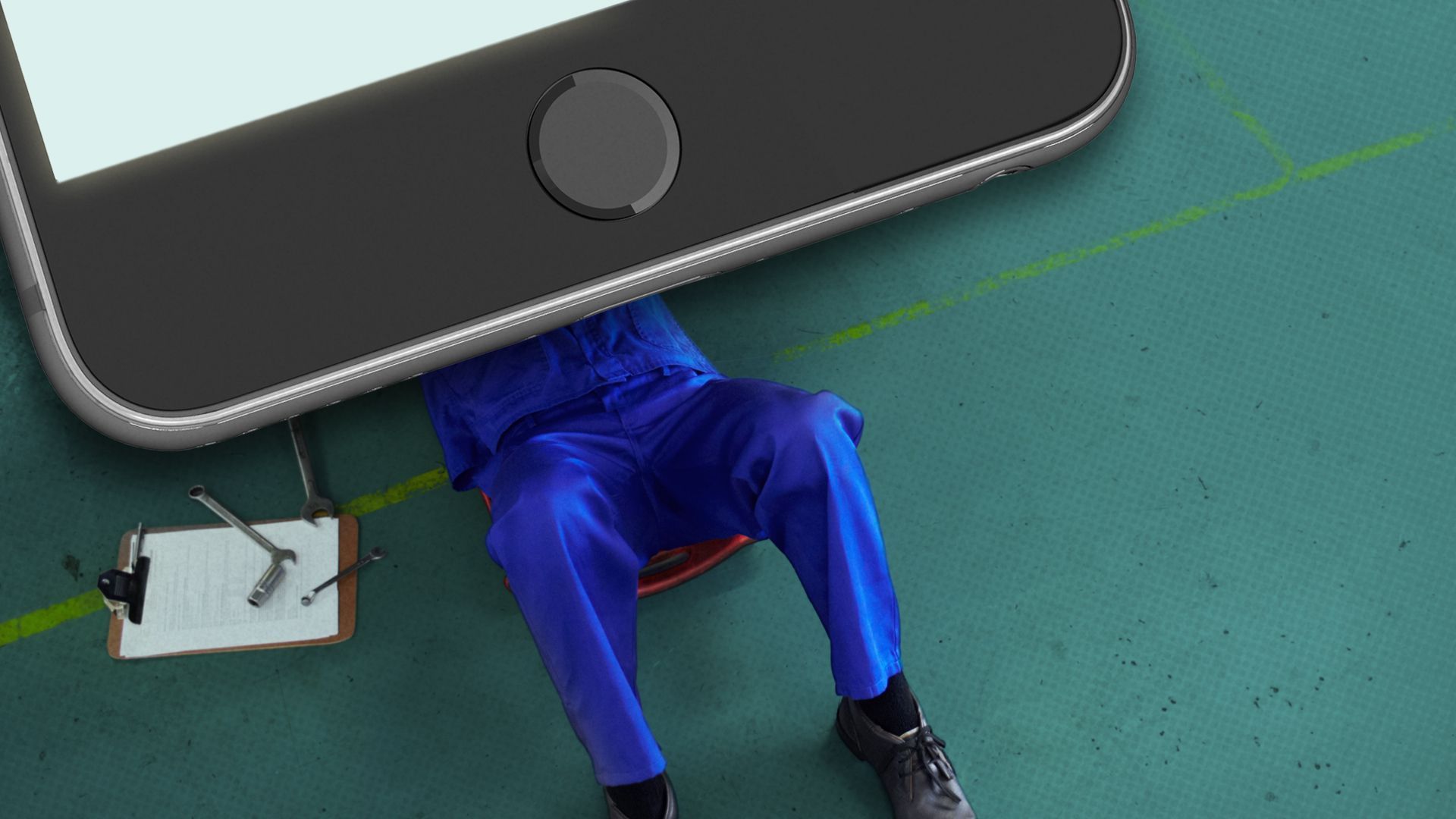 The "Right to Repair" movement championing owners' freedom to fix everything from smartphones to tractors is set for a landmark new year, as tech companies roll out user repair programs and state legislatures weigh broader consumer protections.
Why it matters: Advocates say restrictions on owners' ability to repair their devices, shaped by tough intellectual property protections, have cost consumers money and reduced the lifespan of their products.
What's happening: 2023 has kicked off with rising momentum for right to repair advocates.
In the last days of 2022, New York Governor Kathy Hochul signed the Digital Fair Repair Act into law, calling the Empire State the "first state in the nation to guarantee the right to repair."
John Deere signed a memorandum of understanding with the American Farm Bureau Federation on Jan. 8, to "enhance the ability of Farmers to timely control the lawful operation and upkeep of Agricultural Equipment."
The big picture: State legislatures have introduced a host of new repair bills in the last few weeks.
At least 14 state houses have introduced new bills so far, Nathan Proctor, right to repair campaign director at the U.S. Public Interest Research Group, tells Axios. These proposals aim to provide consumers a pathway to repair everything from tablets to farm equipment.
"If you're looking at what one of these companies really fears, I don't think it's a bill in Congress as much as 22 different bills in states that are all slightly different," Proctor told Axios. "That's the nightmare scenario."
Efforts to provide consumers with tools, parts and access to their tech's internals have picked up in the last few years.
The FTC released a report in May 2021 that found "scant evidence to support manufacturers' justifications for repair restrictions."
Shortly after, the Biden administration charged federal agencies in an executive order to make it "easier and cheaper to repair items you own by limiting manufacturers from barring self-repairs."
The nation's first right to repair law, enacted in Colorado last summer, specifically focused on wheelchairs.
"After a decade of trying, we get two [state laws] in a very short period of time," iFixit CEO Kyle Wiens told Axios. "Every single day, I'm seeing a couple more states file a new bill. And I think we're going to be over 20 states very soon and those bills are moving."
Flashback: Right to repair advocates point to the turn of millennium as the moment when powerful tech producers sealed devices away in hermetic casing and terms-of-service stipulations.
With software embedded in an ever-widening range of products, laws protecting code — like 1998's Digital Millennium Copyright Act — came to apply to more and more hardware.
As the longstanding era of TV/radio repair shops faded away, a partially broken device often had to be sent back to the manufacturer to fix, or replaced entirely.
"We've been pushed into this," Proctor said. "How did we wake up in a world where changing a battery was too dangerous to do? They benefit from us not having that power."
The other side: Tech companies have long maintained that opening up devices could decrease their performance, expose company secrets, reduce cybersecurity protections or put the safety of customers at risk.
"Allowing unvetted third parties with access to sensitive diagnostic information, software, tools, and parts would jeopardize the safety and security of consumers' devices and put consumers at risk for fraud," Carl Holshouser, senior vice president of industry association TechNet, told Politico last year.
"Creating greater access to Apple genuine parts gives our customers even more choice if a repair is needed," said Jeff Williams, Apple's chief operating officer. "In the past three years, Apple has nearly doubled the number of service locations with access to Apple genuine parts, tools, and training, and now we're providing an option for those who wish to complete their own repairs."
Yes, but: Advocates still see a long fight ahead.
Right to repair is having a "watershed moment...But there's also a lot of opportunities for mischief," Gay Gordon-Byrne, executive director at The Repair Association, tells Axios.
New York's new law has already faced criticism that it was weakened by last-minute changes and concessions to manufacturers.
Gordon-Byrne said the John Deere agreement has "absolutely no enforcement in it at all."
Apple rolled out its repair program at the end of 2021. But iFixit's Wiens calls the program "malicious compliance" over its limitations and cost.
What's next: "2023 is all about consolidating the gains from New York and making sure that all of all the rest of the products that should have been in that bill are covered somewhere," Gordon-Byrne said.
"I think it's time to start looking beyond Apple and Samsung and looking at Sony and LG and all these other brands that are making hundreds of millions of dollars selling electronics to us without a repair option," Wiens said.
Editor's note: This story has been updated to include a comment that Apple shared with Axios on Friday (but was not immediately seen).
Go deeper