The "right to repair" has its moment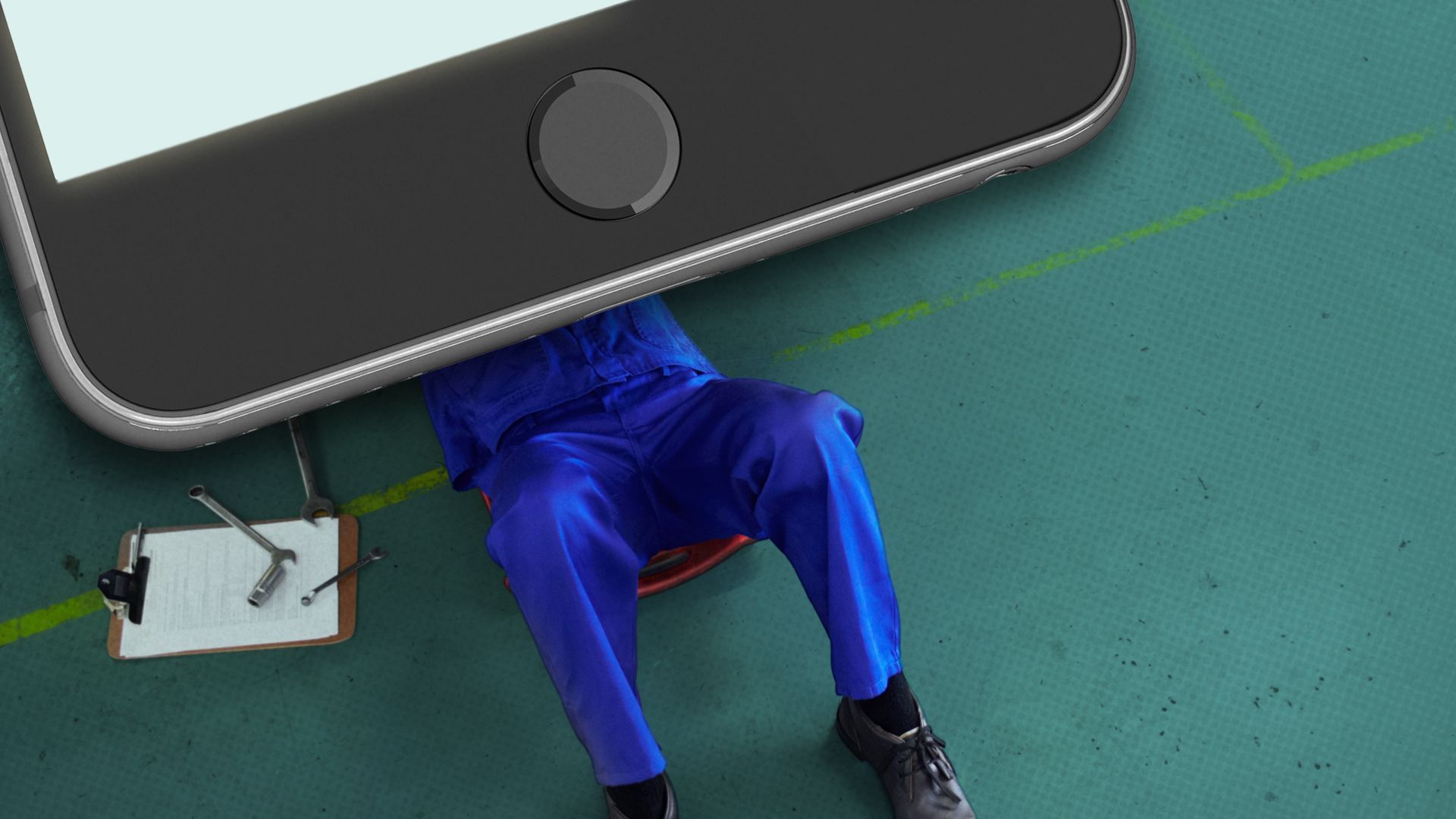 The effort to make it easier for consumers to get smartphones and other products fixed is gaining ground across the country.
Why it matters: Repairing pricey devices — rather than replacing them — can help consumers save money and extend the lifecycle of their products.
Driving the news: The Federal Trade Commission will vote Wednesday on whether to change its approach to repair restrictions.
The White House urged the agency to consider crafting rules to limit anticompetitive restrictions on third-party or self-repair of products as part of the Biden administration's wide-ranging executive order on competition issues earlier this month.
The FTC in May released a report called "Nixing the Fix" on repair restrictions that found "scant evidence to support manufacturers' justifications for repair restrictions."
Details: According to the report, restrictions on repairing equipment include:
Product designs that prevent or complicate repair, or make independent repairs less safe.
Policies that direct consumers to manufacturer-authorized repair shops.
Software locks or firmware that prevent repairs without the key.
What they're saying: Kevin O'Reilly, right to repair campaign director for U.S. Public Interest Research Groups, said software locks are the biggest obstacle to consumers or independent repair shops fixing devices like smartphones or gaming consoles.
"Since only manufacturers have access to those keys, they can charge whatever they want," O'Reilly told Axios. "You see a lot that it'll be priced such that repair is so expensive that you might as well buy a new thing. And that's bad for consumers, but that's also really disastrous for the environment."
The big picture: The right-to-repair movement arose alongside resistance to aspects of the Digital Millennium Copyright Act that critics say favor intellectual-property holders over consumers. Today, the movement's arguments are being applied to everything from farm machines to surgical robots.
The other side: Manufacturers have said the restrictions are meant to protect customers' safety and their own intellectual property rights.
"Allowing unauthorized third parties with access to sensitive diagnostic information, software, tools, and parts would jeopardize the safety and security of consumers' computers, tablets, and other devices and put them at risk for fraud and data theft," Carl Holshouser, senior vice president of industry group TechNet, said in a statement.
Meanwhile, Apple in 2019 announced a new repair program that gives independent shops the same access to equipment and tools that Apple gives its authorized network of providers, and said earlier this year that there are more than 1,500 independent repair providers participating in the U.S., Canada, and Europe.
Yes, but: O'Reilly said the Apple program has made a "minimal difference" because the requirements to join the company's independent repair program are onerous and off-putting for small businesses.
Apple co-founder Steve Wozniak recently spoke out in favor of the right to repair movement in a Cameo video message. "We wouldn't have had an Apple had I not grown up in a very open technology world," Wozniak said.
What to watch: 27 states this year introduced right to repair bills that would limit restrictions, and U.S. Rep. Joe Morelle (D-N.Y.) introduced federal legislation in June.
Go deeper