The Monterey Park shooting exposes a major problem with crime data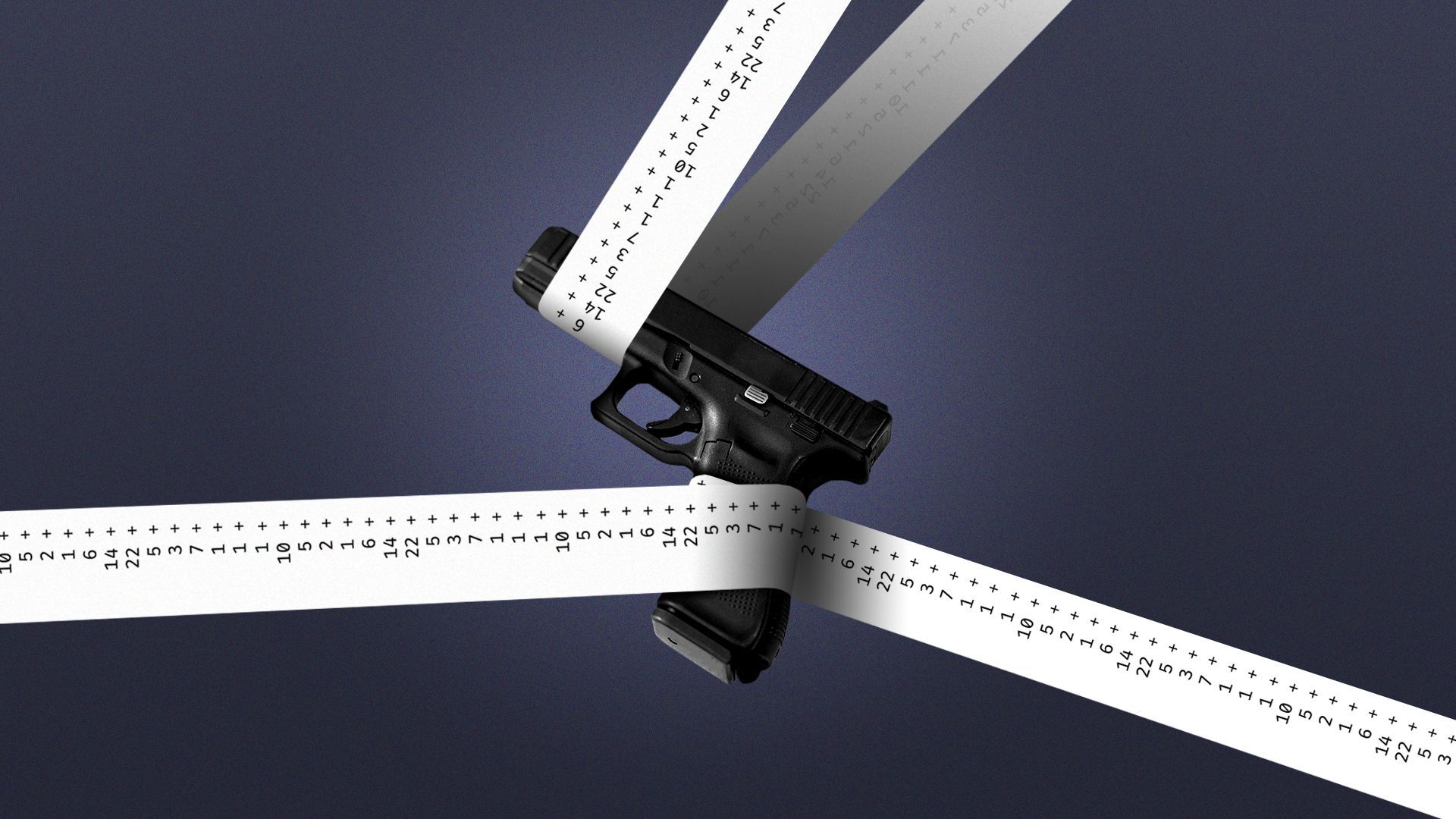 Saturday's horrific mass shooting in Monterey Park, California will likely be left out of the FBI's nationwide crime statistics, as neither city nor county officials there are using the Justice Department's new crime reporting system.
Why it matters: The country's 18,600 law enforcement agencies have been slow to adopt the Justice Department's National Incident-Based Reporting System (NIBRS) — which means that all manner of crimes are being undercounted.
NIBRS is designed to collect detailed data for use by policymakers, academics, and others — but is useless without thorough and accurate feeds from local law enforcement.
Catch up quick: On January 1, 2021, NIBRS became the only mechanism for law enforcement agencies to voluntarily report crimes to the FBI.
It includes all types of crimes, from identity theft and property destruction to violent assaults and acts of hate.
"Compared to the previous crime data collection system, NIBRS collects data about 47 more offenses and more detailed data about each victim, offender, person arrested, and property stolen or damaged for each individual crime incident," the Justice Department says.
Where it stands: 33% of law enforcement agencies are not feeding data into NIBRS.
That includes some huge police departments, like those in Los Angeles and New York City — two of the country's largest.
Since 2016, the Justice Department has offered training and $120 million in grants to help counteract the foot-dragging, with limited success.
Driving the news: Associate Attorney General Vanita Gupta last week beseeched the nation's mayors for help getting local law enforcement agencies to adopt the system.
"This year, law enforcement agency participation in submitting all crime statistics to the FBI fell 22%," she said at the U.S. Conference of Mayors winter meeting on Capitol Hill.
"That number is even starker for hate crimes: 93% of agencies reported hate crime statistics in 2020, but only 65% reported in 2021."
The official numbers reflected by NIBRS don't reflect the reality on the ground. Hate crimes have soared in recent years, as documented by groups like the Center for the Study of Hate and Extremism and the Anti-Defamation League.
By the numbers: A new Justice Department report shows the number of law enforcement agencies submitting crime statistics to NIBRS decreased from 12,742 in 2021 to 12,725 last year.
The decrease was partly technical, the agency said, indicating administrative changes in reporting structures — but it also reflected broader problems preventing full implementation of the more robust system.
Departments sitting on the sidelines cite cost, lack of personnel, and technical constraints.
Yes, but: "We cannot be effective in prevention and prosecution of hate crimes without more accurate and comprehensive data collection and reporting," Gupta said in her speech.
Zoom out: Regardless of whether the mass shooting in the heavily Asian American city of Monterey Park is deemed a hate crime, it won't be represented in the NIBRS — which is supposed to be the central repository for all U.S. crime statistics.
The intrigue: Florida and California — two of the most populous states — had the lowest percentages of law enforcement agencies feeding stats to the FBI in 2021, as Axios' Russell Contreras reported.
A joint Axios/Marshall Project report published last June found that a lack of adequate reporting could compromise NIBRS' utility.
"It's going to be really hard for policymakers to look at what crime looks like in their own community and compare it to similar communities," Jacob Kaplan, a criminologist at Princeton University, told Axios and The Marshall Project.
The bottom line: Without more comprehensive reporting, the FBI database is neither accurate nor predictive — foiling the agency's goal of building a sophisticated tool with pattern-detection powers.
These shortcomings could come under a glaring spotlight as crime becomes an issue in the 2024 election cycle.
Go deeper: Check out the FBI's interactive map to see if your community is using NIBRS.
Go deeper