Erdoğan says Turkey won't support Sweden's NATO bid after anti-Islam protests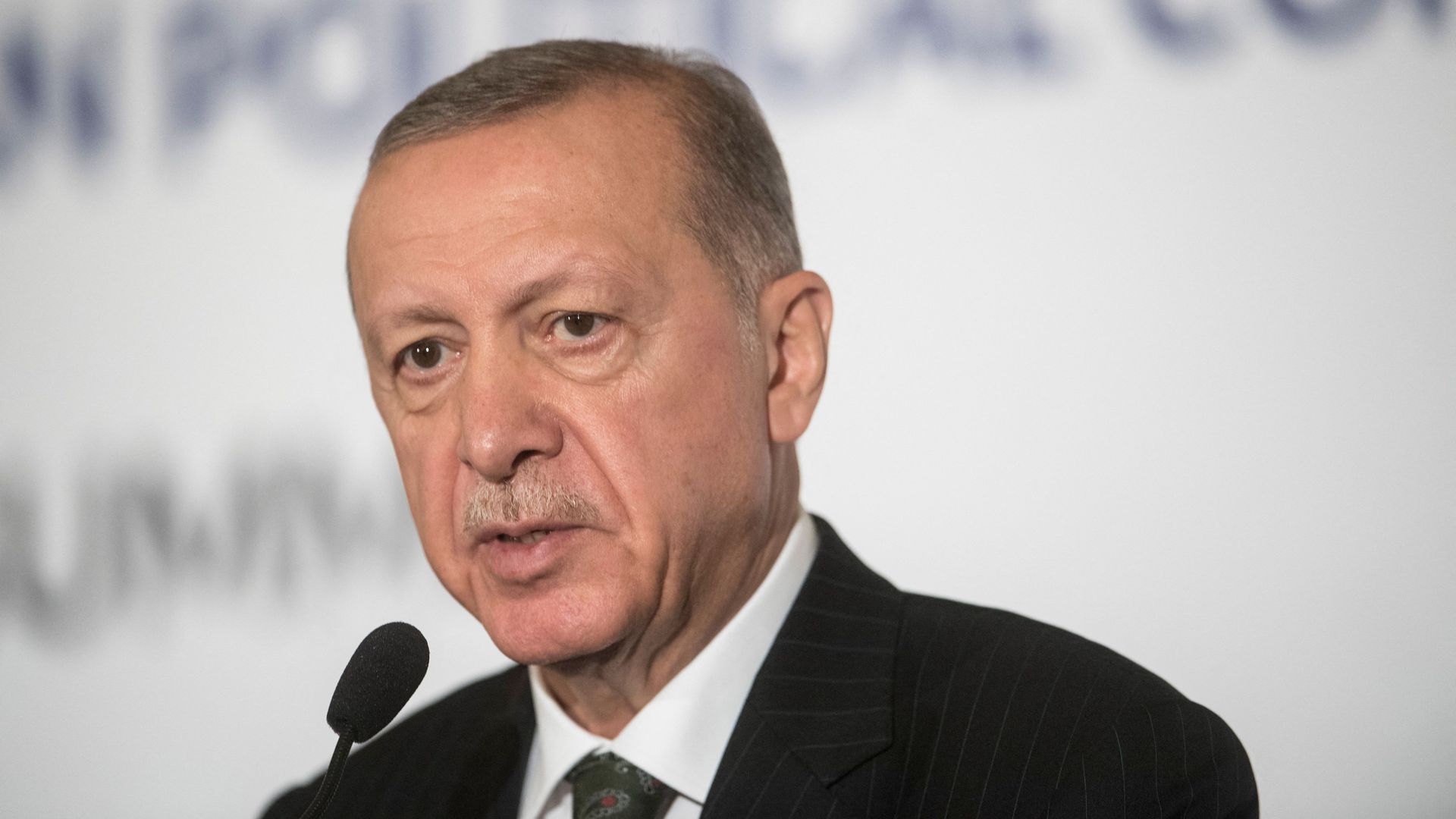 Turkish President Recep Tayyip Erdoğan on Monday warned Sweden that it shouldn't expect Turkey's support for its NATO membership after far-right protesters burned a Quran outside the Turkish embassy in Stockholm over the weekend, AP reports.
Driving the news: "It is clear that those who allowed such vileness to take place in front of our embassy can no longer expect any charity from us regarding their NATO membership application," Erdoğan said in his first comments since the Stram Kurs-led protests.
Erdoğan said Sweden must have calculated the consequences of permitting the demonstration, calling it an insult to everyone, especially to Muslims.
Of note: Erdogan criticized Sweden for allowing demonstrators to wave flags of various Kurdish groups, including the Kurdistan Workers' Party, or PKK.
The PKK has waged a decades-long insurgency against Turkey, AP writes.
Turkey, the U.S. and the EU consider the PKK a terrorist group, but its symbols aren't banned in Sweden."
What they're saying: Erdoğan warned Sweden that if the country won't show respect to NATO-member Turkey or Muslims, "they won't see any support from us on the NATO issue."
"If you love members of terrorist organizations and enemies of Islam so much and protect them, then we advise you to seek their support for your countries' security," he said, per Reuters.
Tobias Billstrom, Swedish Foreign Minister, declined to comment on Erdoğan's remarks, until he understood "exactly what had been said," per Reuters.
The big picture: Sweden and Finland in May formally submitted their applications to join NATO, opening the door to the alliance's ninth expansion since 1949.
But Erdoğan soon after lodged an objection, claiming the Nordic countries were home to Kurdish "terrorist organizations."
Turkey signed a joint memorandum in June saying that it would not oppose Sweden and Finland's bid to join NATO if the two countries confirmed the PKK as a terror group and committed to preventing its activities, AP writes.
Go deeper