Roe's 50th anniversary: Where the abortion fight goes now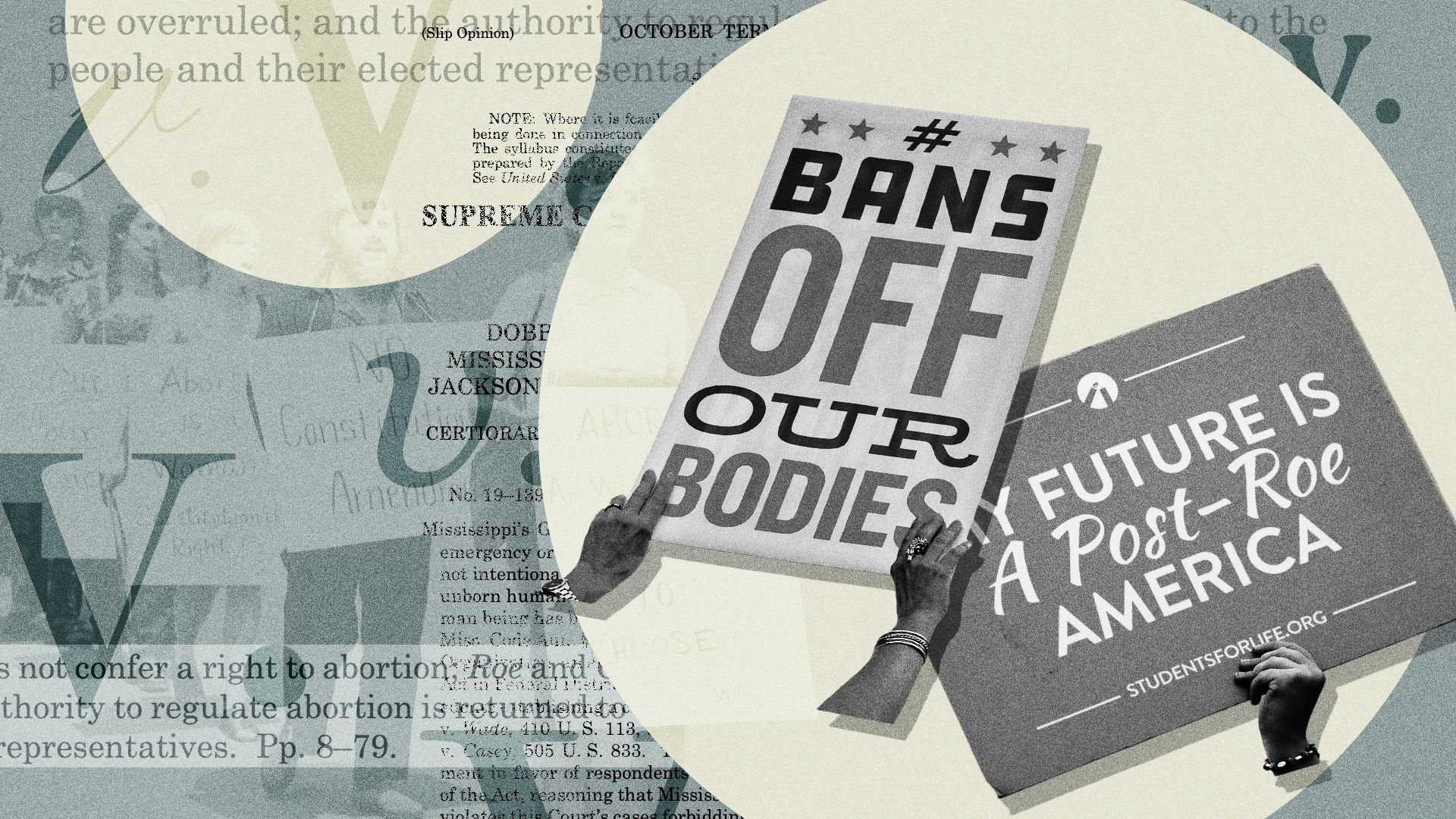 Both sides in the abortion fight are trying to claim symbolic high ground on Sunday's 50th anniversary of Roe v. Wade while looking ahead to a new phase that will be largely fought in state capitals and the courts.
What's happening: Anti-abortion groups are celebrating the culmination of their decades-long effort to overturn the federal right to the procedure while abortion rights advocates are pressing to maintain access in states where it remains legal.
Those activists also are trying to ensure that the energy around the issue that fueled Democrats' midterm engagement doesn't wane.
"It's important for us to lend the message that the protests of last year were not a fluke, November was not a fluke ... and the fight for the last 50 years was not a fluke," said Rachel Carmona, executive director of Women's March, which is having its national march on Sunday in Madison, Wisconsin.
Carmona told Axios that the march is happening in a key swing state instead of Washington, D.C. — where previous national Women's Marches have taken place — because there's not much that a divided Congress can do, and "the fight is going back to the states."
What they're saying: Sunday is a day "to reflect on the faithfulness of the pro-life movement," said Marilyn Musgrave, vice president of government affairs at Susan B. Anthony Pro-Life America.
"I never thought I'd see Roe overturned in my lifetime, and here we are," Musgrave added.
Where things stand: In its Dobbs opinion overturning Roe v. Wade, the Supreme Court ruled that elected officials — both on the state and federal levels — have "the authority to regulate abortion." Some conservative-led states have quickly enacted restrictions while progressive legislatures and governors adopted protections guaranteeing access to the procedure. Another raft of bills is emerging as state legislatures gavel in their 2023 sessions.
But the focus increasingly is on the judicial system. At least 14 states have ongoing litigation in which providers, clinics and other groups are challenging state bans and restrictions, according to a new brief from the Kaiser Family Foundation.

It will "most likely" be up to each state's highest court to decide on the constitutionality of bans and the legal availability of abortion care, per the KFF brief, which notes providers in many cases are arguing that the rights of their patients – not necessarily their own – are being infringed.

"We will use all tools" to protect abortion access, including taking the legislative and judicial routes, said Helene Krasnoff, vice president of public policy litigation and law for Planned Parenthood Action Fund, at a press call last week.
Abortion rights advocates maintain Roe and other Supreme Court precedents were never enough to guarantee nationwide access.
"Roe was the floor, we need to get to the ceiling," wrote Alexis McGill Johnson, president and CEO of Planned Parenthood Federation of America, in a recent Teen Vogue op-ed.
Johnson added that "we have to make sure our rights don't ebb and flow with every election cycle," and suggested that the goal is to ultimately amend the U.S. Constitution to guarantee abortion access.
Between the lines: That's proven extremely difficult, as evidenced by the Equal Rights Amendment — which is designed to guarantee equal legal rights for all Americans regardless of sex but has been dogged by political controversy and legal uncertainty for decades.
State of play: Anti-abortion activists gathered in the District of Columbia on Friday for the first post-Roe March for Life. Now that Dobbs is the law of the land, the anti-abortion movement is focused on "the next steps in a post-Roe era," House Majority Leader Steve Scalise (R-La.) said at the rally.
Marjorie Dannenfelser, president of SBA Pro-Life America, said in a recent press call that the "brand new pro-life movement" will revolve around passing new state abortion bans and restrictions, urging the House of Representatives to pass federal restrictions and pressing 2024 presidential candidates to openly oppose abortion.
Yes, but: The future of the anti-abortion movement remains somewhat unclear now that its main goal — overturning Roe v. Wade — has been achieved. In fact, divisions are forming within its ranks between those that want to prosecute pregnant people who get abortions and those who do not.
"The struggle has changed," Marion Landry, who attended the March for Life, told AP. There is no "central focus anymore," she added.
What we're watching: The House recently passed its first post-Roe anti-abortion bill, and some Republican House lawmakers suggested at the March for Life that they will vote on at least one more piece of anti-abortion legislation.
Whatever passes will likely die in the Senate, where Democrats remain in control.
Zoom out: Amid the legislative jockeying, the Biden administration has taken steps to assert federal protections around aspects of reproductive health, including specifying that abortion care is protected in emergency care settings and guaranteeing insurance coverage of birth control.
President Biden said Friday that the Dobbs decision "put the health and lives of women across this nation at risk," adding that his administration "is resolute in its commitment to defending reproductive rights."
Go deeper: The post-Roe fight dividing anti-abortion activists
Go deeper