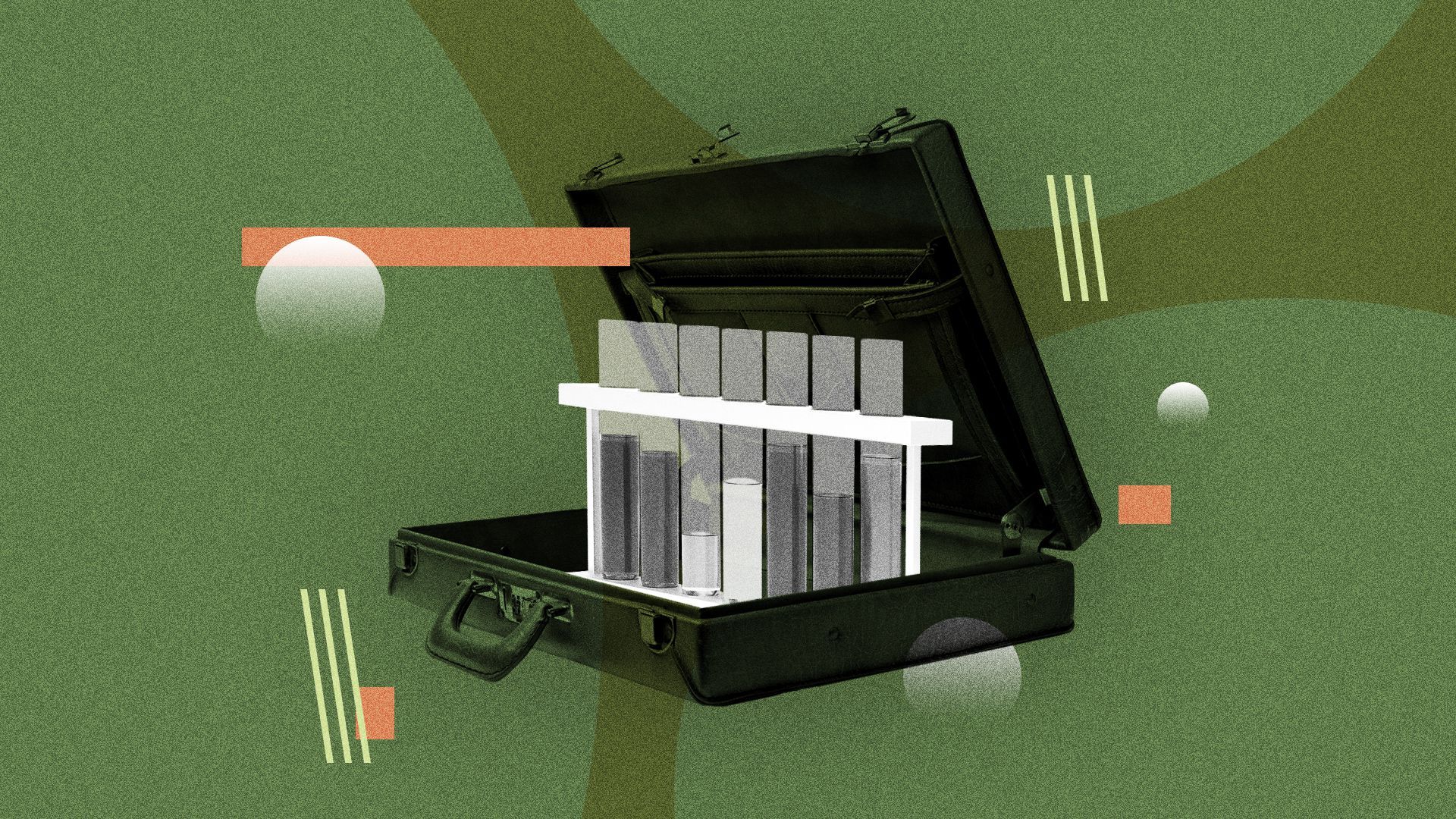 DAVOS, Switzerland — The world is entering an era of biology — and the field's power is an emerging theme on the agenda of a cohort of scientists, entrepreneurs and business leaders at this week's World Economic Forum.
The big picture: Scientific capability and prowess have been "a defining feature of power" over the past 100 years, Matthew McKnight, general manager of biosecurity at the synthetic biology company Ginkgo Bioworks told me on the sidelines of the annual event.
First, it was chemistry that created an economy fueled by petroleum.
Next, physics was harnessed to build atomic weapons during World War II and then for the development of airplanes, communications and the space industry.
Then, physics and chemistry together birthed the microchip and the computing revolution.
Now, it's biology.
Base pairs, amino acids, enzymes and other biological molecules underpin a vision for an economy built on biologically engineered and produced materials, medicines, fuel and food.
In Davos, biology was featured as a tool for addressing climate change: Loam, a startup based in Australia and the U.S., is leveraging microbes in soil to boost crop yields — and sequester carbon. They coat seeds with a fungus that makes forms of carbon that are stored in the soil for hundreds of years or more.
"I would love to get more people [at Davos] to think more creatively about how microbial science can help address climate change," says Loam's CEO and co-founder Guy Hudson.
In the public health sphere, Davos discussions focused on the need to spot new variants of the SARS-CoV-2 virus.
Ginkgo Bioworks is working with a Centers for Disease Control and Prevention (CDC) program at airports to try to spot virus subvariants as travelers enter the U.S.
Passengers can volunteer to answer questions and provide a nasal swab. This week they announced a pilot program to monitor for influenza viruses as well, which could yield data to help scientists develop the vaccine for next year's flu season.
Another arm of the program uses wastewater from airplane toilets to monitor pathogens, an inexpensive method honed during the pandemic.
"Radar" systems like these for infectious diseases, microbes and genetically altered threats can be part of a biosecurity infrastructure that could work like cybersecurity monitoring to find threats early, McKnight says.
"Biology doesn't respect borders," which underscores the need for a biology monitoring network, he says.
The capability to monitor for biological threats could be a powerful national security tool and "important for the long-term biosecurity of our country," White House COVID-19 Response coordinator Ashish Jha told Politico.
What to watch: Science is an economic force but new science especially comes with a risk of being used for nefarious purposes. (A separate panel explored so-called dual-use technologies, which include pathogen-enhancing research and genome editing.)
Biology will be used offensively by bad actors, McKnight predicts. But leveraging biology for defensive capabilities is equally powerful, he says.
Go deeper